(CN) — Russian and Ukrainian forces were engaged in bitter combat in the capital Kyiv and other parts of Ukraine on Friday with casualties mounting in a war that has put Europe and the rest of the world on edge.
By nightfall Friday, Russian troops were entering Kyiv, a city of about 3 million, but were reportedly facing stiff opposition from regular troops, militia groups and armed civilians, raising the prospect of drawn-out and bloody guerrilla warfare, potentially backed by the United States and the CIA, which reportedly has been training Ukrainians since 2015 for an insurgency against Russia in the event of an invasion like this.
The state of the conflict remained highly uncertain due to spotty reporting from the field, but it appeared the far-superior Russian army was making advances in the north, east and south and focusing its attention on Kyiv and the eastern regions where the bulk of the fighting was taking place.
It has become increasingly clear that Russian President Vladimir Putin aims to remove Ukrainian President Volodymyr Zelenskyy from power and install a new pro-Russian regime in Kyiv, one that his foreign minister, Sergey Lavrov, said needs to represent all the people of Ukraine.
"According to the information we have, the enemy has marked me as target No. 1, my family as target No. 2," Zelenskyy said during an early morning address where he urged Ukrainians to keep fighting. "They want to damage Ukraine politically by destroying the head of state."
In the speech, Zelenskyy blasted Western powers for not doing enough to stop the Russian invasion and his government called on its citizens to take up arms and make Molotov cocktails to stop Russian tanks from rolling into Kyiv. It also banned all males between the ages of 18 and 60 from leaving the country as it attempted to conduct a mass conscription.
Zelenskyy remained in Kyiv and in a video on social media Friday night urged his compatriots to fight "for the glory of Ukraine." He said he wasn't going to be a "traitor."
Reports from news outlets, social media and officials showed horrific images of explosions, dead soldiers and civilians, burning buildings, blown up infrastructure such as bridges and oil tanks, downed aircraft, a barrage of artillery and other horrors.
The civilian population was hunkering down in basements, apartment buildings and bunkers and fleeing the conflict. Media showed chaotic scenes of thousands of people trying to flee on trains and cars from Kyiv on Thursday and early Friday before the Russian advance. 
Russia has said it is not targeting civilians, but numerous civilians have been killed, according to news reports.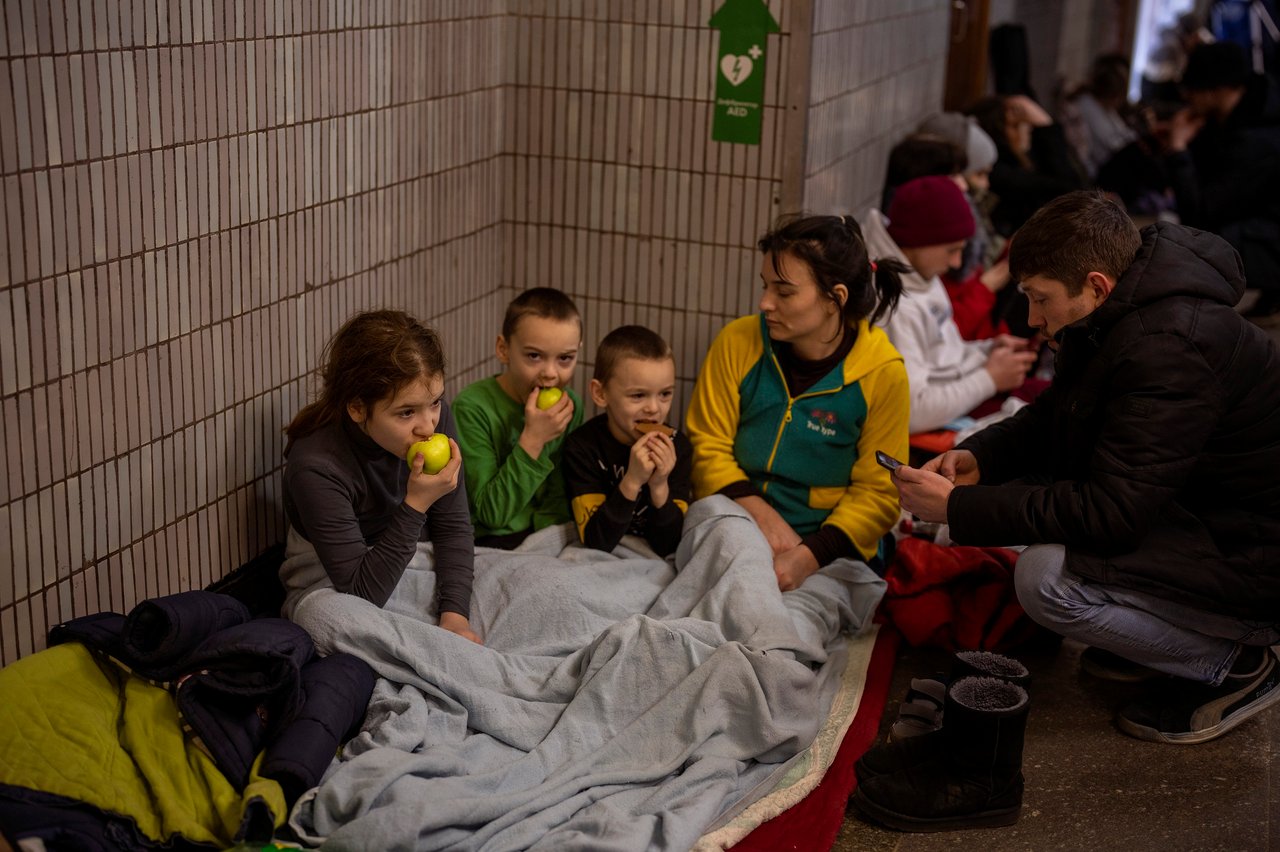 "There is already evidence of civilian deaths and much suffering, with thousands of people displaced as they leave their homes to seek safety," the Organization for Security and Co-operation in Europe said in a news release. The OSCE, an observer group during conflicts, said fatal incidents include a ballistic missile strike and a bomb that struck a residential block.
Friday was the second day of clashes after Putin launched the invasion in the early hours of Thursday. It is viewed as the largest military operation since the end of World War II in Europe, though Europe did experience extreme bloodshed during the Balkans Wars of the 1990s.
The number of casualties continued to mount, though it remained extremely difficult to provide a reliable death toll. The Ukrainian army said it had killed about 2,800 Russian soldiers and destroyed 80 tanks, more than 500 armored vehicles, more than 500 aircraft and seven helicopters, according to Interfax-Ukraine.