SAN FRANCISCO (CN) - Valero has dropped its bid to acquire a San Francisco Bay Area oil terminal after the California attorney general sued the gas giant in federal court for antitrust.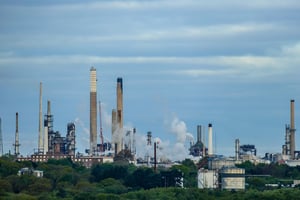 In a statement issued Monday, Valero said it and Plains All American Pipeline, the current owner of the terminal, decided "to terminate the transaction rather than endure the continued uncertainty that a lengthy trial would create for the California-based employees and customers of the terminals."
It was Valero's second attempt in 12 years to seize control of the pipeline hub in the East Bay port city of Martinez, Calif.
In 2005, Valero was forced to give up the Martinez terminal, along with another pipeline hub in Richmond, that it acquired in a $2.8 billion purchase of Kaneb Services and Pipe Line Partners. The Federal Trade Commission and California had demanded Valero sell off those terminals to avoid antitrust litigation.
When Valero moved to reacquire the Martinez terminal earlier this year, the state attorney general sued on June 30, claiming the deal would allow refineries to control Northern California's three main oil terminals, enabling them to manipulate supply and drive up gas prices.
"We strongly believed that Valero's action could have suffocated open competition and led to higher gas prices for hardworking Californians," California Attorney General Xavier Becerra said in a statement Monday.
The FTC reviewed the proposed Martinez deal and chose not to take any regulatory action to block the acquisition.
Last month, U.S. District Judge William Alsup denied the state's requests for a temporary restraining order and preliminary injunction to stop the deal. However, the judge placed conditions on the sale so that Valero could easily forfeit the facility if the deal were found to be anticompetitive at trial.
Valero would have had to retain all existing managers and employees at the terminal, honor all existing contracts with customers, and add 30-day opt-out provisions to any new customer contracts. The company also vowed not to share the terminal's customer data with its corporate managers so it could not use that information for anticompetitive ends.
Becerra called Valero's decision not to buy the terminal "welcome news for all Californians," adding that "it sends a strong message to the public: the California Department of Justice is committed to protecting consumers and competition."
Valero, based in San Antonio, Texas, is the largest independent oil refiner in the United States with a refining capacity of nearly 3.1 million barrels of oil per day and $75.6 billion in annual revenue as of May 2017, according to the company and Forbes.
Follow @NicholasIovino
Subscribe to Closing Arguments
Sign up for new weekly newsletter Closing Arguments to get the latest about ongoing trials, major litigation and hot cases and rulings in courthouses around the U.S. and the world.