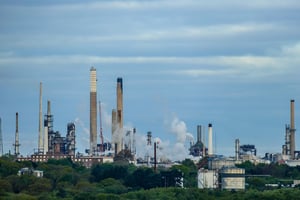 SAN FRANCISCO (CN) – Valero may buy a Bay Area oil terminal despite the state's claims that it will stifle competition and raise gas prices — but it must abide by certain conditions, a federal judge ruled.
In an Aug. 23 ruling unsealed Monday, U.S. District Judge William Alsup denied California's request for an injunction to block Valero from buying the petroleum pipeline hub in Martinez. But the judge warned Valero that it must be prepared to forfeit the facility if the deal is found to be anticompetitive at trial.
"To be very clear, if permanent relief is granted and divestiture ordered, defendants will not be heard to complain about any reliance built upon the closing of the transaction," Alsup wrote in the 11-page ruling. "Defendants proceed entirely at their own risk if they close."
California Attorney General Xavier Becerra sued Valero in July to block its purchase of the Martinez terminal, owned by Plains All American Pipeline. Becerra said the deal would allow refineries to control Northern California's three main oil terminals, enabling them to manipulate supply and drive up gas prices.
To avoid an injunction, Valero agreed not to alter the terminal's infrastructure or replace employees or managers there until the lawsuit is resolved.
Valero also vowed to honor all contracts with customers for petroleum storage and transport. If Valero enters into new contracts, it must add a 30-day opt-out provision for customers and for any entity that acquires the facility if Valero were forced to surrender it.
Valero also says it will use a firewall to shield the terminal's confidential customer data from Valero decision-makers, who could use the information for anticompetitive ends.
With those conditions in place, Alsup saw no risk of irreparable harm to justify issuing an injunction to thwart the deal.
"There is no need for a preliminary injunction since, if a permanent injunction is granted, it will be easy to restore the status quo," Alsup wrote. "No irreparable injury will occur between now and judgment."
Nonetheless, Alsup found that the state made some compelling arguments about why the acquisition might run afoul of antitrust laws.
He rejected Valero's argument that the entity purchasing the terminal, Valero Energy Partners LP, is a separate corporation with separate interests. Alsup cited disclosures stating that because Valero Partners' directors also sit on the board of Valero Energy Corporation, they would likely pursue business strategies that "disproportionally benefit Valero."
Valero agreed in 2005 to sell off terminals in Richmond and Martinez that it had acquired in a $2.8 billion purchase of Kaneb Services and Pipe Line Partners as part of a deal to avoid legal trouble with the Federal Trade Commission and California.
Alsup found that California raised "serious questions" whether Valero's latest bid to re-acquire the Martinez facility would suppress competition.
Once the deal closes, Valero will control two of the Bay Area's seven high-capacity gathering lines, all of which would be concentrated in the hands of three corporations. Valero would also control "the last independently operated gathering line with unused capacity," the only one capable of delivering petroleum during periods of increased demand, according to the ruling.
"This raises serious concerns that the transaction will lead to higher prices at the pump," Alsup wrote.
He added that Valero's promises to operate the Martinez terminal "in the same way" as the previous owner carry little weight with him.
"The court has learned over decades of experience that assurances of good intentions get cast aside once deals are done and the glare of scrutiny has passed," Alsup wrote. "Defendants' assurances today do little to protect consumers from anticompetitive behavior in the long term."
But he concluded that so long as Valero maintains the status quo while the case is under review, it can move forward with its purchase of the Martinez terminal, knowing it may have to sell it off next year if it loses at trial.
The trial is to start in January 2018.
Valero spokeswoman Lillian Riojas and the California Attorney General's office did not immediately return emails seeking comment after business hours Monday.
Follow @NicholasIovino
Subscribe to Closing Arguments
Sign up for new weekly newsletter Closing Arguments to get the latest about ongoing trials, major litigation and hot cases and rulings in courthouses around the U.S. and the world.