MANHATTAN (CN) – Reinstating a decade-long dispute between mattress sellers, the Second Circuit ruled Tuesday that a federal judge should not have dismissed slander claims brought by a retailer against a bed manufacturer over statements salespeople made to secret shoppers.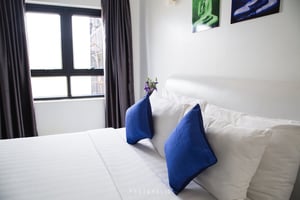 In a 3-0 opinion, the Manhattan-based federal appeals court found that a judge in the Eastern District of New York misinterpreted state law in dismissing a case originally brought in March 2007 by Sleepy's – which was later acquired by Mattress Firm – against Select Comfort, renamed Sleep Number last year.
"We conclude that the court erred in dismissing Sleepyʹs slander per se claims on the ground that the publication element cannot be met under New York law when the statement in question is only made to the plaintiffʹs representative," Senior U.S. Circuit Judge Robert Sack wrote in the 25-page decision.
At the root of the case is a 2005 deal for Hicksville, N.Y.-based Sleepy's to become an official authorized dealer of Select Comfort's Sleep Number beds.
Sleep Number beds are custom mattresses that are filled with inflatable air chambers that can be adjusted to vary the firmness of the mattress. Under the agreement between the parties, Sleepy's would sell Select Comfort's "Personal Preference" line of beds directly at its stores, while Select Comfort would sell its "Core" line of Sleep Number beds in its own retail stores.
Sleepy's sued Select Comfort for breach of contract, fraudulent inducement, slander, unfair competition and trademark violations under the Lanham Act after a dozen undercover shoppers said Select Comfort employees had repeatedly besmirched the Personal Preference line being sold in disappointing quantities by Sleepyʹs.
The secret shoppers reported that Select Comfort salespeople claimed "the wooden foundation sold at Sleepy's was inferior to the plastic polymer foundation of the Core line sold at Select Comfort stores," according to court records, and "that beds sold at Sleepy's were stored in warehouses where they attracted allergens and dust mites, while beds sold through Select Comfort's stores were made to order."
Sleepy's alleged Select Comfort's representatives also told its secret shoppers that Sleepy's "offered inferior sales terms and deceitfully refused to honor its warranties."
In 2012, U.S. District Judge Thomas Platt in Central Islip, N.Y., dismissed all counts of Sleepy's case, finding there was no defamation because the secret shoppers, having been first to mention Sleepy's and its sale of Select Comfort beds, "consented" to the salespeople's alleged disparagements.
As to the claim that Select Comfort violated a nondisparagement clause in the parties' contract, the court found that Sleepy's failed to show disparagement prior to the dealer agreement's expiration date.
A three-judge panel of the Second Circuit reinstated the contract-based claims in February 2015 and vacated dismissal of the slander per se claims.
But U.S. District Judge Joanna Seybert dismissed the case again in September 2015, finding that alleged defamatory statements were not "published to a third party" under New York law because only Sleepy's secret shoppers heard them.
In the Second Circuit's latest ruling issued Tuesday, Judge Sack said the publication requirement might have been met if the secret shoppers qualified as Sleepy's "agents," citing precedent from New York appeals courts.
"We conclude that Select Comfortʹs statements could meet the publication element notwithstanding the fact that they were made to Sleepyʹs representatives," Sack wrote. "We, therefore, vacate the district court's dismissal of the plaintiff's slander claims, since the dismissals were based on the conclusion that the alleged slanderous statements were not 'published' under New York law."
After a second bench trial, Select Comfort moved for $4.5 million in attorney's fees as the prevailing party in a Lanham Act case. The district court granted the request for fees in principle, finding ʺthere are substantial overtone[s] to suggest that the case was filed as a competitive ploy.ʺ
The court ultimately awarded Select Comfort $2.6 million in attorney's fees, 75 percent of the magistrate judge's recommended award.
But the Second Circuit panel found that the district court erred in designating the dispute an ʺexceptional caseʺ for which the $2.6 million fee is available under the Lanham Act, and asked the court to revisit its approach on remand.
Sack was joined on the three-judge panel by U.S. Circuit Judges Peter Hall and Christopher Droney.
Representatives for Sleepy's and Select Comfort did not immediately respond Tuesday to requests for comment.
Follow @jruss_jruss
Subscribe to Closing Arguments
Sign up for new weekly newsletter Closing Arguments to get the latest about ongoing trials, major litigation and hot cases and rulings in courthouses around the U.S. and the world.