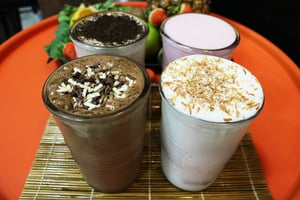 BOSTON (CN) - A Massachusetts-based office supply company is fighting for the right to continue using its "Blizzard" logo for its line of bottled spring water and paper products, in the face of demands from Dairy Queen to cease and desist.
Dairy Queen first trademarked the name "Blizzard" in 1946 for its heavy bodied milkshakes. The shake was reintroduced in its modern incarnation in 1985.
Dairy Queen touts the Blizzard as a star attraction in its almost 4,500-location chain of restaurants. According to its corporate website, over 100,000 Blizzards were sold in 1985 when it was reintroduced.
WB Mason, which is based out of Brockton, Mass., began selling spring water with the "Blizzard" label in 2010. Seven years prior, WB Mason started selling copy paper that was labeled as "blinding white blizzard," which Dairy Queen says was years after the Minnesota-based dessert chain established the brand for its popular shake.
On Monday, Dairy Queen filed a lawsuit in Minnesota federal court claiming WB Mason has confused customers by using "Blizzard" to brand its bottled spring water. The chain is represented by lead attorney Dean Eyler of Minneapolis firm Gray Plant.
"As a result of Dairy Queen's long-standing use of Blizzard and due to the extensive promotion and advertising of the Blizzard marks, they have become strongly associated in the minds of the U.S. and worldwide consuming public with frozen and semi-frozen treats emanating from Dairy Queen restaurants," according to the complaint, which demands that WB Mason recall and destroy all bottled water products with the Blizzard label.
But WB Mason responded Thursday with its own lawsuit, filed in Massachusetts federal court by lead attorney Jason Kravitz with Nixon Peabody in Boston, seeking a declaration that it has to the right to continue selling Blizzard spring water.
"While W.B. Mason first began using the Blizzard mark in connection with paper products in 2003 and spring water in 2010, W.B. Mason is not aware of a single person who has ever been confused by its use of Blizzard," the complaint states. "Indeed, no reasonable person would ever mistakenly believe that copy paper or spring water sold by W.B. Mason and emblazoned with the W.B. Mason mark and logo emanates from, or is associated with, [American Dairy Queen Corporation]."
A Dairy Queen spokesperson declined to comment, citing company policy not to comment on pending litigation.
A spokesperson from WB Mason did not immediately respond Friday to an emailed request for comment.
Subscribe to Closing Arguments
Sign up for new weekly newsletter Closing Arguments to get the latest about ongoing trials, major litigation and hot cases and rulings in courthouses around the U.S. and the world.