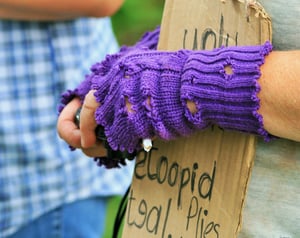 HOUSTON (CN) – A federal judge ruled Thursday that Houston can start enforcing a law that bans camping in public, which critics say criminalizes homelessness, finding that it applies equally to anyone sleeping in a tent on the street.
Represented by the American Civil Liberties Union in Houston, three homeless people brought a class action against the city the day after the law took effect in May, claiming it unconstitutionally targets the homeless.
The law prohibits homeless people from setting up tents or temporary shelters in public places, from using camp stoves or grills, and from keeping more personal property than could fit in a small container.
Lead plaintiff Tammy Kohr said in her original complaint in May that having a tent protects her from the weather and insects.
"She also uses her tent to get dressed in the morning and to keep her possessions safe. She likes having a tent to have privacy from other people," the complaint states.
A policeman on the city's Homeless Outreach Team helped Kohr get into city-funded permanent housing shortly after she filed the lawsuit, according to her first amended complaint filed in July.
Despite Kohr's new digs, U.S. District Judge Kenneth Hoyt sided with the plaintiffs in August and temporarily blocked the ordinance.
Hoyt bought the ACLU's argument that the camping ban may violate the plaintiffs' Eight Amendment right against cruel and unusual punishment by penalizing people who are involuntarily on the streets.
"Criminalizing the status of an individual has long been prohibited by the Constitution," Hoyt wrote in August.
But city officials gave a grim account of two homeless camps in downtown Houston, one near the Houston Astros' Minute Maid Park, at an October hearing.
Mayor Sylvester Turner testified that the two camps had doubled in size and there were stabbings and shootings at the camps that left one person dead, after Hoyt blocked the law.
The city's public health director, Dr. David Persse, testified that there was excrement festering in the camps.
"Piles of it, inches and feet. There was so much excrement from both people and birds that anyone going through it would be at risk," Persse reportedly said at the October hearing.
In light of that testimony, Hoyt changed his position on Thursday, lifting the temporary restraining order and denying the ACLU's request for a preliminary injunction.
The judge found the three challengers lack standing to sue on Eighth Amendment grounds because they have not been cited or convicted for violating the ordinance.
Hoyt also determined that Kohr and the ACLU aren't likely to succeed on the merits of their case, a condition for obtaining a preliminary injunction, since the law doesn't exclusively punish homeless people.
"Although the ordinance does prohibit certain conduct – namely, setting up 'tents' or other temporary structures in public places for the purpose of habitation and to exclude others from those places – any person, regardless of whether he or she is homeless, using such temporary structures as living accommodations in a public place within the city is subject to this ordinance," Hoyt wrote in an 11-page ruling. "Thus, the ordinance does not criminalize 'homeless' status but rather prohibits obstructions that hinder the city from preserving public property for its intended purpose."
Public health considerations also favor the city, Hoyt said.
"The city has expended thousands of dollars, reportedly removing over 16 tons of waste from the Chartres and Wheeler encampment sites. A preliminary injunction would only enable trash, pests, and human waste to continue to fester, creating a health nuisance for the community at large," he wrote.
The ACLU decried Hoyt's order in a statement Friday.
"Our clients are now at risk of being arrested just for being homeless. They have nowhere else to go. Sheltering yourself is not a crime, it is a basic human need," ACLU of Texas attorney Trisha Trigilio said.
Trigilio said the ACLU has asked city officials to delay enforcing the law "until they seriously explore humane alternatives to arrest—like building more affordable housing."
Mayor Turner told the Houston Chronicle he's thankful for the ruling, but was not overly exuberant, given the case is far from over.
"I'm grateful that the judge, for now, essentially endorsed the city's effort to strike a balance between preserving personal freedoms of every Houstonian and eliminating threats to public health," Turner said.
Nominated to the federal bench by President Ronald Reagan, Hoyt is one of four black judges in the Southern District of Texas. He maintains a steady caseload, despite taking senior status in March 2013.
Senior status judges are in semi-retirement. They can reduce their caseloads and their seat on the judiciary opens up, so the president can nominate candidates to replace them.
Follow @cam_langford
Subscribe to Closing Arguments
Sign up for new weekly newsletter Closing Arguments to get the latest about ongoing trials, major litigation and hot cases and rulings in courthouses around the U.S. and the world.