DES MOINES, Iowa (CN) – Just a day after hearing oral arguments, the Iowa Supreme Court on Friday upheld most of a temporary injunction halting enforcement of the state's new law restricting absentee voting, allowing only a provision that shortens the period for casting absentee ballots by 11 days.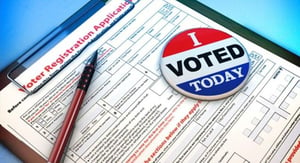 The court affirmed a Polk County District Court injunction preventing the state from implementing new regulations that require election officials to match signatures on absentee ballot applications with voter-registration records, and requiring voters to supply an identification number on ballot applications.
The justices also upheld the lower court's order enjoining state officials from including language on absentee-ballot applications stating that identification numbers are required, and from disseminating materials stating that Iowa voters will be asked to show valid ID at the polls this year. The ID provision does not take effect until 2019.
Iowa voters will have 11 fewer days to cast absentee ballots this fall, however, as the justices reversed the part of the trial court's injunction that would have required the state to leave in place the 40-day absentee voting period that has been in effect for 15 years. The period will now cover 29 days.
Friday's order was issued just a day after the justices heard oral arguments in the state's emergency appeal of the injunction issued by Polk County District Judge Karen Romano, who is trying the lawsuit brought by the League of United Latin American Citizens of Iowa, or LULAC, and an Iowa State University student.
They sued Iowa Secretary of State Paul Pate in May, calling the state's new restrictions on absentee voting unconstitutional and particularly burdensome for minorities, disable and elderly voters.
"We are clearly glad that the Supreme Court ruled in our favor on four of five [issues], and we only wish they would have ruled for us on the fifth," said Joe Enriquez Henry, LULAC's national vice president for the Midwest region.
Guy Cecil, chairman of Priorities USA Foundation, which is funding the lawsuit, called the ruling "a major victory for voting rights and a powerful affirmation of the principle that voting should be easy and accessible for all."
"Because of the court's ruling, in the upcoming fall elections Iowans will no longer be forced to produce an obscure voter ID number in order to cast an absentee ballot, nor will they be in danger of having their ballot thrown out due to inaccurate signature matching," Cecil said.
Iowa Secretary of State Pate said in a statement released Friday:
"I want to thank the Iowa Supreme Court for their expedited ruling. Voters benefit from having clarity in how the election laws will be applied for the November general election. While I am disappointed the Court set aside only part of the injunction, I look forward to a full hearing on the merits of the case at some point in the future.
"It is important for voters to remember that for elections held in 2018, pre-registered voters are required to provide an approved form of identification or sign an oath of identification before receiving and casting a ballot at the polls on Election Day. We will continue to work with and follow the guidance of the Attorney General's Office in messages to voters and training for county auditors and poll workers."
At Thursday's hearing, the justices questioned both parties about the requirement that election officials verify that voters' signatures on absentee ballots match those on registration forms.
If an election official rejects a ballot that comes in after the deadline because signatures don't match, does that mean "the voter is out of luck" with no right to appeal? Justice Brent Appel asked.
"Doesn't that raise a due-process problem?"
Justice Edward Mansfield wondered what standards election officials use to compare signatures, recalling the "hanging chad" issue in Bush v. Gore. Just eyeballing the ballots without a standard was too arbitrary, the U.S. Supreme Court said in that 2000 decision.
"There is that same room for arbitrariness" in the Iowa case, Mansfield said.
Four justices voted to affirm the injunction blocking the signature-matching provision. Two justices dissented on that point, but said they would order that any absentee ballot with a signature mismatch received after the deadline on the Saturday before the election be treated as a provisional ballot and allow voters to appeal if their ballots are rejected. The seventh justice on the court did not participate in the case.
Follow @@roxalaird16
Subscribe to Closing Arguments
Sign up for new weekly newsletter Closing Arguments to get the latest about ongoing trials, major litigation and hot cases and rulings in courthouses around the U.S. and the world.