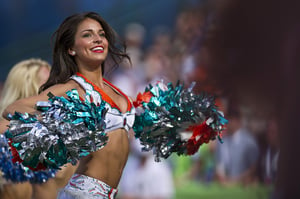 HOUSTON (CN) — The Houston Texans stiff its cheerleaders for the hours they spend in the gym and at official team events, and fires them for complaining about the squad's weight-shaming coach, a former cheerleader claims in a federal class action.
Lead plaintiff P.G.G. sued the team and its cheerleading coach Altovise Gary on Monday in federal court, on behalf of all current and former Texans cheerleaders who were paid less than minimum wage and not paid overtime.
The proposed class is represented by Bruse Loyd with Jones, Gillaspia and Loyd.
Despite the seeming glamour of shimmying in sequins on the sidelines of NFL games, NFL cheerleaders are typically paid no more than $7.25 per hour, the federal minimum wage.
The Texans are the latest team to be hit with a cheerleader wage lawsuit, following similar complaints filed by cheerleaders for the Oakland Raiders, Cincinnati Bengals, Tampa Bay Buccaneers and the New York Jets.
P.G.G. was a Texans cheerleader from April 2017 until April this year, when she says she was cut from the squad for banding together with several teammates to protest the policies of "Coach Alto," who ridicules cheerleaders about their weight.
"During the 2017 football season, Coach Alto told one cheerleader that she had 'belly jelly' and she was a 'chunky cheek'. ... Coach Alto walked up to a cheerleader and poked her face, asking her if she had gained her 'freshman 15,' saying she looked like she 'ate a plate of salt,'" the complaint states.
P.G.G. says the job required her to be on-call 24/7, as she had to respond to her coach's emails within 10 minutes, spend hours in the gym each week, get spray tans before every game and team event, sign thousands of calendars and constantly send messages on her team-owned Twitter account during the NFL season and off-season.
The Texans did not pay her for this work. The team also stiffed her for numerous events she had to attend, and the time she spent traveling around the state to these events, never paying her overtime when her hours exceeded 40 in a week, she says.
Coach Alto constantly pressured the team to keep their waistlines' trim, and bullied those who did not meet her standards, P.G.G. says.
She says that before a game during the 2017 season, Coach Alto duct-taped a teammate's stomach skin under her shorts.
"Coach Alto then brought that cheerleader in front of the rest of the squad and showed them how much 'better it looks.' At the next practice Coach Alto pulled out a roll of duct tape and asked said cheerleader if she needed it," the complaint states.
Incensed that a cheerleader missed a step during a dance, scissors-wielding Coach Alto stormed into the cheerleaders' locker room after a game last season and popped hundreds of balloons, P.G.G. says.
She says she and several teammates were targeted by Coach Alto after airing their concerns about her antics to human resources.
"For example, after one cheerleader reported Coach Alto to human resources, Coach Alto moved her to the back of every dance and consistently and aggressively harassed her, although she was arguably the squad's best dancer," the lawsuit states.
P.G.G. says Coach Alto's retaliation culminated with her and fellow outspoken teammates being cut from the squad in the last round of auditions in April.
She seeks a declaration that the Texans' pay practices violate the Fair Labor Standards Act, and wants the team ordered to pay her overtime and for her off-the-clock work. She also made a wrongful termination claim under state law.
A Texans spokeswoman said its cheerleaders generally enjoy the job, but it is always changing its policies to address concerns about their working conditions.
"We are proud of the cheerleader program and have had hundreds of women participate and enjoy their experience while making a positive impact in the local community. We are constantly evaluating our procedures and will continue to make adjustments as needed to make the program enjoyable for everyone," Amy Palcic said in a statement.
Follow @cam_langford
Subscribe to Closing Arguments
Sign up for new weekly newsletter Closing Arguments to get the latest about ongoing trials, major litigation and hot cases and rulings in courthouses around the U.S. and the world.