(CN) – The Trump administration sold $178 million in Gulf of Mexico oil drilling leases Wednesday, but just like another lease auction in March the response was underwhelming, with companies bidding on a sliver of the record amount of acreage up for grabs.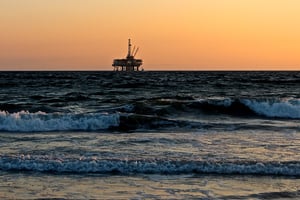 Part of President Donald Trump's "American energy dominance" and "America-first offshore energy" strategies, the Bureau of Ocean Energy Management (BOEM) offered 78.2 million acres for lease Wednesday, up from the 77.3 million the agency put up for bid in March.
The Interior Department touted the March sale as the largest in U.S. history, but perhaps due to the fact it received bids on just 815,403 of the 77.3 million acres offered, 148 tracts, it took a more subdued tone in advertising Wednesday's sale, dispensing with the superlatives.
Though the number of bids increased from 159 in March to 177 on Wednesday, the size of the leases sold on Wednesday dwindled to 801,000 acres, about 1 percent of the total offered.
BOEM said 29 companies placed bids on Wednesday, including majors Exxon Mobil, Shell Offshore Inc., BP, Anadarko and Chevron. Most of the leases received just one bid.
BP's 2010 oil spill in the Gulf of Mexico put a damper on offshore drilling as then-President Barack Obama's administration placed a six-month moratorium on deepwater drilling and implemented new requirements for blowout preventers in 2016.
Enthusiasm for offshore drilling has also tapered off due to a boom in shale drilling, centered in the Permian Basin, a formation in West Texas and southeastern New Mexico that has the United States on pace to surpass Russia as the world's top oil producer.
Experts say the companies buying offshore leases today are playing the long game because it takes years to bring deepwater wells into production, whereas shale drilling have a relatively quick turnaround from buying the lease to pumping out black gold.
"The Permian Basin activity right now is being driven by oil prices today or next year. The offshore lease sales, it really does not matter what the price is today or tomorrow. It's not going to come into production for three to five years or more," said Michael Maher, an adviser at Rice University's Center for Energy Studies.
The Trump administration's gung-ho approach to offshore drilling has drawn the predictable legal challenge from three environmental groups who claim that by offering so much Gulf of Mexico acreage, the government is reducing competition and letting drillers buy leases at rock-bottom prices.
The Sierra Club, the Gulf Restoration Network and the Center for Biological Diversity filed suit in Washington, D.C., federal court last month, seeking to vacate the offshore leases sold in March and to block Wednesday's sale. U.S. District Judge Reggie Walton has yet to rule on their request for an injunction.
They claim that in approving the leases, BOEM did a faulty analysis of the environmental impact because it incorporated Obama-era rules that the Trump administration is cutting or rolling back.
"With these massive lease sales in the Gulf, the Trump administration is holding up President Obama's policies with one hand to claim the environment and worker safety won't be compromised, while slashing those same policies with the other hand and aggressively attempting to expand drilling. Trump can't have it both ways," said Chris Eaton, an Earthjustice attorney who is representing the green groups.
But Maher, the Rice University adviser, said it would be a mistake for offshore drillers to endorse any relaxation on safety regulations proposed by the Trump administration.
"If someone has a spill in West Texas that does not really affect other drilling," Maher said. "If you have another spill in the Gulf of Mexico, even if you're doing everything right, you might get your production suspended for a period of time, or maybe permanently."
"The risk of a bad actor in the Gulf of Mexico affecting everyone's ability to drill is so high, it's not in their interest to have weak offshore safety regulations," he added.
Energy companies have taken steps on their own to prevent another massive spill in the Gulf of Mexico.
Shell, Chevron, ConocoPhillips and ExxonMobil started the Marine Well Containment Company in July 2010, the same month BP capped its well after it spilled an estimated 4.9 million barrels of oil into the Gulf of Mexico.
BP is now a shareholder in the company, which has two oil tankers converted to suck up spilled oil and a subsea containment system designed to seal off oil leaks.
"That's a good thing that you have equipment sitting ready to come in and cap a well if something happens like in Deepwater Horizon," Maher said.
There were 78 oil rigs operating in the Gulf of Mexico as of Aug. 10, down from 95 a year ago, according to information services firm IHS Markit.
Follow @cam_langford
Subscribe to Closing Arguments
Sign up for new weekly newsletter Closing Arguments to get the latest about ongoing trials, major litigation and hot cases and rulings in courthouses around the U.S. and the world.