(CN) — Hottest summer on record? Check. Heat records? Broken on land and sea. Glacier melt in the Alps? Worst on the books.
Europe's official climate report for 2022 came out Thursday, and it's depressing.
Researchers found that wildfires last year scorched more than 2.2 million acres in the EU, the second-largest extent ever measured. While rain would have brought some welcome relief, most of Europe instead suffered a spring and summer of drought. Soil conditions were the second driest in the past half century, and many rivers and lakes remain extremely low.
A warming climate caused by an increasing load of greenhouse gas emissions in the atmosphere is mostly to blame for last year's unusually hot and dry weather, and Europe can expect more of the same in the future, according to the Copernicus Climate Change Service, the EU's climate science agency. Copernicus operates a fleet of satellites that monitor climate change.
"The chances of warmer years are increasing all the time," said Samantha Burgess, the deputy director of Copernicus, during a news briefing. "If you can imagine having a deck of cards and picking one at random, red is the warm year, black is cool. Climate change is removing the black cards from the deck and adding extra red ones."
Europe is in the midst of alarming warming trends, according to Copernicus, which bases its records on data from 1950 and uses a time frame from 1991 to 2020 to calculate averages. The agency says temperatures in Europe began warming in the 1990s and have accelerated rapidly in the past decade.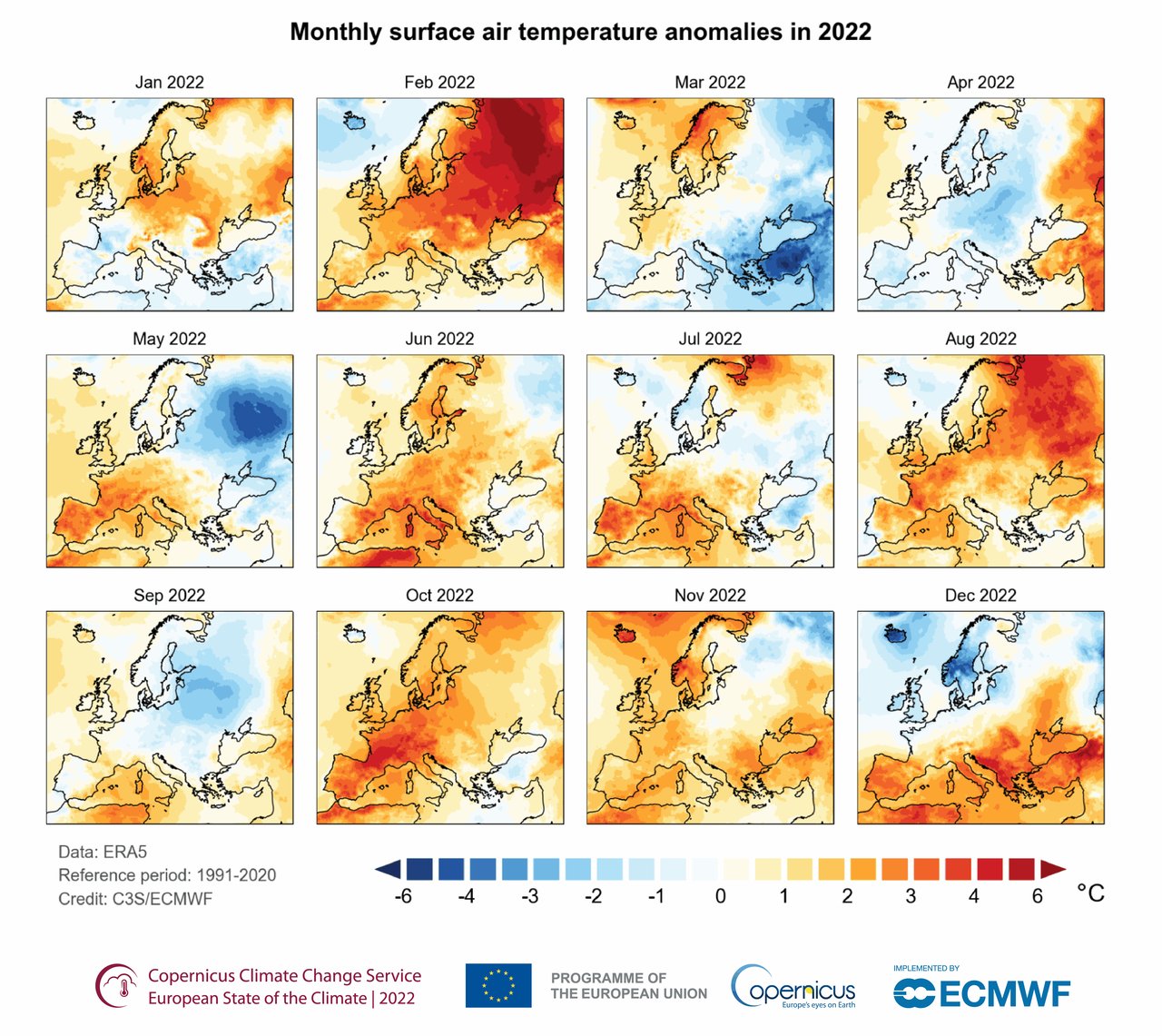 Over the past five years, Copernicus observed, Europe's land temperatures on average have been warmer than pre-industrial levels by about 2.2 degrees Celsius (3.9 degrees Fahrenheit). That's nearly twice the global average of 1.2 degrees Celsius (2.2 degrees Fahrenheit) higher than pre-industrial levels.
Last year was the hottest summer yet measured in Europe with records getting smashed in Great Britain in July, where temperatures exceeded 104 degrees Fahrenheit for the first time. An estimated 15,000 people died due to the heat waves, according to the World Health Organization. Europe's summer was 1.4 degrees Celsius (2.5 degrees Fahrenheit) above average, according to the report. The average sea surface temperature across European bodies of water was the warmest on record, too, the Copernicus report shows.
In the Alps, an estimated 5 cubic kilometers (about 1.2 cubic miles) of ice melted, the most ever, agency said. To put that in perspective, the agency's researchers said all that ice would amount to an ice cube that's 5.4 times higher than the Eiffel Tower in Paris.
Besides being a year of heat, many parts of Europe saw prolonged drought conditions in 2022.
One of the worst-hit areas was the Italian Alps, which saw spring water flows as much as 60% below average last year because of the lack of snowfall and rain. The decline in snowfall has left many ski resorts in the Alps facing an uncertain future and relying ever more on artificial snow.
The lack of snowfall and precipitation also meant Europe's rivers and lakes were very low.
River flows across Europe were the second lowest on record, marking the sixth consecutive year of below-average flows, the report shows. About 63% of rivers had below-average flows.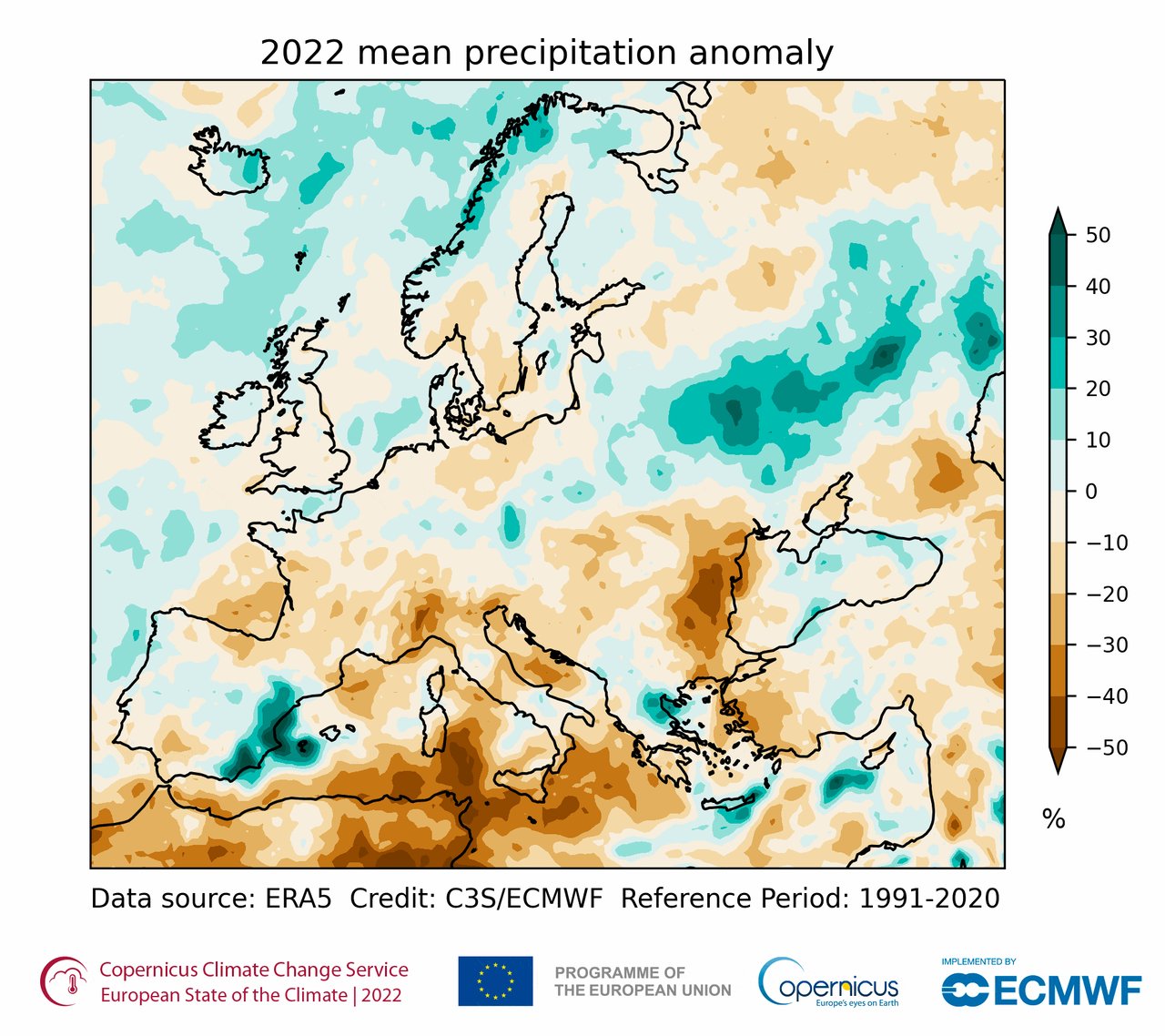 Many parts of Europe are still plagued by drought conditions this spring, with water levels in many rivers and lakes very low after another unseasonably warm and dry winter.
In Germany, barges on the Rhine are forced to carry much lighter loads because of the shallow water. A three-year drought in Catalonia has prompted Barcelona to stop watering its parks.
Almost all of France, northern Italy, southern Germany and much of Spain are on alert due to drought.
France is in the midst of a serious drought and the government is warning that the country faces up to 40% less water in coming years. In parts of southern France, bans are in place against filling swimming pools and washing cars, while farmers are being forced to reduce water use. France is crafting a crisis plan as its drought worsens.
Spain, too, is suffering from a lack of water, and drastic measures are being taken. Catalonia is forcing farmers to reduce their water consumption by 40% and industry by 15%.
In Italy, the flows in the Po River, the country's longest river and a main source of water for much of Italy's northern plains, are about 60% below normal.
"Unless we have significant precipitation recharge, significant spring rainfall, the probability that there will be below-average water availability in southern European countries in this spring and summer is likely to continue," Burgess said. She warned that crop production will likely be lower this year due to the dry conditions.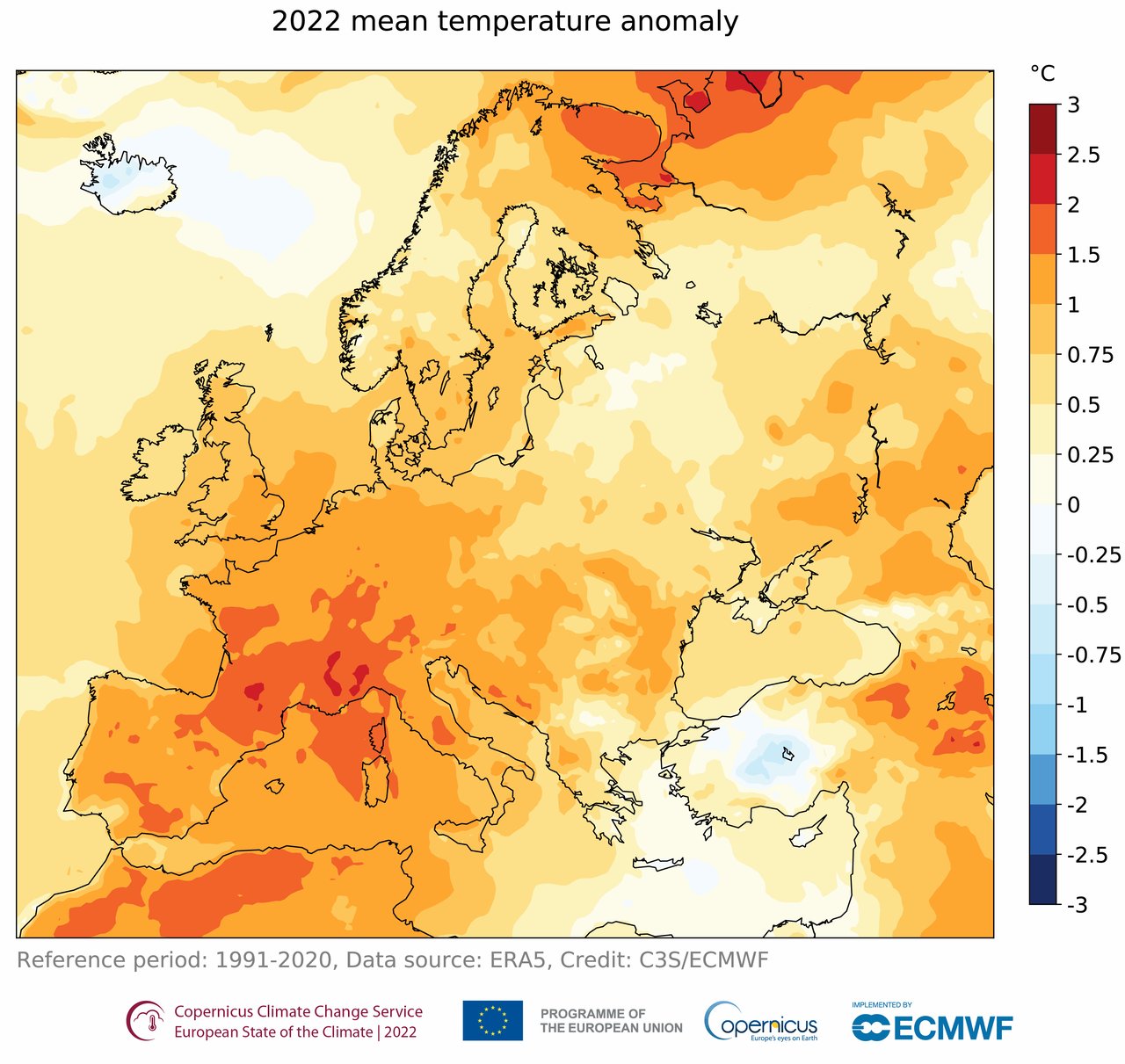 Mauro Facchini, a top Copernicus official at the European Commission, said the effects of climate change are becoming ever more obvious for Europeans.
"More and more extreme events are happening in Europe," he said during the news briefing. "Every one of us can really witness that. We have seen the extent of heat waves over the summer, but also extending beyond summer; droughts that are more and more evident in several regions; record loss of glaciers."
A worsening climate means the EU must prepare to deal with the effects of a warming planet and work to reduce its greenhouse gas emissions, he said.
The EU is in the midst of a massive shift toward renewable energy sources after it unveiled its European Green Deal in 2021.
The plans aim to lay the ground for a new financial and political paradigm where climate change is fought by forcing businesses and societies to move toward renewable and still-developing, energies such as hydrogen, solar, wind and biomass.
Europe is warming so much faster than other continents due to its geographic location, scientists say. There are the warm currents from the Sahara Desert and Africa that bring heat to Europe. With Africa also warming due to climate change, Europe is feeling those effects.
Then there's the Mediterranean Sea, which tends to warm up quickly as compared with the world's oceans, and this in turn brings warm temperatures into Europe. The loss of sea ice in the Barents Sea and around the Norwegian archipelago of Svalbard is also making Europe warmer.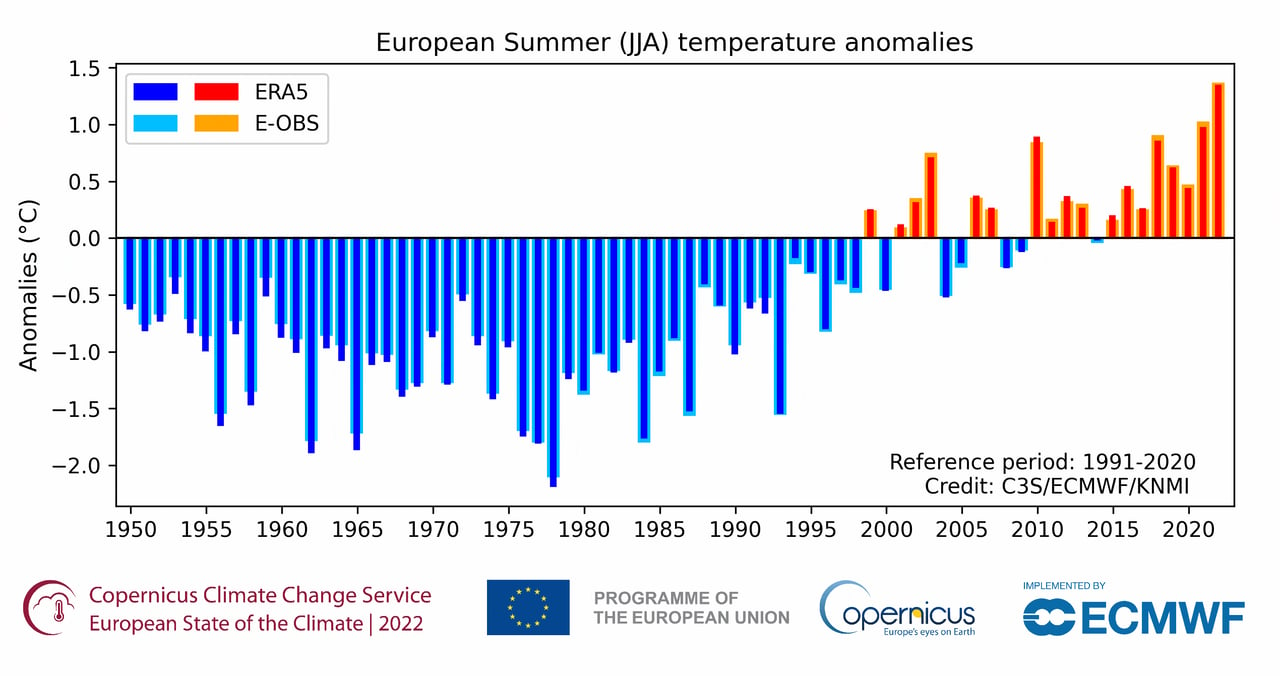 Courthouse News reporter Cain Burdeau is based in the European Union.
Follow @https://twitter.com/cainburdeau
Read the Top 8
Sign up for the Top 8, a roundup of the day's top stories delivered directly to your inbox Monday through Friday.