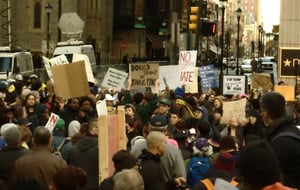 By Gina Carrano
PHILADELPHIA (CN) - Demonstrators poured into the streets outside a downtown hotel Thursday just yards away from the podium where President Donald Trump made his first appearance outside the White House since his inauguration.
The congressional Republican retreat in Philadelphia is billed as a chance for GOP lawmakers to engage in private discussions and briefings and emerge from the three-day event ready to advance the party's agenda.
For President Donald Trump it was an opportunity to showcase his controversial agenda on the road before a friendly and attentive audience.
As was expected, Trump spoke  of immigration, trade and national security and rallied his Republican colleagues to get moving on his "ambitious legislative agenda."
"We're here because tens of millions of Americans have placed their hopes in us, to transfer power from Washington, D.C. and give it back to the people," he reminded lawmakers. "We've got to take care of [them] immediately."
Trump's first week on the job has been a busy one. He's signed a record number of executive orders, including controversial mandates to repeal Obamacare and build a wall along the Mexican border to limit illegal immigration.
The president's vow to make Mexico pay for the wall or else deduct the cost from the United States foreign aid payments to Mexico sparked outrage in both countries. Following Trump's statement, Mexican president Enrique Pena Nieto tweeted that he would be a no-show at a planned meeting at the White House.
But Trump defended the planned border wall and other immigration reform measures, stating that America needed to "restore the rule of law" and rid the country of "criminal aliens."
"They're going to be gone – fast," he promised.
On the way back to Washington after the event, Trump spokesman Sean Spicer told revealed to reporters that the administration was considering imposing a 20 percent tax on all Mexican goods sold in the United States.
The White House later walked back that proposal, saying the tax was only being considered and suggesting that if imposed, it would likely be closer to 5 percent.
One executive order also mandated cutting off almost all federal funding to sanctuary cities, including caucus host Philadelphia.
Mayor Jim Kenney held firm in the face of the threats, insisting Wednesday that the city would not change its policy of protecting immigrants from being prosecuted for entering the country illegally.
President Trump's hard-line stance on immigration, which was also a hallmark of his campaign, inspired some of the loudest roars of opposition from the demonstrators outside the caucus.
One woman, who stood outside City Hall with a sign several hours after Trump had already boarded Air Force One back to Washington, said the effects of the president's new policies could already be felt in the city school where she taught.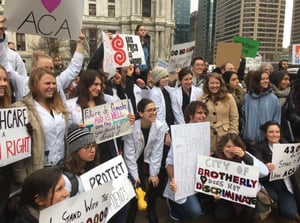 Some of her students' parents were not filling out federal financial aid forms on their children's behalf, she said. Though they didn't say as much, she suspects their inaction is because they fear they may be deported.
Another late-afternoon protestor who identified himself as Lou said he had joined the ranks of opposition in the name of "common decency."
"Every day there's something more disturbing," he said, pinpointing women's rights and healthcare as two of the issues most important to him.
Trump signed an executive order earlier this week to ease the regulations imposed by Obamacare. He referred to his predecessor's healthcare law as a "disaster" during this afternoon's speech, eliciting cheers from the Republicans in attendance.
Not all onlookers were there to voice their opposition to the nation's 45th president. John Pierce, an independent, said he appreciated the "historical significance" of Trump's appearance and hoped to catch a glimpse of the presidential motorcade.
The city pulled out all the stops to get the president to the event smoothly, closing roads within a block in each direction of its downtown site and dispatching police officers in droves to make sure all surrounding protests remained peaceful.
The president's early-afternoon speech also focused on trade and the economy, which he vowed to rebuild by creating "a lean, efficient government."
He promised a massive rollback of trade regulations, which he likened to "quicksand," and said he'd lower taxes for the middle-class and business owners.
"The hour of justice for the American worker has arrived," he said. "It's time that somebody fought for our country and didn't let anyone take advantage of us."
With Republicans in control of both the Oval Office and Congress for the first time in a decade, now was the time to start putting the party's plans into action, Trump urged his colleagues.
"This is our chance to achieve great and lasting change," he said. "I am honored to be your partner in this amazing quest."
Subscribe to Closing Arguments
Sign up for new weekly newsletter Closing Arguments to get the latest about ongoing trials, major litigation and hot cases and rulings in courthouses around the U.S. and the world.