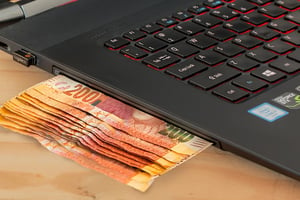 LOS ANGELES (CN) — A federal judge refused to dismiss whistleblower retaliation and defamation claims against the Bank of the Internet from a fired worker.
U.S. District Judge Cynthia Bashant denied the bank's motion to dismiss whistleblower claims under Sarbanes-Oxley and Dodd-Frank, and gave plaintiff Charles Erhart until Sept. 29 to amend claims of breach of medical confidentiality, breach of faith and intentional infliction of emotional distress.
In his amended complaint, Erhart says he repeatedly saw wrongful conduct at the Bank of the Internet, or BofI, from his hiring in 2013 until he was fired in June 2015.
In her Sept. 11 order, Bashant cited Erhart's claims of more than a dozen examples of wrongful acts, including changing account entries to make loans to known criminals.
Erhart also claims BofI CEO Gregory Garrabrants deposited third-party checks for structured settlement annuity accounts into a personal account.
He says the bank's largest consumer account belonged to the Garrabrants' impoverished brother, contained $4 million, and Garrabrants was the signer on the account.
After reporting these and other discrepancies, Erhart says, a senior vice president warned that if he "continues to turn over rocks, eventually he is going to find a snake and he's going to get bit."
Erhart says he sought whistleblower protection from the Office of the Comptroller of the Currency after bank officials searched his work computer and records and drafted his termination papers.
He says that despite the Office of the Comptroller's whistleblower protections for him, BofI officials have published false and defamatory statements that he is dishonest, incompetent and conspired with short-sellers of BofI stock.
The bank claimed that Erhart had not reported the alleged violations to a federal agency by the time he was fired, and is not entitled to federal whistleblower protection.
Bashant disagreed. She found that Erhart sufficiently claimed he engaged in protected whistleblower activity and denied BofI's motion to dismiss the two claims of whistleblower retaliation.
She also denied the bank's motions to strike several of Erhart's allegations, finding they are relevant to the case and already have been reported by media.
Subscribe to Closing Arguments
Sign up for new weekly newsletter Closing Arguments to get the latest about ongoing trials, major litigation and hot cases and rulings in courthouses around the U.S. and the world.