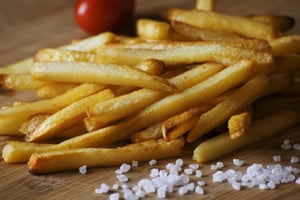 (CN) – Vegetarians cannot sue Buffalo Wild Wings for failing to disclose that its french fries, mozzarella sticks and other fried non-meat items are cooked in beef tallow, a federal judge ruled.
Alexa Borenkoff, a vegetarian, says she visited Buffalo Wild Wings on multiple occasions and ordered non-meat items off the menu but was never informed that the restaurant fries its food using rendered beef fat.
In a class-action complaint filed in Manhattan federal court, she claimed that it is industry standard to fry non-meat items in vegetarian-friendly cooking oil, and "a reasonable consumer would not expect non-meat items to be fried in beef tallow."
But on Friday, U.S. District Judge Katherine Forrest said Borenkoff could not show she was injured by Buffalo Wild Wings' non-disclosure of its cooking methods.
"Borenkoff does not allege how the use of beef tallow affects the objective economic value of the food items she received," Forrest said in her 12-page opinion. (Emphasis in original.)
The complaint does not allege that Borenkoff's fries were defective in any way, that she was harmed by eating them, or that the menu prices for fried foods were inflated because the restaurant used beef tallow.
"Borenkoff paid for french fries and mozzarella sticks, and that is ultimately what she received," Forrest said.
This same issue made headlines over 15 years ago when McDonald's was sued by Hindu customers who ordered french fries and hash browns from the fast-food chain but were unaware McDonald's fried its food using beef tallow. Hindus consider cows sacred and do not eat beef.
McDonald's settled that suit by agreeing to donate $10 million to Hindu organizations. It now only uses pure vegetable oil, but still adds natural beef flavor, a flavoring made of milk derivatives.
Burger King's fries, on the other hand, are 100 percent vegan.
Subscribe to Closing Arguments
Sign up for new weekly newsletter Closing Arguments to get the latest about ongoing trials, major litigation and hot cases and rulings in courthouses around the U.S. and the world.