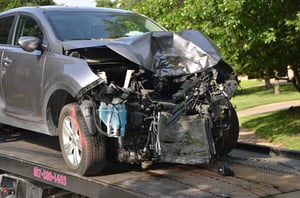 (CN) – A Cleveland suburb claims in court that a local ABC affiliate's report calling its practice of billing insurers of at-fault drivers for police services a "government-sanctioned scam" is defamatory.
Newburgh Heights Mayor Trevor Elkins and four village council members sued Channel 5 reporter Jonathan Walsh and the ABC station's parent company, Scripps Media Inc., on Thursday in the Cuyahoga County Court of Common Pleas.
Represented by Peter Pattakos in Fairlawn, Ohio, the village officials assert claims of defamation and false light publicity.
Newburgh Heights has a practice of billing the insurance providers of at-fault drivers for police services connected with traffic accidents.
Walsh's Channel 5 report called the practice a "government-sanctioned scam" that has "taken thousands of dollars from insurance companies and drivers" over the past three and a half years.
But the village officials say their billing is a lawful, "common-sense practice."
"The bills are sent to the drivers' insurance companies, which are contractually obligated to pay the fees for these police services, and the village is specifically authorized by statute to collect these fees," their lawsuit states.
The officials also called the Channel 5 report "a perverse political smear against Mayor Elkins, a rising star in the local Democratic party."
"The defamatory implications of defendants' intentional falsehoods are many, including that the plaintiffs are crooks and stooges, unfit for public office," according to the complaint.
Newburgh Heights Village Council members Dorene Kray, Brian Schaffran, Robert Schippling and Lonnie "Steven" Moran joined Elkins in filing the complaint. The council approved the ordinance authorizing the billing practice in June 2014.
In their lawsuit, the local leaders touted their 2016 decision to grant village employees six months of paid parental leave as an example of their "innovative policies for which they have received positive attention locally and nationally."
Walsh's TV report aired on Nov. 2, accompanied by his article on the station's website.
"Despite that this story is reporting on a law that was passed in public proceedings in 2014 and has been enforced publicly since then, it leads by claiming that Newburgh Heights is a 'tiny village with a big secret,'" the lawsuit states.
Village officials said Walsh accused them of running a "scheme to fool people and insurance companies into giving cash to Newburgh Heights."
The plaintiffs claim only 208 negligent drivers have been billed since the ordinance passed, attempting to refute Walsh's claim of a "widespread scam."
They also say Walsh falsely accused them of charging people for "calling the police for an accident" or "getting into an accident."
Mayor Elkins and the other officials added that while they are authorized to bill individual drivers, they have chosen only to collect money from the insurance companies.
"Defendants published these false and defamatory statements only months after departing Cuyahoga County Democratic Party Chair Stu Garson endorsed Elkins as his successor over the preferred 'establishment candidate' Shontel Brown," the complaint states.
Elkins lost the election to Brown in August by a margin of 58 percent to 41 percent.
According to the lawsuit, village officials were forced to respond to "angry phone calls, voicemails, and other messages," after Walsh's report aired.
They also claim to have suffered "mental distress and damage to their personal and professional reputations."
The officials are suing Channel 5 for at least $25,000, along with punitive damages, attorney fees and costs.
The village officials' attorney, Pattakos, said in a statement, "When news outlets abuse the public's trust by publishing false and defamatory hit pieces for political purposes, it severely undermines the democratic process."
"It's apparent that Mayor Elkins and his colleagues were made targets for their much needed willingness to question an entrenched political establishment, and we look forward to vindicating their good names in court and protecting the public's interest in truthful and useful journalism. News 5 and Mr. Walsh should immediately retract their story and correct it with a truthful account," Pattakos said via email.
Scripps Media did not respond Friday to a request for comment.
Subscribe to Closing Arguments
Sign up for new weekly newsletter Closing Arguments to get the latest about ongoing trials, major litigation and hot cases and rulings in courthouses around the U.S. and the world.