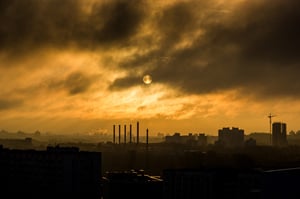 MANHATTAN (CN) – President Donald Trump's freeze on energy-efficiency standards will cause millions of tons of greenhouse gases to be spewed into the atmosphere, a coalition of state attorneys general warned in announcing new legal action.
New York Attorney General Eric Schneiderman led a coalition of 10 states and municipalities in a petition to review Trump's orders on Monday.
"Energy efficiency standards are vital to public health, our environment and consumers," he said in a statement. "This is yet another example of how the Trump administration's polluter-first energy policy has real and harmful impacts on the public health, environment – and pocketbooks – of New Yorkers."
The Department of Energy estimated that President Barack Obama's proposed standards on ceiling fans, portable air conditioners, walk-in coolers, freezers and other products would save consumers and businesses roughly $23.8 billion over the next 30 years.
During that period, the department believes, the now-shelved standards would have prevented the release 292 millions of tons of carbon dioxide, 734,000 tons of soot and smog, 1.2 million tons of methane and 1,000 pounds of mercury.
Seeking review from the Second Circuit, Schneiderman said Trump's orders – on top of economically wasteful and environmentally hazardous – violated the federal Energy Policy and Conservation Act's "anti-backsliding" provisions and the Administrative Procedures Act.
New York, California, Connecticut, Illinois, Maine, Massachusetts, Oregon, Vermont and Washington state – along with Pennsylvania's Department of Environment Protection and New York City – joined in the March 31 petition.
Their petition asks the appeals court to require the standards to take effect immediately.
In a letter on Monday, the coalition warned the Department of Energy to publish the new standards within 60 days or face a federal lawsuit in Washington.
"The consequence of DOE's failure to publish the rules is significant," the coalition wrote in an 18-page letter. "The rulemaking dockets for each of the standards identify significant reductions in electricity consumption and pollution emissions that will be achieved as a result of the rules."
The letter is addressed to Energy Secretary Rick Perry, a former Texas governor who called climate change "one contrived phony mess" and once wanted to close the department that he now leads.
Trump has loaded his cabinet with energy industry insiders and climate-change deniers, and Schneiderman has been one of the stalwart opponents of the president's agenda attacking environmental regulation.
Schneiderman's office has an active investigation against ExxonMobil – once run by Trump's Secretary of State Rex Tillerson – into whether the company defrauded shareholders on climate change, and promised more litigation over Trump's recently announced rollback Obama's Clean Power Plan.
Subscribe to Closing Arguments
Sign up for new weekly newsletter Closing Arguments to get the latest about ongoing trials, major litigation and hot cases and rulings in courthouses around the U.S. and the world.