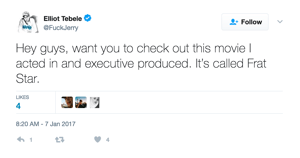 MANHATTAN (CN) - FJerry, the business behind the less-sanitized-sounding social-media account, faces a $250,000 complaint over sloppy promotional posts.
The complaint filed Wednesday in Manhattan Supreme Court describes a timeline when the @fuckjerry account was taking off. The account has millions of followers on platforms like Facebook, Snapchat, Twitter and Instagram.
Frat Star Movie LLC says it paid FJerry LLC and Elliot Tebele, the man behind the account, $25,000 in October 2015 to make six posts about its movie.
As its name suggests, the movie "Frat Star" is a feature-length dark comedy about fraternity life. The comedian Chris Elliot has a bit part, and the producers say they even gave Tebele a role in the movie, despite his lack of previous acting credits. To promote the film, according to the complaint, Tebele also wanted executive-producer credits for both himself and his business manager, nonparty Elie Ballas.
"Frat Star" was not released in theaters but rather directly to platforms like iTunes, YouTube and Verizon Fios this past January.
The producers say Tebele ignored requests ahead of the launch to collaborate on promotional posts. Ballas eventually intervened, however, saying FJerry would post about the movie on its release date using a new continuous-video feature on Instagram called Story.
Then, "on the release date, without collaboration with plaintiff, defendants released an Instagram Story which was not produced in a first class, professional manner," the complaint states.
"Among other things: the post misspelled the name of the motion picture, included a blurred and unflattering version of a video clip from the motion picture, and, contrary to Ballas' representation on December 26, did not include any kind of on-camera personal appearance by Tebele," the complaint continues.
The producers say Tebele balked when told the post was not up to par.
"Tebele responded that he 'found [it] hard to believe' that he had agreed with plaintiff to do six (6) posts and that because 'we currently charge $25k for a swipe up story,' he would do only one more post," the complaint states. "On January 11, Tebele stated that he was now charging '$30k-$40k for a post.'"
The producers say Tebele ultimately fired off a series of posts about the movie, but that each "failed utterly to satisfy the requirements of the agreement."
Now Frat Star Movie wants damages. It is represented by Joseph Colao with Leader & Berkon.
Follow @bleonardcns
Subscribe to Closing Arguments
Sign up for new weekly newsletter Closing Arguments to get the latest about ongoing trials, major litigation and hot cases and rulings in courthouses around the U.S. and the world.