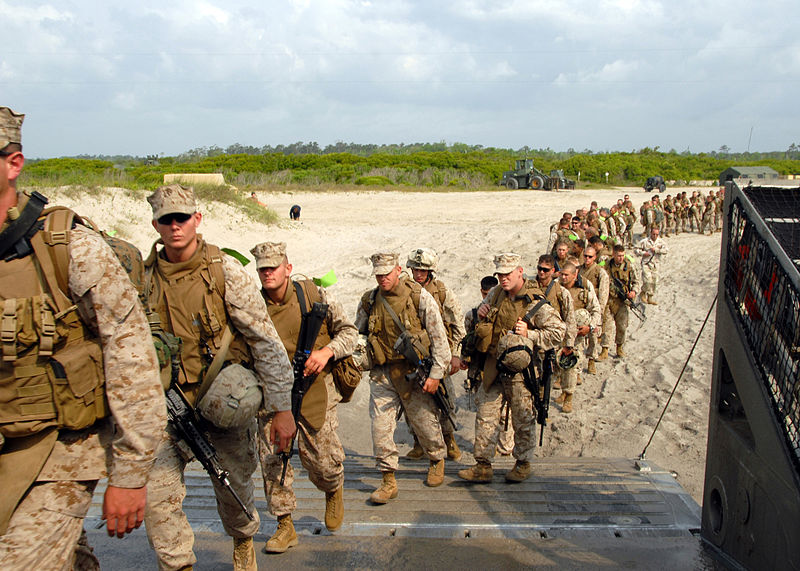 CENTRAL ISLIP, N.Y. (CN) - The Marine Corps targeted a whistle-blowing reservist who emailed a warning to his higher-ups about threats posed by a corrupt Taliban-sponsored police chief in Afghanistan just weeks before one the chief's teenaged sex slaves infiltrated a gym on a base and opened fire, killing three Marines.
Jason Brezler, a fire fighter with the New York City Fire Department based in Brooklyn - and a major in the U.S. Marine Corps Reserve since 2010 - filed his 15-page lawsuit against Lt. Gen. Richard Mills, commander of the Marine Corps Reserve, the U.S. Marine Corps, and the U.S. Department of the Navy in Eastern District New York.
Brezler says that while working out in a gym at the Forward Operating Base in Delhi, Afghanistan in August 2010, three of his colleagues were murdered by an Afghan boy who was part of the "unofficial entourage" of "corrupt" Afghan police chief Sarwar Jan, "who was a notorious drug dealer, child rapist and Taliban collaborator."
The teen had arrived at the base weeks earlier with Jan and his entourage, Brezler says.
The Marine Corps command responsible for FOB Delhi - and the safety of the Marines stationed there - should never have allowed Jan or the murderer to enter, let alone operate out of, FOB Delhi, the lawsuit states.
Killed in the attack were Marine Lance Corporal Gregory Buckley, Corporal Richard A. Rivera, and Staff Sgt. Scott E. Dickenson.
Two years earlier, U.S. Marine Cpt. Andrew Terrell and Brezler had expelled Sarwar Jan as the police chief of the Afghan village of Now Zad because they were kidnapping and keeping boys as sex slaves, trafficking drugs and providing weapons and Afghan police uniforms to the Taliban to carry out insider attacks, according to the complaint.
The two men then created a dossier on Jan and sent it up the chain of command.
But in July 2012, Jan reemerged as the new chief of the Afghan police unit stationed at the base and worked with a Marine Corps advisor team - the three men who were gunned down.
"The arrival of this known Taliban collaborator Jan and his entourage of unknown boys and young men presented a particularly acute threat to FOB Delhi because it coincided with the Taliban's publicly proclaimed intent to infiltrate coalition bases and execute insider attacks," according to the lawsuit.
Jan's arrival "generated fears among certain American and British personnel and caused the Marine commanders with responsibility for the FOB Delhi to send an urgent request for information about Jan to Captain Terrel."
Terrell then asked Brezler, who was at the time back in a classroom in Oklahoma working towards a master's degree, to "immediately forward" the dossier he created on Jan. Brezler says he did so.
But, he adds, commanders not only let Jan return to the base but "inexplicably took no steps" in response to his warnings.
"There was no investigation or scrutiny into, or monitoring of, Jan and the unknown boys and young men" he brought with him to the base, he claims.
"Nothing was done to mitigate the heightened risk of insider attacks posed by Jan's presence during what should have otherwise already been a period of heightened vigilance anyway," Brezler says.