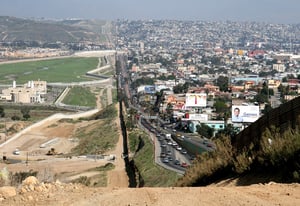 SAN DIEGO (CN) – The San Diego City Council could be a thorn in the side of the federal government as it works to build a wall along the U.S.-Mexico border: the budget committee voted Wednesday in a partisan 2-2 split to advance a resolution to the full City Council to divest from border wall contractors.
The vote to move the proposal forward comes a day after the Department of Homeland Security announced it is waiving environmental laws in order to speed up construction along a 15-mile stretch of the border wall in San Diego from the Pacific Ocean eastward.
Residents, activists, union representatives and professors packed the Budget and Government Efficiency Committee hearing Wednesday to speak in favor of a resolution by Democratic Councilwoman Georgette Gomez calling on the City Council to oppose President Donald Trump's executive order to build a border wall as well as HR 1813, the Border Wall Funding Act, which would tax remittances sent from the United States to over 40 countries.
The proposal also calls for San Diego to divest from companies which are involved in the construction of Trump's border wall.
Gomez and Councilwoman Barbara Bry, also a Democrat, voted in favor of the resolution, with Republican Councilmen Chris Cate and Scott Sherman opposing it.
Virtually all speakers supported the resolution, though the reasons cited for opposing a wall along the southern San Diego border were as varied as the speakers themselves. Some cited environmental concerns, economic impacts and social justice. Some spoke to the committee using Spanish translators.
Many speakers said funds directed toward the border wall could be better spent on improving crumbling infrastructure and overburdened ports of entry – something touted by a binational coalition of southern border mayors at a conference in San Diego last week.
Andrea Guerrero, the executive director of nonprofit Alliance San Diego, told the committee: "This is a political wall, not a practical wall."
Rev. Beth Johnson of the Palomar Unitarian Universalist Fellowship told the committee "the border wall is not in the interest" of San Diego.
"Critical voices from the border region need to be heard in this debate. The rhetoric coming from Washington D.C. is from those who do not truly understand the border," Johnson said.
But the Republican council members on the committee didn't think San Diego should be meddling in decisions made in Washington.
Cate said he doesn't agree with the city taking on national policies.
"I understand the temptation to respond to everything coming out of Washington D.C. and I don't agree with everything coming from D.C., which is why I didn't run for federal office, I ran for local office," Cate said.
He reminded the audience that San Diego already has a legislative platform on immigration and a binational trade relationship with Mexico, as well as lobbyists who promote the city's agenda in Washington.
Cate strongly opposed punishing private businesses by divesting from those who work on the border wall.
"I do not agree with a government entity going after businesses, or a political agenda of a legislative body. It's not the right approach to take. I think it's an overreach of government and I'll never support that."
Sherman echoed Cate's position, saying "city politics are nonpartisan for a reason" and that City Council members' job is to balance budgets, fix streets and pay for fire and police services.
"I love the passion that everyone is bringing to the table here, but it needs to be redirected. It shouldn't be in front of the budget committee, in front of the city of San Diego. Even if we pass a resolution, I don't think our president is going to care what the budget committee of the city of San Diego says," Sherman said.
Gomez retorted that San Diego has a responsibility to take a stance on the border wall since it directly impacts the city.
"It's important we have this discussion because we are a binational city and we need to recognize that," Gomez said before the committee vote.
"Today's action is more important and critical than ever. We, as a binational region, can speak louder than anyone in Washington D.C. We need to have a strong voice in protecting our backyard."
Guerrero with Alliance San Diego said in an interview after the hearing that Cate and Sherman were "abdicating their responsibility to represent the city" by voting against the resolution.
"Everyone else is weighing in on this decision. It is appropriate and necessary for San Diego, as the most impacted region, to weigh in," Guerrero said.
The city's independent budget analyst and City Attorney's Office will work to come up with a plan to present to City Council detailing how the city could divest from companies involved with construction of the border wall.
But because it was a split vote, the resolution will be forwarded to the City Council without a recommendation from the committee. The City Council is expected to vote on the proposal in September, following the August recess.
(Photo shows the border at Tijuana-San Diego.)
Follow @@BiancaDBruno
Subscribe to Closing Arguments
Sign up for new weekly newsletter Closing Arguments to get the latest about ongoing trials, major litigation and hot cases and rulings in courthouses around the U.S. and the world.