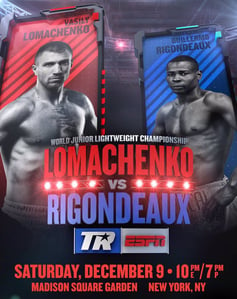 MANHATTAN (CN) - Jay-Z's Roc Nation Sports asked a federal judge Wednesday to decide if it has frozen out a promoter from the upcoming historic bout between two Olympic champions, Guillermo Rigondeaux and Vasyl Lomachenko.
Miami-based boxing promotion company Caribe filed the initial petition a day earlier in Manhattan Supreme Court, accusing the sport agency founded by Jay-Z of excluding Caribe from all association with the Rigondeaux-Lomachenko fight scheduled for Dec. 9 in Madison Square Garden.
"It refuses to share with Caribe the tickets to the bout it has received from Top Rank Inc., the promoter of the bout, it refuses to allow Caribe to participate in events associated with the bout … and it refuses to provide Caribe with the 'in association with' credit during all ring announcements to which Caribe is entitled under the agreement," the petition states.
Caribe's petition is accompanied by an affidavit by the promoter's vice president, Luis Fonseca.
"Precluding Caribe from any involvement and recognition and its place in boxing history is an injury from which Caribe will never recover," Fonseca said. "Caribe relies on such credibility and exposure to enter into future contracts as a major source of income and business growth for the company."
Rigondeaux may not be a household name yet, but the Cuban-born defector is held by boxing devotees and by commentators as one of the greatest pound-for-pound fighters of today.
"His talent is at such an elite level that he became world champion in only his seventh professional bout," Caribe's petition says.
To add even further intrigue to the match, Rigondeaux will be moving up two weight divisions, from super-bantamweight to super-featherweight, to challenge Lomachenko.
Rigondeaux's Ukrainian opponent has an impressive reputation as well. Both have won two Olympic gold medals, making this the first time in history that double-gold medalists will square off in a professional boxing match, and making involvement in the fight enormously prestigious for a promoter like Caribe, which is dedicated to promoting fighters of Cuban descent.
"The advancement of the careers of the Cuban fighters is a matter of great cultural and national pride for the company since Caribe's principals are of Cuban descent," Fonseca said in his affidavit.
Caribe became Rigondeaux's exclusive promoter in 2009, and entered into an agreement to co-promote the boxer with Roc Nation in November 2015 in exchange for Roc Nation's access to major media outlets like HBO, along with a sharing of profits and expenses associated with the boxer's fights.
 "Co-promotional billing for Caribe … would be of incalculable value to Caribe, as this fight is sold out and will headline an ESPN televised card," Caribe's petition states.
As justification for freezing out the Florida promoter from the event, Roc Nation has accused Caribe of breaching their co-promotional agreement. The claims stem from Rigondeaux's most recent fight with Mexican boxer Moises Flores on June 17, 2017, which Roc Nation claimed was a "co-feature bout" that trigged a contractual obligation for Caribe to share expenses with Roc Nation.
Roc Nation billed the Miami promoter more than $108,000 for these expenses, but Caribe refused to pay. Caribe said Roc Nation should have informed it that the Rigondeaux-Flores fight was billed as a co-feature, and that the failure to discuss expenses with Caribe beforehand amounted to a contractual breach.
Roc Nation then negotiated the Rigondeaux-Lomachenko fight with Top Rank, one of boxing's biggest promoters, during the fall of 2017 without Caribe's knowledge or participation.
Caribe wants an injunction, saying Roc Nation must give it half of the tickets to the match that it received from Top Rank. Caribe is also seeking to participate in all related media events including the weigh-in and press conferences, and to give Caribe "in association with" credit during the fight's ring announcements. Roc Nation removed the case on Wednesday to U.S. District Court for the Southern District of New York.
Subscribe to Closing Arguments
Sign up for new weekly newsletter Closing Arguments to get the latest about ongoing trials, major litigation and hot cases and rulings in courthouses around the U.S. and the world.