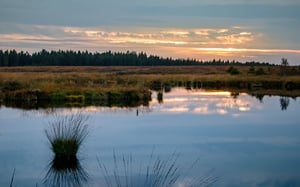 CANTON, Ohio (CN) - Ohio filed a lawsuit Friday against the developer of the interstate Rover Pipeline, claiming it has discharged millions of gallons of drilling fluids into wetlands during the pipeline's construction after numerous warnings and citations from regulators.
Filing on behalf of the Ohio Environmental Protection Agency, Attorney General Mike DeWine's office sued Dallas, Texas-based Rover Pipeline LLC in the Stark County Court of Common Pleas.
DeWine wants the court to order the pipeline developer to pay civil penalties of $10,000 per day for each violation and follow state rules by filing for construction permits.
Last month, the Ohio EPA said Rover Pipeline should pay $2.3 million in fines for polluting the state's air and waters. In September, the agency cited the company for spilling soap wastewater, soil and sediment into the tributary of a creek in the Loudon Township.
The federal government also barred the company from drilling in some Ohio locations due to multiple environmental violations. The Ohio EPA said Rover Pipeline had released two million gallons of industrial sludge into Tuscarawas County wetlands and into local quarries that provide drinking water.
The developer's parent company, Energy Transfer Partners, was also behind the highly controversial Dakota Access oil pipeline.
In an email, Energy Transfer Partners spokesman Alexis Daniel said the company had been in talks with the Ohio EPA to bring the matter to a close.
"We are therefore disappointed that they have resorted to litigation when Ohio EPA has acknowledged publicly that Rover has complied with all applicable environmental laws," Daniel wrote. "This will not affect our construction timeline. Beyond that, we do not comment on current or pending legal issues."
The Buckeye State's 30-page complaint says drilling for construction of the Rover Pipeline has polluted water in 10 counties, including pristine and protected wetlands in Stark County.
"Rover illegally discharged millions of gallons of drilling fluids to Ohio's waters, causing pollution and degrading water quality on numerous occasions," the complaint states. "Rover failed to secure any water pollution permits designed to control these discharges."
Currently under construction, the 713-mile interstate $4.2 billion pipeline crosses 18 counties in Ohio. When complete, it will siphon 3.25 billion cubic feet per day of natural gas across the United States and into Canada.
Ohio alleges Rover unlawfully discharged drilling fluids and sediment-laden storm water at least 18 times without permits and in violation of the state's General Water Quality Standards and the Ohio EPA's orders.
According to the complaint, the company polluted waters with drilling sludge that contains diesel fuel at a disposal pit close to the city of Massillon's public water system's drinking water intake and a quarry near the city of Canton's Sugarcreek drinking wellfield.
In response, Ohio EPA Director Craig Butler ordered Rover to protect against surface and groundwater pollution and clean water sources if necessary.
Attorney General DeWine has recently come under fire for his ties to Energy Transfer Partners.
The Columbus Dispatch reports that Democratic candidate for governor Betty Sutton asked the Ohio Ethics Commission on Thursday to look into the Republican's conduct in the Rover case because he once held stocks in the company.
DeWine's spokesman Dan Tierney told Courthouse News on Friday that DeWine had divested his stocks two months before he became involved in the Ohio EPA's investigation into the developer, and called his office's handling of the case "routine."
Tierney said that DeWine would not comment on the specifics of the new lawsuit beyond what was in a news release from his office.
Butler could not immediately be reached for comment on Friday.
In July, West Virginia ordered Rover to stop work after regulators identified numerous water pollution violations caused by the pipeline's construction. However, it lifted part of its cease-and desist-order the next month, finding some violations in the fledgling pipeline project had been corrected.
Subscribe to Closing Arguments
Sign up for new weekly newsletter Closing Arguments to get the latest about ongoing trials, major litigation and hot cases and rulings in courthouses around the U.S. and the world.