OAKLAND, Calif. (CN) — Oakland Unified School District teachers and support staff hit the picket lines this week after months of union contract negotiations with the district stalled. 
All across the city Thursday, teachers marched with signs in hand, from school campuses and near landmarks like Lake Merritt, ending at Oakland City Hall and followed by horns from passing cars and encouragements from onlookers.
The Oakland Education Association, representing nearly 3,000 teachers, counselors, social workers, nurses and substitutes, said the strike will continue until an agreement is reached with the district. The union's contract with the district ended this past October.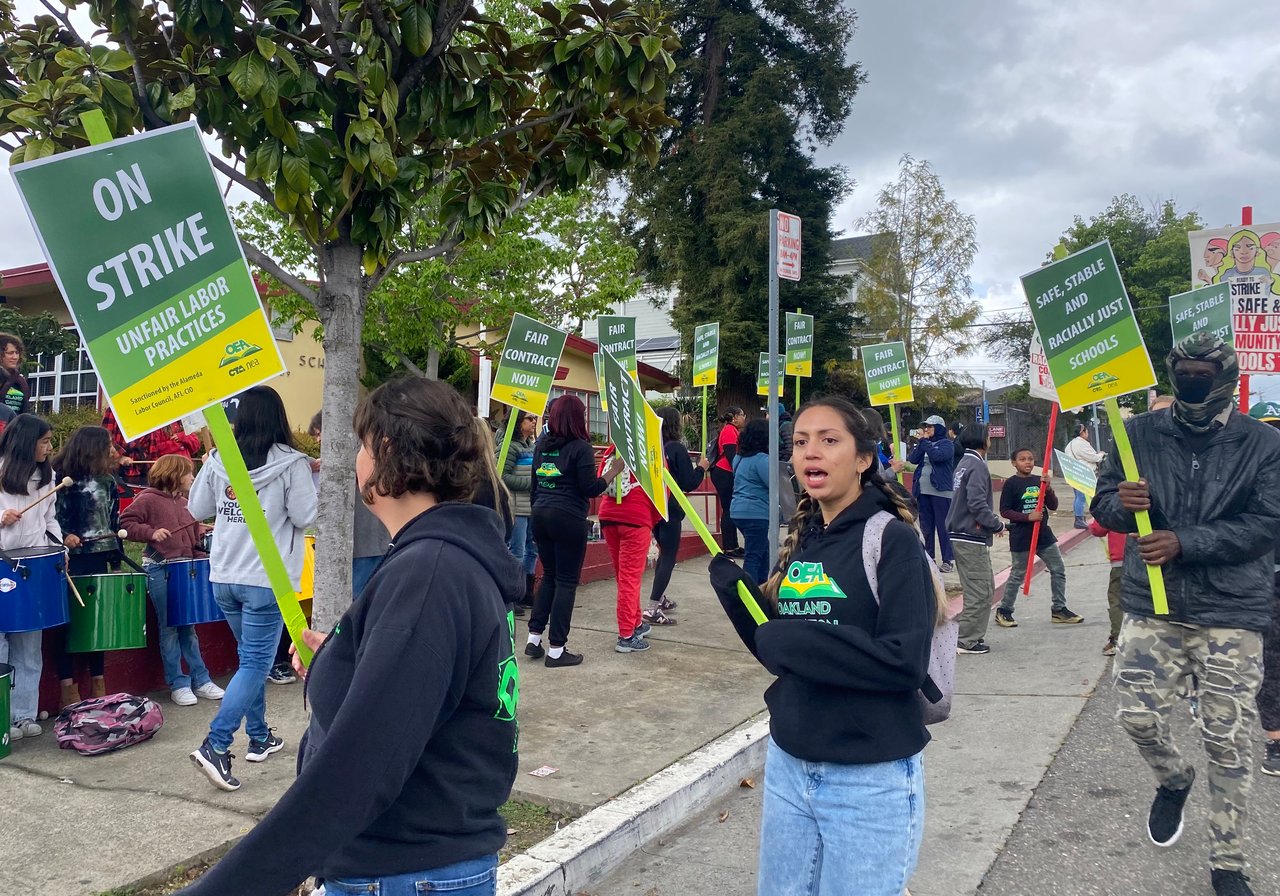 Unlike the 2019 strike — after two years of stalled negotiations — union members accuse the district of unfair labor practices and negotiating in bad faith by coming to bargaining sessions unprepared and without meaningful counterproposals. In March, the union filed an unfair labor practice claim with the California Public Employee Relations Board, which oversees negotiations between public agencies and employees. 
In a press release March 23, the district said some Oakland Education Association members would hold a one-day strike that was not union-sanctioned. Negotiations then continued through April.
Then on Wednesday, the district said a deal was within reach. The district said it offered a retroactive 10% raise for some union members and raises of 13 – 22% for TK-12 teachers, with a one-time $5,000 bonus.
"We know that our dedicated teachers would much prefer to be in class with students, rather than walking a strike line," the district said.
But the union has asked for raises of about 23% to put their pay in line with median teacher pay in Alameda County. The union has also proposed several "common good" demands, like creating shared leadership structures in schools, fully implementing a Reparations for Black Students policy, engaging with the community for at least a year before closing schools, and providing housing and transportation for unhoused students.
The union posted this week on Twitter that it continues to negotiate with the district.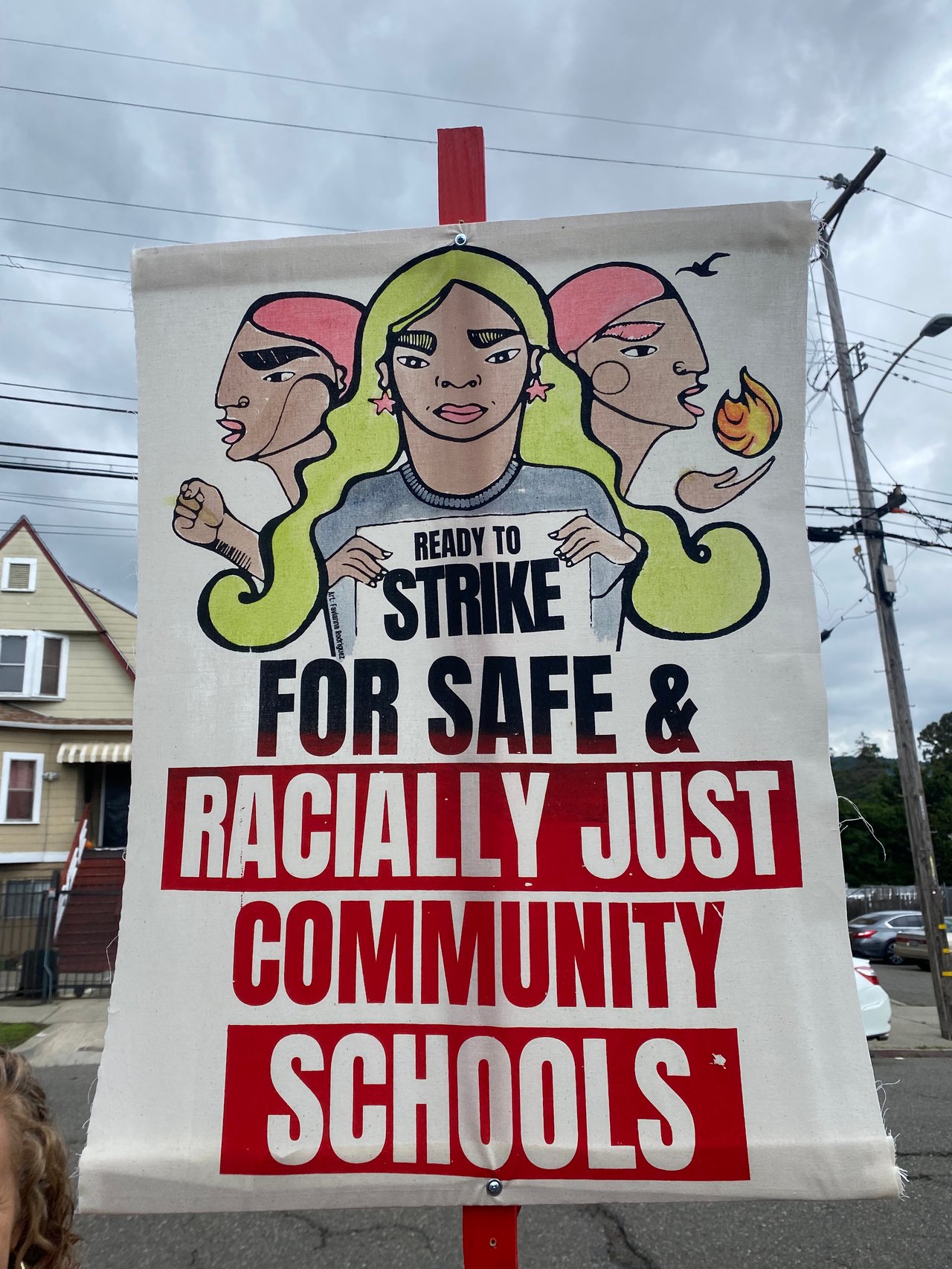 "The district has made decisions that disenfranchise us and negatively impact students," Vanessa Raabe, who teaches kindergarten at Manzanita Seed, said outside her school Thursday.
She added the union does not take the decision to strike lightly because of the effect on families but said the need for a fair deal is long past due. After six years in the district, she said it is becoming economically unsustainable at current pay rates. 
"I want to teach and serve the community I live in," Raabe said. "A teacher's pay in Oakland is so much lower than in neighboring districts. We have to decide whether it's economically viable to teach in the communities we live in. For many, many people, it's not."
Parent Shaw San Liu said she supports teachers like Raabe, with a child in first grade at Manzanita Seed and another soon to join. She said she has seen how teachers and staff are affected by understaffing and low pay, which in turn affects children and parents who rely on them.
"It is just abysmal that some of the most important people in our kids' lives cannot afford the basics, and do not get the respect and support they need to help our kids thrive," Liu said.
"We know it's not just a problem in Oakland, it's a nationwide problem. Teachers just aren't getting the respect and basic benefits, or the ability to live. If we aren't taking care of the folks taking care of our children, what does that mean for us as a society?"
The district posted a resource guide for families saying schools will remain open during the strike, albeit with unusual operations. Principals and support staff will monitor classes and students who attend. State and federally funded after-school programs will also be open, but only to students who attend classes. School meals will also be available on campuses. Students who do not attend school during a strike will receive an excused absence. 
Oakland Unified has seen its share of protests this year over other budgetary decisions, like the choice to close schools like Parker Elementary in low-income areas.
Follow @@nhanson_reports
Read the Top 8
Sign up for the Top 8, a roundup of the day's top stories delivered directly to your inbox Monday through Friday.