MANHATTAN (CN) — Brian Benjamin formally gave up his post as New York's lieutenant governor on Tuesday evening, four hours after he was arraigned on a federal bribery indictment in connection to his last election campaign.
"I have accepted Brian Benjamin's resignation effective immediately. While the legal process plays out, it is clear to both of us that he cannot continue to serve as lieutenant governor," Governor Kathy Hochul wrote on Tuesday evening in her first official statement since Benjamin's arrest that morning.
"New Yorkers deserve absolute confidence in their government, and I will continue working every day to deliver for them," the Democrat affirmed.
Back in September, Hochul had handpicked the former state senator from Harlem to stand as her second-in-command. The deputy lieutenant job had been hers just weeks earlier before she succeeded Governor Andrew Cuomo in the wake of his resignation over sexual harassment allegations.
Hochul said Monday at a press conference that she was unaware, at the time when she tapped Benjamin to be her No. 2, that he was facing subpoenas.
The new administration was barely on its feet in November 2021 when prosecutors indicted a real estate developer who steered campaign contributions toward Benjamin's failed bid for New York City comptroller earlier that year. Harlem real estate developer Gerald Migdol is charged with orchestrating a scheme to funnel fraudulent campaign contributions to Benjamin.
Both Migdol and Benjamin's federal indictments were filed in the Southern District of New York. Benjamin, 45, pleaded not guilty before a magistrate judge Tuesday afternoon to the five counts against him, which include bribery, honest services wire fraud and falsification of records. He has been released on a $250,000 personal recognizance bond.
Benjamin was set to be Governor Hochul's running mate when she campaigns for her first proper four-year term in the 2022 state gubernatorial election. She said last week she had the "utmost confidence" in Benjamin.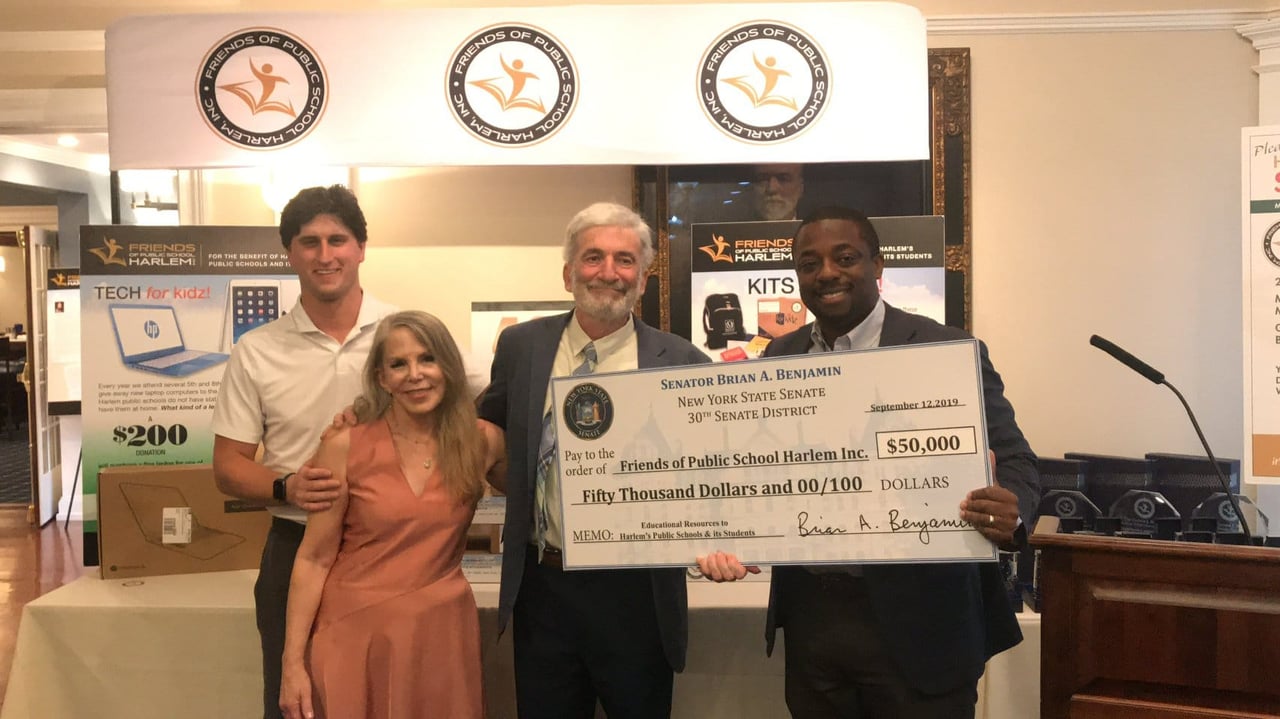 During a 15-minute press conference on the new indictment, U.S. Attorney Damian Williams did not mention Migdol by name, referring only to an anonymous co-conspirator.
"This is a simple story of corruption," Williams said at the briefing held in person this afternoon at the prosecutor's office in Lower Manhattan.
Benjamin "struck a corrupt bargain with a real estate development," and then covered it up, Williams said. The prosecutor called the $50,000 quid pro quo arrangement between Benjamin and the developer "bribery, plain and simple."
Reporters meanwhile pushed Williams on how the government can establish quid pro quo, which translates from the Latin as something for something, unless Migdol actually received the government support he is accused of trying to buy with illegal campaign donations.
Williams told reporters he is confident that the charged conduct qualifies as an illegal bribe.
"Will it be an issue? No, it is not a legal impediment to this indictment," he said at the press conference.
Benjamin is represented by William Harrington, a partner at Goodwin Procter. In his previous role as a public corruption prosecutor for the Southern District of New York, Harrington secured the bribery conviction of former New York state Senator Carl Kruger.
Michael J. Driscoll, the assistant director in charge for the FBI's New York office, said the bribery scheme dates back to early 2019 when Benjamin was a state senator planning his campaign for city comptroller in 2021.
"Exploiting one's official authority by allocating state funds as part of a bribe to procure donations to a political campaign, and engaging in activity to cover up the bribe, is illegal," he said.
Benjamin and Migdol's consolidated criminal case has been assigned to U.S. District Judge J. Paul Oetken, an Obama appointee.
"Brian Benjamin, the defendant, and others acting at his direction or on his behalf, also engaged in a series of lies and deceptions to cover up his scheme, including by falsifying campaign donor forms, misleading municipal regulators, and providing false information in vetting forms Benjamin submitted while under consideration to be appointed the next Lieutenant Governor of New York State," the indictment states.
Benjamin, the Harlem-born son of Caribbean immigrants, is the second Black lieutenant governor in New York state's history. The first was David Paterson, also a former state senator from Harlem, who was elected lieutenant governor in 2006 and took over as governor in 2007 when Governor Eliot Spitzer resigned in a sex scandal.
Paterson had his own corruption scandal during his last year in office, ultimately causing him to withdraw his bid for a full term as governor of New York.
Though Paterson never faced criminal charges, the Commission on Public Integrity would later find that Paterson had lied about accepting five free tickets to the World Series and fined him $62,125.
The scandal over the tickets broke in March 2010, about a month after Paterson was implicated in witness-tampering allegations after he reached out to a woman who had accused one his staffers of domestic abuse.
U.S. Attorney Williams said on Tuesday that the Benjamin investigation remains ongoing.
Follow @jruss_jruss
Read the Top 8
Sign up for the Top 8, a roundup of the day's top stories delivered directly to your inbox Monday through Friday.