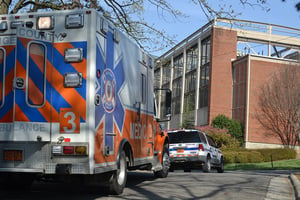 WEST POINT, Miss. (CN) – A Mississippi hospital faces a negligence lawsuit for claims that its now-imprisoned paramedic sexually assaulted a patient in the back of an ambulance while the driver recorded some of it on his cellphone.
In a lawsuit filed Thursday against Baptist Memorial Hospital-North Mississippi Inc., Jane Doe says she was receiving treatment for a drug overdose in February 2016 when she was placed in the back of an ambulance in a hospital gown for transport to a behavioral health care facility about 100 miles away.
Doe, described in her Clay County Circuit Court complaint as a "vulnerable adult" with a history of mental-health issues and related substance abuse, had been put on an involuntary 72-hour psychiatric hold by the hospital due to suicidal thoughts.
She says that in route from the Oxford hospital to the health care facility in Columbus, hospital paramedic Bryan Englebert sexually battered and assaulted her in the back of the ambulance. The driver of the ambulance allegedly videotaped a portion of the ongoing assault with his cellphone.
Englebert, 37, was sentenced in May to 15 years in prison, with 10 suspended and five to serve, after pleading guilty to fondling a vulnerable person, according to Mississippi Attorney General Jim Hood.
The former EMT of Walnut, Miss., was also ordered to five years post-release supervision and registration as a sex offender, and must pay a $2,400 fine and $500 to the Mississippi's Crime Victims Compensation Fund.
"Sexual abuse of vulnerable persons will not be tolerated," Hood said in a statement. "This office will vigorously prosecute these cases when they occur."
Doe seeks punitive damages from Baptist Memorial Hospital-North Mississippi for claims of negligence, mental and emotional distress, and pain and suffering. She says the hospital did not properly train and supervise its employees, and that its policies were inadequate to protect her during ambulance transport.
She is represented by Christopher W. Winter of Merkel & Cocke in Clarksdale, Miss.
A hospital spokeswoman declined to comment on the pending litigation.
Follow @@eidelagarza
Subscribe to Closing Arguments
Sign up for new weekly newsletter Closing Arguments to get the latest about ongoing trials, major litigation and hot cases and rulings in courthouses around the U.S. and the world.