ST. PAUL, Minn. (CN) – A Minnesota voter claims in court that Republican Lt. Gov. Michelle Fischbach cannot serve in that new role while also continuing to represent constituents as a state senator.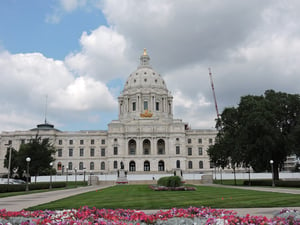 Fischbach, a longtime state lawmaker who is president of the Minnesota Senate, assumed the position of lieutenant governor following Democratic Gov. Mark Dayton's appointment of former Lt. Gov. Tina Smith to fill the U.S. Senate seat that belonged to Al Franken.
Franken, a Democrat who held the seat since 2009, formally resigned Jan. 2 amid multiple accusations of touching the buttocks and breasts of women.
State law requires that a vacancy for lieutenant governor be filled by "the last elected presiding officer of the senate."
On Friday, Destiny Dusosky sued Fischbach in Ramsey County District Court, claiming the Minnesota Constitution prohibits a state senator or representative from holding two offices at the same time.
Dusosky is an eligible voter living in Minnesota Senate District 13, which Fischbach represents as a state senator, and was also chair of the district's local Democratic Party last year. She is represented by Minneapolis attorney Charles Nauen of Lockridge Grindal Nauen.
Her lawsuit refers to an article in the state constitution that says "[n]o senator or representative shall hold any other office under the authority of the United States or the state of Minnesota, except that of postmaster or of notary public."
"Therefore, upon assuming the office of lieutenant governor, the Minnesota Constitution prohibits Fischbach from holding the office of state senator and continuing to exercise the powers of such office including voting on matters before the Minnesota Senate," the complaint states.
According to the lawsuit, Fischbach's justification for keeping her state senate seat is based upon a recent letter opinion by Senate Counsel Tom Bottern, which relies on an 1898 Minnesota Supreme Court decision in Marr v. Stearns.
But Dusosky says the letter ignores significant changes to the Minnesota Constitution since the Marr decision and multiple interpretations by the state's attorney general that a lieutenant governor cannot also serve as state senator.
"Plaintiff Destiny Dusosky will be deprived of representation in the Minnesota Senate due to now-Lieutenant Governor Fischbach's attempt to continue to hold the office of state senator for Senate District 13 notwithstanding that she is prohibited from doing so by the Minnesota Constitution, the incompatibility doctrine, and separation of powers," the complaint states.
Neither Dusosky nor Fischbach's office immediately responded Tuesday to requests for comment on the lawsuit.
Subscribe to Closing Arguments
Sign up for new weekly newsletter Closing Arguments to get the latest about ongoing trials, major litigation and hot cases and rulings in courthouses around the U.S. and the world.