ST. PAUL, Minn. (CN) – The Minnesota Court of Appeals found Monday that the city of Brainerd violated labor rules when it laid off all full-time firefighters to dissolve their union amid collective bargaining.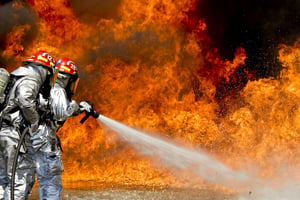 In a 21-page opinion, Judge Roger Klaphake wrote that the Crow Wing County District Court was wrong when it sided with Brainerd and granted summary judgment dismissal on the union's claims against the city.
In a 2016 lawsuit, Firefighters Union Local 4725 said the city eliminated all full-time firefighter positions during collecting bargaining, effectively dissolving the union.
According to the ruling, the positions were eliminated through a city resolution to "restructure" the fire department. The resolution, which went into effect in October 2015, eliminated all full-time fire equipment operator positions and required the city to instead rely on paid-on-call firefighters.
In the lawsuit, union president Mark Turner sought reinstatement of all full-time firefighters and punitive damages, claiming the city committed unfair labor practices under the Minnesota Public Employment Labor Relations Act, or PELRA.
Brainerd argued it has struggled financially for the "past eight years or so" because of decreased property tax values and decreases in local government aid, according to court records. However, the city had signed a new collective-bargaining agreement shortly before the elimination of the paid fire department, which was supposed to run through December 2017.
When the city moved for summary judgment, it argued that the union "improperly styled" its challenge to the restructuring plan as a claim under PELRA.
On appeal, Brainerd claimed the restructuring was "an act of inherent managerial policy" and as a result did not violate any labor laws, but the Minnesota Court of Appeals disagreed Monday.
"We conclude that it is not an 'inherent managerial policy' for an employer to reorganize a department when the reorganization interferes with the existence and administration of a union," Klaphake said.
Writing on behalf of a three-judge panel, the judge noted that union members "were not able to participate in or administer their employee organization" once it was eliminated by Brainerd officials.
"Therefore, we conclude that [the] city violated Minn. Stat. § 179A.13, subd. 2(2), when, during the midst of an operating bargaining agreement, it unilaterally eliminated all FEO positions, effectively dissolving [the] union," Klaphake wrote.
The case was sent back to the Crow Wing County District Court to decide the appropriate relief for the former full-time firefighters.
Subscribe to Closing Arguments
Sign up for new weekly newsletter Closing Arguments to get the latest about ongoing trials, major litigation and hot cases and rulings in courthouses around the U.S. and the world.