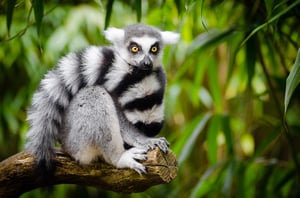 BALTIMORE (CN) – A small roadside zoo in western Maryland is once again accused of violating federal animal-protection laws by neglecting lemurs, tigers and lions.
People for the Ethical Treatment of Animals, better known as PETA, filed an Endangered Species Act lawsuit in Baltimore federal court on Monday alleging that the unaccredited Tri-State Zoological Park harms two lemurs, five tigers and a lion by displaying them in "decrepit enclosures" without appropriate companionship or proper enrichment, food, potable water and shelter.
It is not the first time the zoo, located in Cumberland, Md., and its owner Robert Candy have faced claims of not properly caring for animals at the park.
In 2012, an administrative law judge ruled Candy's zoo was in violation of numerous provisions and regulations of the Animal Welfare Act, or AWA, and suspended its license for 45 days.
Candy did not respond Tuesday to a request for comment on PETA's lawsuit.
Brittany Peet, PETA's director of captive animal law enforcement, said in a statement that the Tri-State Zoological Park "has a rap sheet of animal-welfare violations a mile long."
"PETA is pushing for these lemurs and big cats to be freed from this roadside zoo, which has repeatedly demonstrated that it can't even provide animals with basics like clean drinking water," Peet said.
The group's lawsuit claims the alleged lack of minimal animal-care standards harms the two ring-tailed lemurs, five tigers, and lion in violation of the Endangered Species Act's take prohibition by "impairing them from carrying out their natural behaviors in a manner that puts their physical and psychological well-being at risk of further injury."
According to the complaint, inspection reports detail Tri-State Zoological Park's "ongoing disregard for the welfare of its animals and demonstrated inability to provide proper care for them."
"Defendants' chronic and willful disregard for the welfare of their animals led to a 45-day suspension of the facility's AWA license," the complaint states. "Even after its license was suspended, defendants continued to disregard the AWA's minimum standards of care, resulting in an official warning against the facility in 2015."
PETA claims the zoo and Candy are unable to hire trained employees to care for the animals, instead relying on inexperienced volunteers.
"At times, these same volunteers are provided shelter in the zoo's premises in exchange for their volunteer work," the lawsuit alleges. "Defendants' apparent financial weaknesses also preclude them from providing adequate and clean enclosures, sufficient enrichment, and necessary veterinary care to the animals."
PETA seeks a court order terminating the zoo's ownership in the lemurs, tigers and lion. It also wants the appointment of a special master or guardian ad litem to find wildlife sanctuaries for the animals and determine the most appropriate placement for them.
The animal rights group is represented by Conor B. O'Croinin with Zuckerman Spaeder in Baltimore.
Subscribe to Closing Arguments
Sign up for new weekly newsletter Closing Arguments to get the latest about ongoing trials, major litigation and hot cases and rulings in courthouses around the U.S. and the world.