SAN FRANCISCO (CN) - A plan to round up nearly 1,000 wild horses from a national forest in California and sell them for slaughter would betray a decades-old federal policy and violate multiple state and federal laws, animal rights advocates claim in a new federal lawsuit filed Friday.
"Wild horses like all animals are sentient, sensitive creatures, and it's simply wrong and it's illegal for the Forest Service to permit them to be sold for slaughter," said Christopher Berry, staff attorney with the Animal Legal Defense Fund.
Nestled in the northeastern corner of California, the 1.6-million-acre Modoc National Forest has for decades sold excess wild horses from its famed Devil's Garden Plateau Wild Horse Territory. In the past, however, the U.S. Forest Service forbade the sale of wild horses for slaughter.
That changed on Sept. 26 when a U.S. Forest Service official told stakeholders in a conference call that it would start selling up to 1,000 wild horses rounded up in Devil's Garden without restrictions after a 30-day restricted sales period. The U.S. Forest Service later extended the restricted sales and adoption offerings period to 60 days after objections were raised.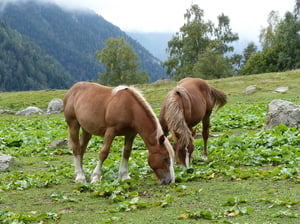 The plaintiffs say the plan to allow unrestricted sales violates a 1971 law, the Wild Free-Roaming Horses and Burros Act, which sought to guarantee wild horses protection from "capture, branding, harassment, [and] death," and to consider wild horses  "an integral part of the natural system of the public lands."
According to the lawsuit, unrestricted horse sales would also violate federal forest management, environmental protection and administrative process laws that require notice and public comment before dramatic policy changes. Additionally, the plaintiffs say the plan violates a California state law that forbids slaughtering horses for human consumption or exporting horses for that purpose.
The Forest Service started rounding up horses on Oct. 9, and according to its website, it has gathered a total of 340 as of Oct. 18.
Under a management plan approved in 2013, the Modoc National Forest is supposed to manage a maximum of 402 wild horses in Devil's Garden, which consists of 300,000 acres of Forest Service land and 8,300 acres of Bureau of Land Management land.
Approximately 4,000 wild horses roam Devil's Garden today, about 10 times the maximum number of horses the Forest Service is supposed to manage there under its current operating plan.
The Forest Service said it would spend about 30 days gathering the horses followed by 60 days of adoption offerings and restricted sales. Based on that timeline, the plaintiffs predict unrestricted horse sales will start Jan. 9, 2019.
According to the lawsuit, U.S. Sen. Diane Feinstein and 23 members of the California State Legislature have sent letters to the Forest Service urging it not to permit the sale of horses for slaughter.
Although no facilities slaughter horses within the United States, "kill buyers" often purchase and ship horses to slaughterhouses in Canada and Mexico, where horse meat is produced and sold to overseas markets, according to the complaint.
Plaintiffs who filed the lawsuit include the Animal Legal Defense Fund, American Wild Horse Campaign and Carla Bowers, a California resident who regularly visits Devil's Garden and "enjoys observing, photographing and studying the wild horses" there, according to the suit.
Defendants include U.S. Forest Service Chief Vicki Christiansen, Secretary of Agriculture George "Sonny" Perdue, Pacific Southwest Regional Forest Manager Randy Moore, and Modoc National Forest Supervisor Amanda McAdams.
Berry said the plaintiffs will consider seeking a preliminary injunction to block the impending sale of wild horses for slaughter before Jan. 9 if necessary.
Representatives for the U.S. Justice Department, Department of Agriculture, Forest Service and Modoc National Forest did not immediately return emails and phone calls seeking comment Friday afternoon.
Follow @NicholasIovino
Subscribe to Closing Arguments
Sign up for new weekly newsletter Closing Arguments to get the latest about ongoing trials, major litigation and hot cases and rulings in courthouses around the U.S. and the world.