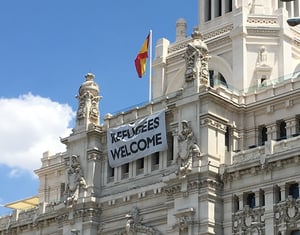 SACRAMENTO, Calif. (CN) – Pushing back against President Donald Trump's travel ban, a group of California lawmakers on Wednesday introduced legislation that will enhance educational and employment opportunities for refugees.
Promising to "lead by facts, not fear," the Democratic lawmakers say their package will ease the assimilation process of refugees in the Golden State while opposing new "racially charged" federal immigration policies.
Stirred by Trump's divisive January executive order, Assemblyman Kevin McCarty, D-Sacramento, says the package formalizes California's "longstanding relationship" with refugees.
He says more than 8,000 refugees arrived in California in 2016, primarily in Sacramento, Los Angeles and San Diego counties, while an estimated 725,000 refugees have settled in the Golden State since 1975.
"California will lead by facts, not fear," McCarty said in a statement. "The fact is that successfully integrating refugee communities will make California's economy stronger and our communities safer."
The "California Welcomes Refugees" package will provide refugees with tuition breaks at public colleges, streamline the application process for individuals applying for professional employment licenses and dedicate $5 million in general funds to hire translators and counselors for public schools.
Assembly Bill 349 would provide individuals who worked with the U.S. military and carry special immigrant visas with assistance in acquiring state-issued professional and vocational licenses. Vocational boards would be instructed to help refugees apply for and acquire the relevant licenses necessary to practice in California.
Assembly Bill 343 would remove the requirement that refugees establish residency for at least one year before applying for in-state tuition rates at public colleges. Refugees who assisted the military would also be given access to counseling and priority enrollment options given to California veterans.
Assemblywoman Lorena Gonzales Fletcher, D-San Diego, said the package will give aid to an important portion of California's population that is often underrepresented and underappreciated.
"What is going on at the national level has been extremely confusing and terrifying for them," Gonzales Fletcher said during a press conference. "We're going to go the extra step, we're going to do what we can to welcome refugees and ensure that they know that they are as much a fabric of our community as anyone else."
The lawmakers also introduced a resolution that would make June 20 World Refugee Day in the state.
Follow @@NickCahill_5
Subscribe to Closing Arguments
Sign up for new weekly newsletter Closing Arguments to get the latest about ongoing trials, major litigation and hot cases and rulings in courthouses around the U.S. and the world.