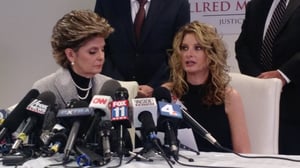 LOS ANGELES (CN) – A former candidate on "The Apprentice" has filed a civil defamation lawsuit against President-elect Donald Trump for discrediting her claims that he sexually assaulted her.
Summer Zervos' attorney Gloria Allred held a morning press conference to announce the filing of the complaint in New York state court. Allred said that Zervos had filed the lawsuit in response to Trump's claims that the women who had made sexual assault claims were lying. The complaint contains a single claim of defamation.
Though Zervos says in the lawsuit that Trump touched and kissed her without her consent, she is not suing the next president for sexual assault.
Allred noted that it had been two months since she had asked Trump to retract the statements he had made against Zervos and other women.
"Ms. Zervos is now left with only one option, that is to file a lawsuit against Mr. Trump," Allred said in a prepared statement. "No one is above the law including the president-elect, soon to be president of the United States."
In October, Trump said he "vaguely" remembered Zervos but denied her claims.
"To be clear, I never met her at a hotel or greeted her inappropriately a decade ago. That is not who I am as a person, and it is not how I've conducted my life," Trump said in a statement. "In fact, Ms. Zervos continued to contact me for help, emailing my office on April 14 of this year asking that I visit her restaurant in California."
Trump faces more than a dozen accusations of sexual misconduct.  He has strenuously denied the claims.
Allred, a high-profile civil rights lawyer, has represented several women who came forward with sexual assault claims against comedian and actor Bill Cosby. Shortly after the claims against Trump emerged, Allred held a press conference with Zervos last year. Zervos, a contestant on season five of the NBC reality show, said that Trump made several unwanted advances – first in his New York office and then in a Beverly Hills hotel in 2007.
About a month before the end of the presidential campaign, the Washington Post published a 2005 video in which Trump boasted to a giggling "Access Hollywood" then-host Billy Bush about being able to grope women because of his celebrity.
"I don't even wait. And when you're a star, they let you do it, you can do anything. Grab them by the pussy," Trump said.
Zervos felt compelled to come forward in October after Trump dismissed his comments as "locker room talk" at a presidential debate.
At the press conference at Allred's Los Angeles office, Zervos said that she decided to file the defamation lawsuit after Trump refused to retract his attacks against his accusers.
Zervos, who says in the lawsuit that she was "subjected to threats of violence, economic harm, and reputational damage," said that she was left with "no alternative" but to sue.
"I want Mr. Trump to know that I would still be willing to dismiss my case against him immediately for no monetary compensation if he will simply retract his false and defamatory statements about me and acknowledge that I told the truth about him," Zervos said.
Allred downplayed the timing of the lawsuit, just three days before Trump's inauguration on Friday, and said it was time for the president-elect to "face the consequences."
"Women are not footnotes in history. They matter. We value them. We value our daughters, we value our sisters, we value our mothers, we value our grandmothers and our aunts. We value women. And we value women who allege they have been the victims of injustice because they've been sexually assault, or raped or in some way treated unfairly, by anyone," Allred said. "This is the time to proceed."
Allred said she planned to attend the Women's March on Washington with Zervos and other women who have come forward, the day after Trump's inauguration.
In October, the New York Times reported that two women claim Trump had sexually assaulted them.
Jessica Leeds said that nearly three decades ago Trump had groped her breasts and attempted to put his hand up her skirt on a flight to New York.
"He was like an octopus," Leeds told the Times. "His hands were everywhere."
Another woman, Rachel Crooks, claims that while working as a receptionist she encountered Trump in an elevator in Trump Tower in Manhattan. Trump began to kiss her on the cheeks after shaking her hand, and then kissed her on the mouth, she said.
"It was so inappropriate," Crooks said in an interview. "I was so upset that he thought I was so insignificant that he could do that."
People magazine writer Natasha Stoynoff also published an article in which she recalled Trump trying to force himself on her in 2005 when she was assigned to write a story about the businessman at the landmark Florida estate Mar-a-Lago.
"We walked into that room alone, and Trump shut the door behind us. I turned around, and within seconds he was pushing me against the wall and forcing his tongue down my throat," Stoynoff wrote.
Trump appeared to mock Stoynoff's appearance at a campaign rally last year in West Palm Beach, Florida.
"Take a look. You take a look – look at her," Trump said. "Look at her words. You tell me what you think. I don't think so, I don't think so."
Zervos seeks compensatory and punitive damages. Mariann Meier Wang of Cuti Hecker Wang filed the complaint on Zervos' behalf.
Subscribe to Closing Arguments
Sign up for new weekly newsletter Closing Arguments to get the latest about ongoing trials, major litigation and hot cases and rulings in courthouses around the U.S. and the world.