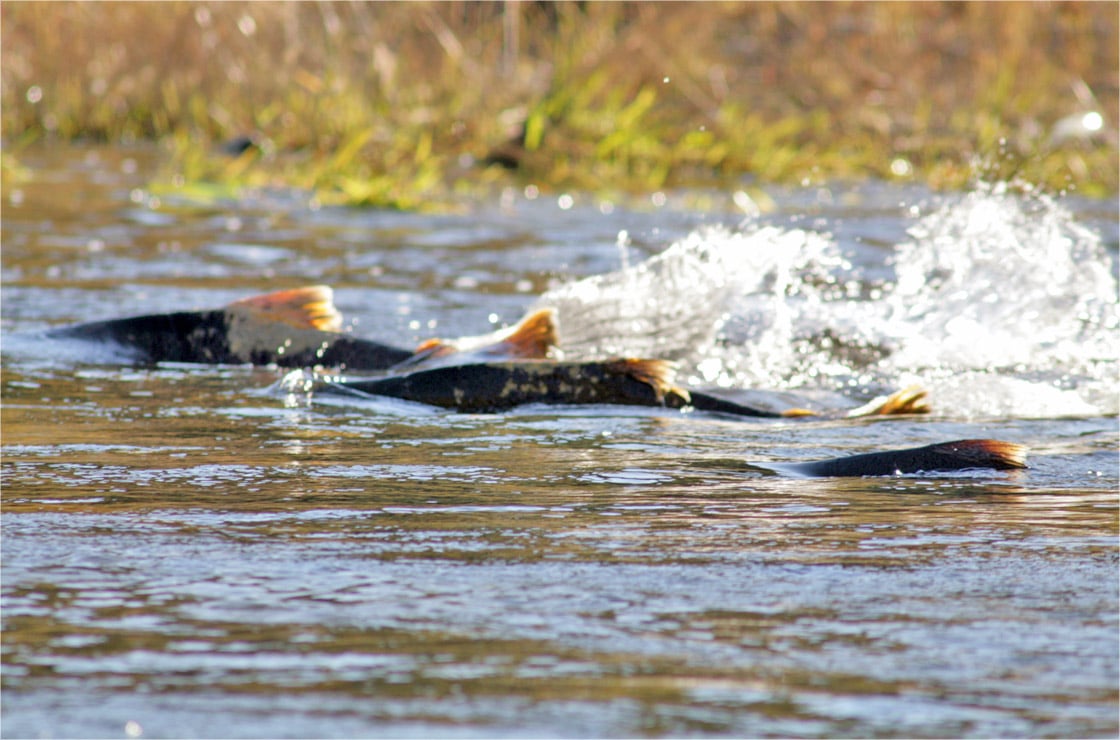 SAN FRANCISCO (CN) – A federal judge said Friday he will likely order the federal government to reallocate water, some earmarked for commercial interests, to stave off a salmon die-off on the California-Oregon border.
Two Native American tribes sued the U.S. Bureau of Reclamation last year, claiming its bungled management of Klamath River waterways allowed a deadly parasite to infect 91 percent of endangered juvenile Coho and Chinook salmon.
The Yurok and Hoopa Valley Tribes say they depend on the salmon for subsistence, income and for traditional ceremonies that define their people.
Lawyers for the federal government and an industry group of farmers and ranchers argue that diverting water to help salmon will harm businesses that support local jobs and communities and threaten another set of endangered fish, the shortnose sucker and Lost River sucker.
In separate complaints against the federal government, the tribes say infection rates caused by the deadly parasite C. shasta, should have required the bureau to review its Klamath Irrigation Project's impact on threatened salmon two years ago, but the bureau failed to take action in violation of the Endangered Species Act.
During a hearing Friday, U.S. District Judge William Orrick III agreed the bureau should have reviewed the project when infection rates climbed to 81 percent in 2014 and 91 percent in 2015, well beyond the maximum 49 percent estimated in a 2013 biological opinion issued by co-defendant National Marine Fisheries Service.
"There's a maximum infection rate that mandates formal consultation," Orrick said. "They didn't just exceed it a little bit. This is extremely threatening to a species that's threatened."
The judge said he was "inclined" to grant a preliminary injunction requiring the government take immediate action until it finalizes new water management guidelines to protect salmon.
"I'm hoping the amount of water we received in the last few weeks will mitigate some of the issues until formal consultation is concluded," Orrick said. "Surface flushing flows have been dramatically reduced over time, and surface and deep flushing flows would reduce these C. shasta infection rates."
After the tribes threatened to sue last year, the bureau formed a technical advisory team to recommend steps for reducing infection rates. The team created a guidance document in November 2016 urging the bureau to provide regular flush flows at certain times of the year to flush out worms that host parasites.
The group also recommended reserving 50,000 acre-feet of water for emergency dilution and disruption flows each spring when certain conditions, such as high water temperatures and disease rates, require urgent action.
But the bureau has not committed to any mitigation measures, and the government is still working on "a scope of review" for the formal consultation process which the tribes say should have started two years ago.
U.S. government attorney Robert Williams said federal agencies are wrestling with "extremely complicated issues" and that there is no "quick, easy solution of just releasing more water."
On April 1 each year, the bureau surveys all its available water in the Klamath River system and divvies it up into three categories – irrigation water for farms and ranches, reserves for replenishing lakes, and an environmental water account for flush flows to help salmon.
In a court filing, the farmer and rancher trade group Klamath Water Users Association argued that diverting more water for flush flows would likely create economic hardships for family farms and ranches that support agriculture-related jobs, businesses and local communities.
Attorney John Kinsey, representing the ranchers and farmers, said redirecting more water for salmon would also reduce lake levels and threaten two endangered species of sucker fish that occupy the Upper Klamath River and other bodies of water.
"These types of flows would happen when suckers are most vulnerable," Kinsey said, adding juvenile suckers are more susceptible to predators, have a harder time feeding and are more likely to get trapped in irrigation equipment during spawning months from February to May.
But Yurok Tribe attorney Patti Goldman said her clients are not asking the court to undermine protections for sucker fish or invalidate parts of the 2013 biological opinion that expressly requires minimal protections for those threatened fish.
Using limited water resources to protect threatened species and tribal rights must be prioritized before commercial interests under the Endangered Species Act, Goldman argued.
Turning to claims that diverting water for salmon will irreparably harm family farms and ranches, Goldman said, "There is economic harm on all sides. The Yurok Tribe's entire identity is tied to Coho salmon."
Speaking for the government, Williams urged the judge not to grant an injunction. He said reserving more water for salmon would be "not in the public interest," and that the tribes' requested relief goes "well beyond" their claim that the bureau failed to restart formal consultation.
Williams added the government has started the process of re-initiating consultation, though it still determining a "scope of review" for the process.
"This is not some uncooperative agency that's refusing to re-initiate," Williams said. "This is just a complicated issue, and it's taking time."
Orrick said while he believes federal agencies are working diligently to tackle a complex issue, he also feels that "sometimes it's helpful when agencies get priority, which I think is appropriate in this case to protect an endangered species."
The judge said he would issue a ruling in the next two weeks ordering the government to create a plan within 30 days for flush flows and other measures to address the salmon parasite issue.
He also urged both sides to start working "vigorously" and "feverishly" in the next few days to figure out the most effective short-term and long-term solutions before he issues his ruling.
After the hearing, Hoopa Valley Tribe Chairman Ryan Jackson said he was optimistic about the judge's tentative ruling but still unhappy that it took two years and a court battle to make the federal government take action to protect salmon.
"It's promising that the judge sees the bureau needs to re-consult, but they should have done this two years ago," said Sean Ledwin, senior fisheries biologist for the Hoopa Valley Tribe. "It's unfortunate the tribe had to come to court to get the Bureau of Reclamation to do this."
Bureau of Reclamation spokeswoman Sarah McBride did not immediately return a phone call seeking comment Friday afternoon.
Follow @NicholasIovino
Subscribe to Closing Arguments
Sign up for new weekly newsletter Closing Arguments to get the latest about ongoing trials, major litigation and hot cases and rulings in courthouses around the U.S. and the world.