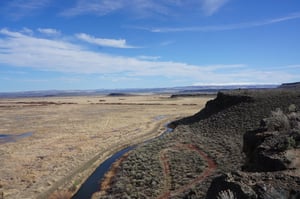 (CN) - In March, Secretary of the Interior Sally Jewell traveled to the remote southeast corner of Oregon to praise locals for sticking to a collaborative process that brought ranchers, environmentalists and the government together to forge a land use plan that everyone could agree on. But Jewell's rejection of a related collaborative plan is now the subject of lawsuit from a local group that helped create it.
"There's a real opportunity to showcase the good things about what happened here as a real model for cooperation that could be brought across the American west," Jewell said in March about local efforts to manage the private land surrounding the Malheur National Wildlife Refuge and create a plan to protect the greater sage grouse before its numbers dipped low enough to warrant a listing as an endangered species.
Greater sage grouse, a chicken-like wild bird that anchors the food chain in sagebrush deserts spanning 11 states, are declining mostly due to habitat destruction from devastating wildfires, the proliferation of invasive grasses and infrastructure for energy projects.
The government considered listing the bird as an endangered species – a designation that could have flushed ranchers out of the west. But in 2015, the U.S. Fish and Wildlife Service announced that the designation wouldn't be necessary, because of an unprecedented agreement where ranchers who collectively own millions of acres of sagebrush desert agreed to alter their grazing and irrigation practices to replenish sage grouse habitat.
Harney Soil and Water Conservation District, a local branch of the government that is responsible for implementing the plan, spearheaded an effort to localize the plan's sweeping designations.
Over a two-year period, scientists, employees of the Burns Bureau of Land Management, local ranchers and local and state government representatives created the Rural Community Alternative to balance the habitat needs of the greater sage grouse in the ecosystems of southeast Oregon with the economic needs of local ranchers.
Harney County Judge Steve Grasty, who runs the local government, said that step was important because sage grouse habitat spans such a vast swath of land that contains a complex tangle of local needs.
"The federal plan does the same thing for prairie chickens in Wyoming as it does for sage grouse in Oregon," Grasty said. "They just did one huge plan and forced it all nationally even though states are so different and counties more so."
In February 2014, the U.S. Fish and Wildlife Service approved the rural community alternative and Harney Soil and Water submitted it to the BLM.
Marty Suter, district manager for Harney Soil and Water Conservation, said in an interview that the plan was the result of two years of listening and compromise between groups that, under different circumstances, might be on opposite ends of a lawsuit.
Standing in the tiny lobby of the Harney County Circuit Courthouse in March, Jewell praised the effort.