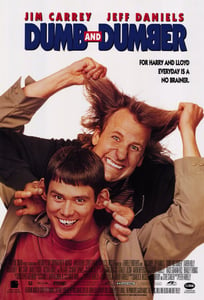 LOS ANGELES (CN) - Two producers have sued New Line Cinema for $1 million, claiming the company reneged on a deal to give them right of first refusal on sequels and remakes to the Farrelly brothers' comedy "Dumb and Dumber."
Producers Steve Stabler and Brad Krevoy say they entered into a 1994 agreement with New Line before the release of the first "Dumb and Dumber" movie, starring Jim Carrey and Jeff Daniels.
They each received producer fees of $200,000, according to their Los Angeles County filing, and a 50 percent cut of the studio's net profits for the movie.
Their deal also included the right of first negotiation on sequels and remakes.
New Line "blatantly breached the contract" when it assigned rights to produce the movie's 2014 sequel "Dumb and Dumber To," to production company Red Granite "without honoring plaintiffs' rights of first negotiation," the producers say.
"As a result of defendants' conduct, plaintiffs have lost monetary compensation as well as credits and other consideration, and defendants have been unjustly enriched," Monday's eight-page lawsuit adds.
Stabler and Krevoy previously sued Red Granite in Los Angeles County Superior Court but have since settled the complaint, according to their filing.
The complaint for breach of contract and breach of the implied covenant of good faith and fair dealing seeks at least $1 million in damages.
New Line also distributed a 2003 prequel "Dumb and Dumberer: When Harry Met Lloyd." The film series also spawned an animated TV show.
Stabler and Krevoy are represented by Bryan Freedman of Freedman + Taitelman in Los Angeles.
Subscribe to Closing Arguments
Sign up for new weekly newsletter Closing Arguments to get the latest about ongoing trials, major litigation and hot cases and rulings in courthouses around the U.S. and the world.