(CN) – The California Supreme Court on Monday overturned a man's murder conviction and ordered retrial, finding the trial court should have ordered competency proceedings when the suspect stopped taking antipsychotic medication and gave incoherent testimony at trial.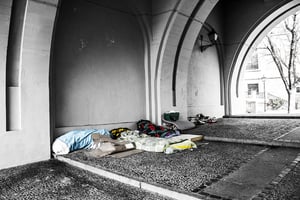 Domingo Rodas went on a stabbing spree in 2009 and killed a homeless man sleeping on the streets of Hollywood.
Police said Rodas stalked at least one of his victims before stabbing him with a knife and four of the stabbings occurred in the same area of Hollywood where Rodas was later found with a bloody knife. The Los Angeles Police Department matched three of the victims' DNA to blood found on Rodas.
A jury convicted him on charges of murder and attempted murder in 2014. A judge sentenced Rodas to life without the possibility of parole plus two life terms.
Several psychiatrists initially found Rodas incompetent to stand trial, and the man was prescribed antipsychotic medication to make him competent. After a jury was selected Rodas' attorney Carole Telfer raised doubts about her client's competence because he'd stopped taking the medication and became incoherent.
A doctor's report said Rodas would regress if he stopped taking his medication. Court records indicate the trial court never ordered Rodas to continue taking his medication while awaiting trial.
At trial, Rodas went against the advice of his attorney and testified – incoherently – in his own defense. While the judge struck the testimony as irrelevant, a jury returned a conviction on all charges and the conviction was later upheld on appeal.
In a unanimous opinion for the California Supreme Court on Monday, Justice Leondra Kruger wrote the trial court was presented with evidence of Rodas' mental incompetence, which had substantially changed from when he was found competent in May 2013 to just before the trial began in March 2014.
"Given the circumstances, the trial court erred by proceeding with trial without undertaking the required formal inquiry into defendant's competence," wrote Kruger.
At one hearing, the court asked Rodas if he understood the charges he faced at the time and the court was satisfied with his ability to hold a conversation.
"But nothing in the colloquy dispelled the specific concerns that counsel had raised about defendant's ability to rationally assist her in conducting his defense," Kruger found.
The transcript of Rodas' response showed some example of his jumbled responses to his attorney, and Kruger wrote that while his in-court behavior might play a part in determining Rodas' sanity it cannot be a replacement for a competency hearing.
Had Rodas been given a competency hearing the court "might legitimately have weighed defendant's demeanor and the nature of his responses to the court's questioning against the experts' reports and other available evidence relating to his condition," Kruger wrote.
And while Rodas had been found competent in 2013, Kruger wrote "the evidence before the trial court made it unreasonable to continue to rely on the prior competence finding in allowing the trial to proceed."
Rodas was only found competent to stand trial after several months on medication and the court said it was only proceeding with a "docket sheet" and on the understanding "he was found competent" by a medical director from a state hospital's report.
As for the remedy, Kruger said it would "neither be fair nor produce a reliable result" to try and decide Rodas' competency in 2014 five years after the fact.
"Defendant may be retried on the charges for which he was convicted if he is not presently incompetent to stand trial," Kruger wrote.
The Public Defender's Office said Monday that Telfer has since retired and Rodas' case has not been reassigned. The state Attorney General's Office did not respond to requests for comment by press time.
Subscribe to Closing Arguments
Sign up for new weekly newsletter Closing Arguments to get the latest about ongoing trials, major litigation and hot cases and rulings in courthouses around the U.S. and the world.