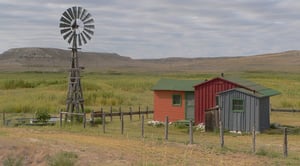 LINCOLN, Neb. (CN) — Colorado will pay Nebraska $4 million to settle claims involving overuse of water from the Republican River Basin, in exchange for Nebraska's promise not to sue Colorado for any violations of the Republican River Compact that occurred before 2014.
Subject to approval by the two states' legislatures, the payment is due by Dec. 31, with the money earmarked for surface water projects that will bolster water management plans in the basin, Colorado Attorney General Cynthia Coffman said in a statement.
"This settlement provides funds that could be used in the Republican River Basin within Nebraska and creates additional opportunities for cooperative water management between the states," Colorado Governor John Hickenlooper said.
Nebraska Governor Pete Ricketts echoed the sentiment of cooperation: "Nebraska and Colorado can now continue to focus on providing their water users with greater certainty and to pursue other collaborative opportunities to benefit their shared economies."
The 452-mile-long Republican River originates in the high plains of Colorado and cuts across sections of western Nebraska and Kansas. The Republican River Compact of 1943 allocates river water for the three states, with 49 percent going to Nebraska, 40 percent to Kansas and 11 percent to Colorado.
The river basin has been a frequent subject of litigation, including a 2014 Supreme Court judgment that ordered Nebraska to pay $5.5 million to Kansas for its own excessive water use upriver.
Colorado officials said the threat of more litigation and its associated costs was a driver in the new settlement. Coffman said the agreement "avoids the costs and uncertainty of litigation and furthers the principles of the compact."
The region has been relatively free of major drought in recent years, which has helped states stay in compliance despite exponential growth in the number of irrigation wells. According to the United States Drought Monitor, the Republican River Basin region is drought-free or abnormally dry, the least severe drought rating.
But the threat of drought and overuse of groundwater has kept agriculture officials and farmers on edge for years. Nebraska farmers have been suing the state over groundwater for years, in what has become a near-annual tradition.
Steve Nelson, the president of Nebraska Farm Bureau, welcomed the new agreement.
"We applaud the collaborative efforts of both states to address past issues and to work together, putting both parties' interests on a better path for shared water use," Nelson said.
Western water law, immensely complicated by decades of litigation in multistate jurisdictions, is further complicated by "use it or lose it" allocations that often discourage conservation.
Subscribe to Closing Arguments
Sign up for new weekly newsletter Closing Arguments to get the latest about ongoing trials, major litigation and hot cases and rulings in courthouses around the U.S. and the world.