CHICAGO (CN) - A class claims Cook County Sheriff Thomas Dart's new policy unconstitutionally delays the release of jail detainees, pending his personal review, even though they have already posted bail.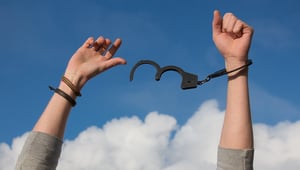 Last year, Cook County Chief Judge Timothy Evans implemented major changes to Chicago's bond system to ensure that no one is held in jail simply because they cannot afford to pay bail.
Before the reform, many individuals suspected of non-violent crimes remained in jail because they could not afford to pay a couple hundred dollars to make bail - at great expense to the county, which pays about $126 per day to keep someone in jail.
Since mid-September, the Cook County jail population has gone down about 15 percent from 7,500 to 6,530.
Cook County Sheriff Thomas Dart initially supported the bond reforms, but recently expressed his dissatisfaction with the results.
Last week, Dart sent a letter to Cook County Board President Toni Preckwinkle saying that the changes have overwhelmed the county's electronic monitoring, or EM, program. He said hundreds of people charged with serious gun crimes have been released from jail on electronic bracelets, posing a public safety concern.
"Moving forward, my office will closely scrutinize all individuals who are assigned to E.M. by carefully reviewing their charges and criminal histories, a process that may take up to 48 hours," Dart wrote. "Those who are deemed to be too high a security risk to be in the community will be referred back to the court for further evaluation."
Sheriff Dart's announcement immediately prompted a class-action lawsuit filed late Monday by lead plaintiff Taphia Williams, who remained in jail at the time of her filing despite having posted bail on Friday.
"More than 60 hours after her bond had been posted, in the early afternoon of Monday, February 26, 2018, an agent of the Chicago Community Bond Fund called the records department at Cook County Jail to inquire why Ms.Williams had not yet been released," the complaint states. "He was told that she was being held pursuant to the defendant Dart's new policy wherein Dart was conducting his own administrative review of individuals with 'serious charges' who were being released on bond to determine if he approved their release or not."
Williams says Dart's unilateral decision violates her constitutional rights to be free from unreasonable seizure.
"Dart's policy is unconstitutional in that it holds individuals in pre-trial detention, even though a judge has set a bond and the bond has been posted, without legal justification, and because it violates separation of powers in that Dart is refusing to execute and/or effectively overruling a binding judicial order," Williams' lawsuit states.
She seeks a permanent injunction prohibiting the sheriff from continuing his new policy of delaying the release of suspects who have posted bond.
Williams is represented by Sara Garber with Thedford Garber Law in Chicago.
Sheriff Dart's office did not respond Tuesday to a request for comment.
Subscribe to Closing Arguments
Sign up for new weekly newsletter Closing Arguments to get the latest about ongoing trials, major litigation and hot cases and rulings in courthouses around the U.S. and the world.