CHICAGO (CN) – Chicago's school board claims in court that the U.S. Department of Education and Education Secretary Betsy DeVos revoked $4 million in grant money based on incomplete investigations into the school district's handling of sexual harassment and assault reports.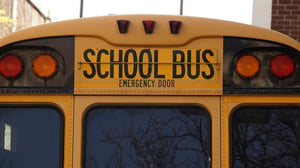 "In revoking the $4 million [Magnet Schools Assistance Program] grant funds, the Department referenced investigations into 'complaints' filed with the Department's Office for Civil Rights to support its assertion that [Chicago Public Schools] would not meet required grant assurances related to discrimination in the design and operation of extracurricular activities," according to a 27-page complaint. "[But] the Department acknowledged that the complaints are still under investigation and that the Department has made 'no findings' regarding the complaints."
The City of Chicago Board of Education – also referred to as Chicago Public Schools, or CPS – filed the lawsuit in Chicago federal court Friday, claiming DeVos denied it due process because the decision was made without proper reason, notice or hearing.
The Education Department also allegedly did not give specifics about the complaints that drove the decision to pull the grant money other than they "allege that CPS failed to provide a prompt and equitable response to reports of sexual violence of which it had notice, in violation of [Title IX]."
Although the department acknowledged that the investigation is still ongoing, it said "facts already known" support its conclusion that CPS will not be able to meet assurance requirements banning sexual discrimination in extracurricular activities, according to the lawsuit.
The school board is represented by attorneys from Chicago-based Riley Safer Holmes & Cancila LLP and Franczek Radelet P.C.
The lawsuit cites a recent Chicago Tribune investigation into the district's handling of sexual abuse and assault reports, which prompted CPS to implement reforms to make sure all reports are properly dealt with.
Originally awarded in 2017, the grant money at issue comes from the Magnet Schools Assistance Program, or MSAP for short, and CPS says some of it was already used to begin transforming three existing schools into science, technology, engineering and math "magnet" schools that educate predominately poor Hispanic and black students.
Magnet schools are public elementary or secondary schools that provide a diversity-based unique curriculum and accept students from outside assigned neighborhood attendance zones as a way to combat school segregation.
"As a result of the Department's unlawful decision to withhold FY 2018 MSAP grant funds, the STEM programs at each of these schools will suffer," the lawsuit states. "In fact, CPS students have already been directly impacted by the Department's revocation of the MSAP funds. Due to the loss of funding, student field trips, enrichment, and extra-curricular programming has been significantly reduced."
CPS wants a judge to reverse the revocation and stop the Education Department from dispersing the MSAP funds to other schools until its case is resolved.
School district press secretary Emily Bolton expressed dissatisfaction with the grant decision in an email statement Monday.
"Chicago Public Schools is filing suit in an effort to restore millions of dollars in funding that was abruptly and unlawfully taken from low income students without providing the district with the opportunity to appeal the decision," Bolton said. "The district has made, and will continue to make significant improvements to how it prevents and responds to allegations of abuse and, even more importantly, how it supports victims."
The Education Department did not immediately respond Monday to an email request for comment.
Follow @EmilyZantowNews
Subscribe to Closing Arguments
Sign up for new weekly newsletter Closing Arguments to get the latest about ongoing trials, major litigation and hot cases and rulings in courthouses around the U.S. and the world.