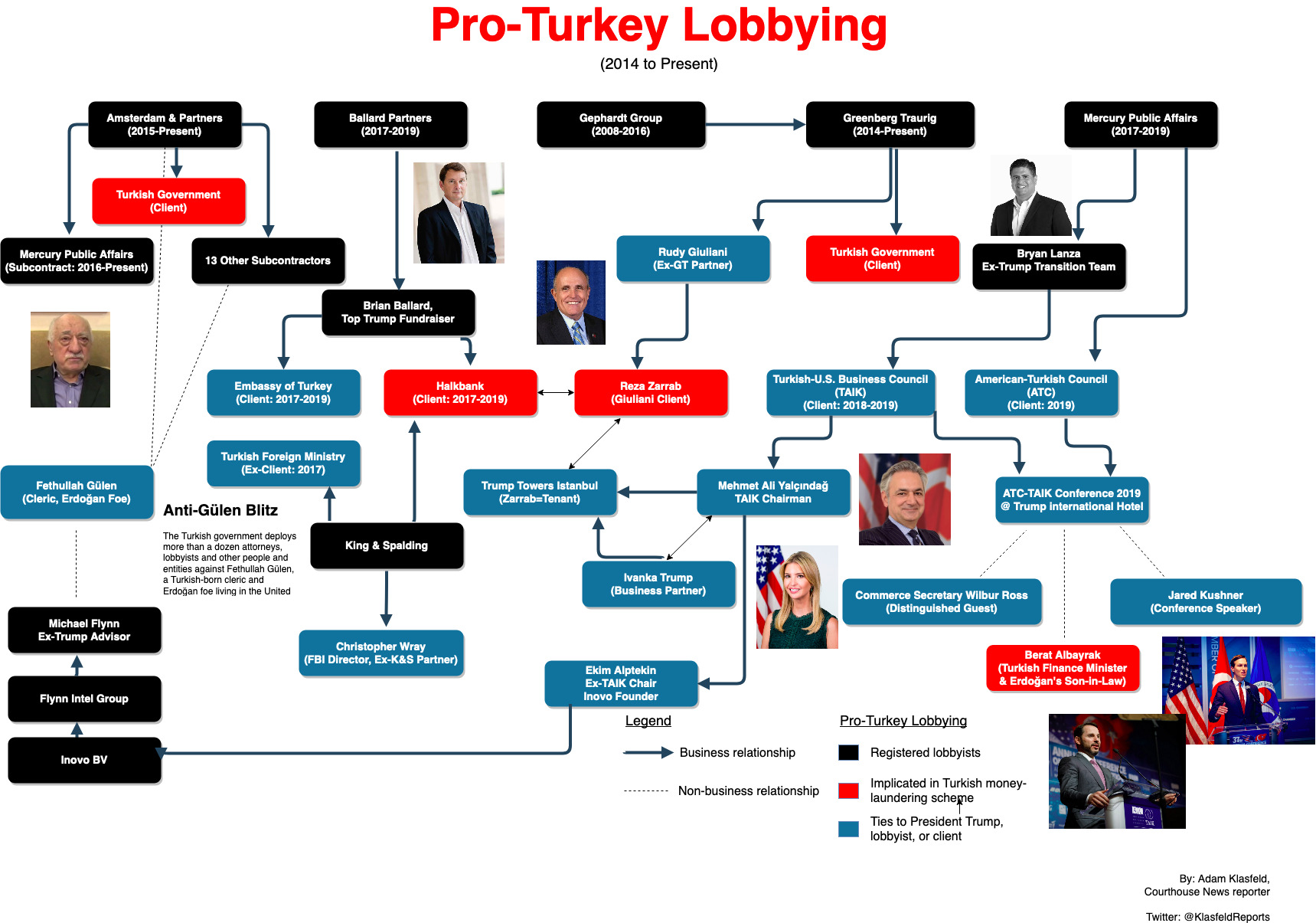 MANHATTAN (CN) – Some five years ago, Turkey's soft power suddenly swelled in the United States as the country's lobbyists and pro-government charities received millions in newfound funding.
That was the same year that leaked tapes appeared to show then-Prime Minister Recep Tayyip Erdoğan instructing his son Bilal to dump massive amounts of money tied to a multibillion-dollar money-laundering scheme.
"Now, what I say is, you take everything that you have in the house out," Erdoğan could be heard telling his son, in recordings quickly viewed by millions on YouTube and translated from Turkish by the now-shuttered Turkish newspaper, Zaman.
"What can I have on me, Dad," Bilal replied in that transcript. "There is your money in the safe."
Made public in early 2014, the tapes depicted Erdoğan fretting that Istanbul police conducted home raids on the top officials of his ruling Justice and Development Party and his then-ally Reza Zarrab, a gold trader charged with corrupting them. The Turkish government disputed its authenticity, but academic researchers doubted claims of doctoring.
Zarrab would implicate Erdoğan in a bribery-fueled conspiracy to violate U.S. sanctions against Iran three years later in a New York federal courtroom — a development Erdoğan tried to head off by lobbying intensely with reported help from President Donald Trump and his attorney, Rudy Giuliani.
Courthouse News studied the Justice Department's foreign lobbying database to identify the five largest recipients of money linked to the Turkish government between 2014 and 2018: Amsterdam & Partners, Ballard Partners, Gephardt Group, Greenberg Traurig, and Mercury Public Affairs. The budgets of those five, including their subcontractors, more than quadrupled collectively during this time frame, from more than $1.7 million in 2014 to more than $7.3 million in 2018.
Gephardt Group, a longtime lobbyist for Turkey named for the Democratic congressman who founded it, cut ties with its government at the end of 2016. The new guard of registered Turkish agents that replaced Gephardt would be deeply tied to Trump and his associates.
Budgets of pro-Turkey charities linked to both Erdoğan and Trump also ballooned during this period.