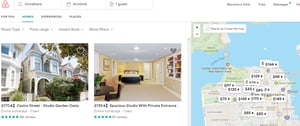 PORTLAND, Ore. (CN) – Airbnb offers black renters 16 percent fewer places to stay than white customers – the online equivalent of a separate, back door for black people, class-action attorneys told a federal judge Tuesday.
Lead plaintiff Patricia Harrington, who sued Airbnb for housing discrimination in March, says the company requires hosts and renters to set up profiles with their photos, which allows racial discrimination. Harrington said Airbnb knew about the racial effect of its policy and did not take steps to ensure equal access to its services.
Harrington's attorney Yoona Park, with Stoll, Stoll, Berne, Lokting & Shlachter, told U.S. Magistrate Judge Youlee Yim You on Tuesday that Harrington wrote a letter to the company asking for access to the same breadth of rental options as white renters. Airbnb denied her request, Park said, saying that Harrington was welcome to use the platform as it was configured.
Airbnb moved to dismiss in September, saying Harrington lacked standing to sue because she alleges only theoretical discrimination and had not personally been harmed by any Airbnb policy.
"Regrettably," the motion states, "discrimination exists in our world today."
At the hearing Tuesday, defense attorney Jeremy Sacks said the claims against Airbnb stem from his client's own study of these issues.
In a 2016 report, Airbnb said that its research "generally confirmed public reports that minorities struggle more than others to book a listing," despite the company's longstanding prohibition against discrimination.
"Plaintiffs know the problem exists because they are citing from a report that Airbnb commissioned," said Sacks, an attorney for the website with the firm Stoel Rives.
Park told Judge You meanwhile that Airbnb needs to do more than study discrimination.
"It's our position that discrimination is not just regrettable, it's wrong," Park said. "It's also illegal. And yet it's happening every day on Airbnb's website.
"There has to be something more that they can do to offer the same service to black people as they offer to whites," Park added.
You adjourned the hearing without ruling on Airbnb's motion to dismiss.
Airbnb told Courthouse News that it is fighting discrimination on its platform.
Among the steps outlined in Airbnb's 2016 report, the company said it would circulate a stronger nondiscrimination pledge for hosts, removing discriminatory hosts from the website and assemble a team tasked with rooting out bias.
The company also initiated a policy called "Open Doors," which promises to find accommodations for any guest who reports that they were denied a place to stay from a discriminatory host.
Lawyers for Harrington questioned the helpfulness of the Open Doors policy in a Sept. 20 opposition brief.
"Airbnb suggests that an adequate fix for such oppression is for a 'dedicated team' to work with Plaintiff to secure a booking at 'a similar listing,'" the brief states. "Not the listing Plaintiff wanted originally—the listing presumably only available to whites — but a 'similar' one. Regrettably for a company that espouses 'inclusion' as its central mission, Airbnb fails to understand that by offering to Plaintiff a different set of options than it offers whites, it has already excluded and oppressed her."
Airbnb insists meanwhile that it is working to end discrimination against its users.
"Discrimination has no place on our platform and we are actively fighting bias by implementing new policies and product changes," spokeswoman Laura Rillos said in an email. "While we don't believe this lawsuit has merit, we will continue to work tirelessly to make our community open and accessible to everyone."
Follow @@karinapdx
Subscribe to Closing Arguments
Sign up for new weekly newsletter Closing Arguments to get the latest about ongoing trials, major litigation and hot cases and rulings in courthouses around the U.S. and the world.