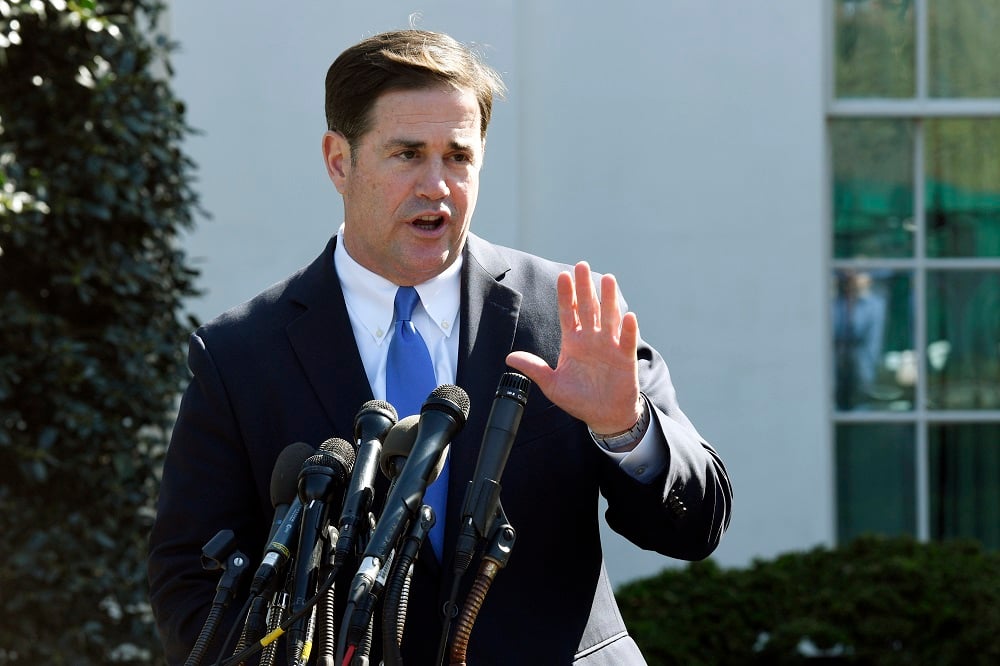 PHOENIX (CN) - Arizona Gov. Doug Ducey on Monday signed a law requiring medical professionals to tell patients they can reverse drug-induced abortions, and prohibiting women from buying health insurance through the federal exchange if it includes abortion coverage.
"The American people overwhelmingly oppose taxpayer funding of abortions, and it's no different in Arizona, where we have long-standing policy against subsidizing them with public dollars," Ducey said in a statement. "This legislation provides clarity to state law."
Ducey, a Republican and a Catholic, has previously said he was against abortion.
Senate Bill 1318 - sponsored by state Sen. Nancy Barto, R-Phoenix - requires that a woman who seeks an abortion must be told by a medical professional within 24 hours of the procedure that "it may be possible to reverse the effects of a medication abortion if the woman changes her mind, but that time is of the essence."
Dr. Ilana Addis, chairwoman of the Arizona Section of the American Congress of Obstetricians and Gynecologists, testified against the in the Senate. She said there is no evidence to support the claim that a medication abortion could be reversed.
"We like to practice medicine that is evidenced-based, and unfortunately the protocol that has been suggested for reversing a medication abortion has no evidence to support it," Addis said.
"Let's be clear: This bill is not based in sound science and would force doctors to provide patients information that could be harmful to their health," Planned Parenthood President Cecile Richards said before Ducey passed signed the legislation. "The groups behind this measure are the very same people who make false claims that rape can't lead to pregnancy - and whose real agenda is to ban abortion outright."
The law allows insurance plans to provide abortions to save the life of a woman, in cases of incest or rape, and to stop the "substantial and irreversible impairment of a major bodily function of the woman having the abortion."
Follow @jamierossCNS
Subscribe to Closing Arguments
Sign up for new weekly newsletter Closing Arguments to get the latest about ongoing trials, major litigation and hot cases and rulings in courthouses around the U.S. and the world.