This is the first of three stories about free-roaming horses in the Apache-Sitgreaves National Forest. Read part two here.
ALPINE, Ariz. (CN) — Deep scars run through Apache-Sitgreaves National Forest, a constant reminder of a devastating fire that burned more than 500,000 acres across the White Mountains around a decade ago.
That fire destroyed 19 miles of border fence, sparking a heated debate around the horses who now inhabit this forest. Experts remain torn on where these horses came from and whether they belong here.
Some experts say the fire and loss of fencing allowed horses to cross from the Fort Apache Indian Reservation into Apache-Sitgreaves. They say horses don't belong in this delicate ecosystem and would like to see them gone.
Others, including indigenous Apache who have long lived in the region, say the horses have been here for generations — long before that 2011 fire. The disagreement cuts to the core of Americans' unique relationship with this charismatic species, which first appeared in North America millions of years ago and later played a critical role in European colonization of the continent.
Hundreds of horses roam free near Alpine, Arizona, just six miles from the Arizona-New Mexico border and more than 8,000 feet above sea level. Locals and wild horse advocacy groups collectively refer to the horses, which roam nearly 75,000 acres of forest known as the Black River watershed, as the Alpine herd.
The U.S. Forest Service and most conservationists call them something else: feral.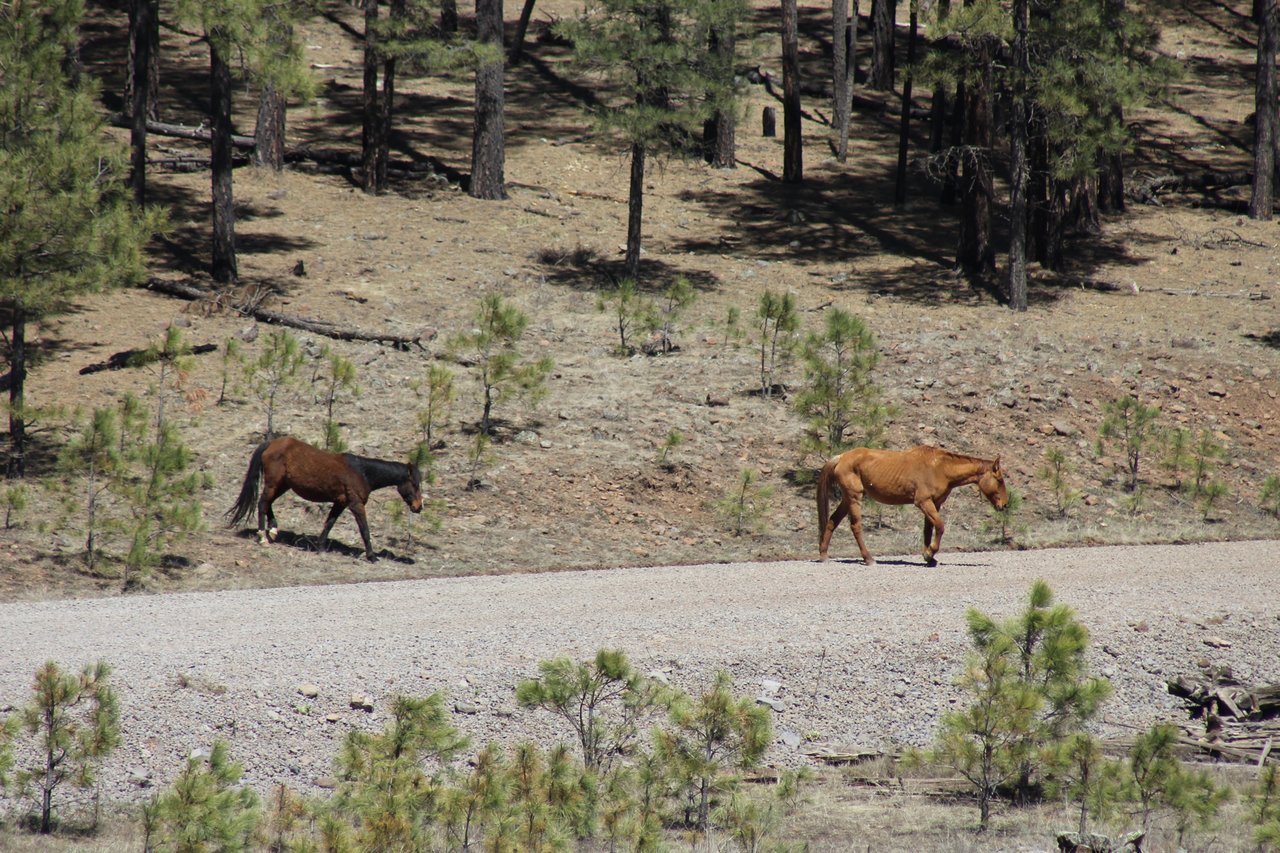 "They shouldn't be there," said Robin Silver, founder of the Center for Biological Diversity, a nonprofit dedicated to protecting endangered species. "These are exotic animals that did not evolve with our habitat."
The existence of free-roaming horses in the American West has been a source of controversy since European settlers first arrived. While horses originally evolved in North America about five million years ago, most scientists agree they completely disappeared from the continent around the end of the last Ice Age more than 10,000 years ago.
Then, just around 500 years ago, colonizers and settlers from Europe reintroduced them to the continent. New research shows that horses spread quickly across North America in the decades after Spanish conquistadors arrived in 1519, but scientists disagree on exactly where they ended up.
North American ecosystems changed a lot in the last 10,000 years — and many conservationists see the return of horses as detrimental. They say horses disrupt delicate ecosystems and take resources away from competing fauna. They've urged the Forest Service to remove them from public land.
Other advocates are fighting back to preserve what they say are historically and culturally significant beasts. In his 2011 book "Wild Horses of the West: History and Politics of America's Mustangs," J. Edward De Steiguer described free-roaming horses as "living symbols of the historic and pioneer spirit of the West."
Simone Netherlands, horse advocate and president of the Salt River Wild Horse Management Group, agrees. Removing horses from public land is "ungrateful" behavior given their significant role in American history, she said.
"This was how the Wild West was won," she said. "Literally on the backs of these horses."
Netherlands said she has DNA evidence linking the horses to those that carried the conquistadors into battle. Still, that wouldn't prove them to be wild in the Forest Service's eyes.
The United States considers any unbranded and unclaimed horses that roamed free on federal land before 1971 to be wild, a distinction made in the Wild Free-Roaming Horse and Burro Act that year. The law allows those horses and their descendants to remain on the land in perpetuity. Under the law, the U.S. Forest Service also must protect them from injury or harassment from humans.