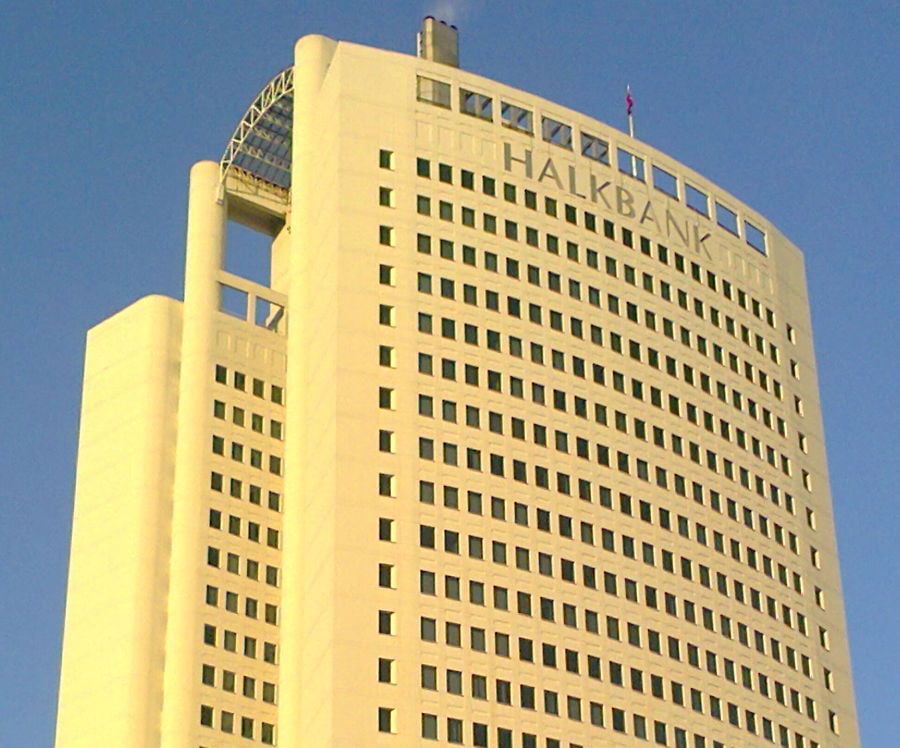 MANHATTAN (CN) – Halkbank is "now a fugitive" from criminal charges implicating the Turkish state-run bank in a multibillion-dollar money-laundering scheme to Iran, a federal prosecutor announced at a Tuesday morning court hearing.
In a 2017 case that embarrassed the sitting leaders of the United States and Turkey, Halkbank was the central financial institution involved in the largest sanctions-busting scheme of its kind ever charged in a U.S. court.
Two years after a trial that captivated Turkey, the now-indicted bank at the center of the scheme was a no-show in court as federal prosecutors argued in front of an empty defense table.
President Donald Trump's attorney Rudy Giuliani represented the gold trader at the heart of the scheme, Reza Zarrab, a former ally of Turkish strongman Recep Tayyip Erdogan.
After Giuliani's efforts to free Zarrab in a prisoner swap failed, the gold trader became a key witness against ex-Halkbank manager Hakan Atilla, who served a 32-month sentence for bank fraud and other charges. Zarrab became a persona non grata in Turkey after telling a New York federal jury that Erdogan ordered the illicit trades.
U.S. District Judge Richard Berman, who handed down Atilla's sentence, noted in court this morning  that the Turkish government just appointed the banker on Monday to head Istanbul's stock exchange.
"I suppose that's one way of integrating back into society someone who has been convicted of financial wrongdoing," Berman quipped dryly.
Assistant U.S. Attorney Michael Lockard, who prosecuted Atilla two years ago, described difficulties serving Halkbank through its attorneys at the white-shoe law firm King & Spalding, which has advised President Trump's real estate empire and employed FBI director Christopher Wray.
In a letter made public Monday, King & Spalding's partner Andrew Hruska denied that the firm was authorized to accept service on Halkbank's behalf. Hruska did not respond to an email seeking comment.
Judge Berman replied that he was "somewhat taken aback" by that position, considering that the firm had been representing Halkbank for "years."
King & Spalding registered as a foreign agent for the Turkish foreign ministry in December 2017, but prosecutors believe that the firm's work for Halkbank dated back two months earlier in October, the same month that Zarrab agreed to a secret plea deal with the U.S. government.   
The firm's former partner, FBI Director Christopher Wray, swore his oath of office in August of that year.
Ankara greeted Halkbank's indictment with fury, and Erdogan reportedly brought the issue up last week with Vice President Mike Pence and Secretary of State Michael Pompeo in Turkey.
"Of course, those efforts are consistent" with other reports of attempted political interference since the case began in 2017, said AUSA Lockard.
Instructing prosecutors to draft a contempt order, Judge Berman said he would give Halkbank a two-week window to appear in court before he decides whether to impose sanctions.
"It does seem appropriate based on your comments," Berman said.
Apart from nominal assets, Halkbank does not have employees or offices in the United States. It does, however, boast considerable legal, lobbying and political clout with the Trump administration.
Ballard Partners, which has been described as the "Most Influential Lobbyist in Trump's Washington," terminated its yearslong contract with Halkbank last week, the day after its indictment.
In the shadow of the impeachment inquiry, multiple news outlets reported that Trump, Giuliani and ex-U.S. Attorney Michael Mukasey pressed former Secretary of State Rex Tillerson to seek a deal that would have freed Zarrab in the fall of 2017.
Giuliani, who is reportedly under criminal investigation, is now under scrutiny for his habit of what critics have described as shadow diplomacy with Ukrainian and Turkish heads of state. The former New York City mayor met with Erdogan in early 2017.
The long-dormant case exploded back to life after the U.S. president, who has Trump-branded towers in Istanbul, precipitously withdrew U.S. troops on the heels of a phone call with Erdogan.
Subscribe to Closing Arguments
Sign up for new weekly newsletter Closing Arguments to get the latest about ongoing trials, major litigation and hot cases and rulings in courthouses around the U.S. and the world.