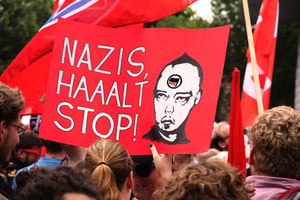 WASHINGTON (CN) - President Trump denounced the KKK and other hate groups Monday after declining to do so on Saturday after deadly violence in Charlottesville, Virginia at a white supremacist rally.
"To anyone who acted criminally in this weekend's racist violence, you will be held fully accountable. Justice will be delivered," Trump said during a brief White House news conference.
"Racism is evil. And those who cause violence in its name are criminals and thugs, including the KKK, neo-Nazis, white supremacists and other hate groups that are repugnant to everything we hold dear as Americans," he added.
The president's comments came after widespread backlash and criticism for his failure to call out white supremacists after clashes broke out Saturday in Charlottesville between hundreds of white supremacists and anti-fascist protesters ahead of a scheduled "Unite the Right" rally to protest the removal of a statue of Confederate Gen. Robert E. Lee.
The melee turned deadly when a silver Dodge Challenger plowed into a group of counterprotesters, killing 32-year-old Heather Heyer and injuring 19 others.
Trump condemned her death on Monday.
"Those who spread violence in the name of bigotry strike at the very core of America. Two days ago a young American woman, Heather Hayer, was tragically killed," he said. "Her death fills us with grief and we send her family our thoughts, our prayers and our love."
The president had spoken shortly after the incident happened on Saturday from his private golf club in Bedminster N.J., where he condemned violence on "many sides."
"We condemn in the strongest possible terms this egregious display of hatred, bigotry and violence on many sides," he said. "On many sides."
His vague comment and failure to specifically name white supremacists provoked widespread criticism from both sides of the aisle, particularly from those who have long accused the president and some of his advisers of pandering to white nationalists.
The Daily Stormer, a neo-Nazi website, celebrated Trump's comments on Saturday for not singling them out.
"Trump comments were good," a blog post on the website said. "He didn't attack us. He just said the nation should come together. Nothing specific against us."
Some called Trump's comments on Monday too little too late.
"Trump's belated criticism of his staunchest supporters – racist, Nazi, KKK terrorists  – rings hollow," said Murshed Zaheed, political director of Credo Action, a social network of liberal activists, in a written statement.
"When it is politically convenient, Trump frequently and aggressively bullies individuals and organizations by name, but in this case, he disgracefully protected white supremacist Nazis for days before speaking out," Zaheed said.
CREDO called for the president to fire his chief strategist Steve Bannon, who formerly ran the right-wing Breitbart news site, along with White House staffers Sebastian Gorka and Steven Miller.
Subscribe to Closing Arguments
Sign up for new weekly newsletter Closing Arguments to get the latest about ongoing trials, major litigation and hot cases and rulings in courthouses around the U.S. and the world.