WASHINGTON (CN) — A federal jury took less than a day to find a former Hillary Clinton campaign lawyer not guilty of making a false statement to the FBI's general counsel in 2016.
The trial of 58-year-old Michael Sussmann began over two weeks ago and included nearly two dozen witnesses. A cybersecurity lawyer, Sussmann was indicted in September on a single count that said he was dishonest when he met with then-FBI general counsel James Baker in 2016 and provided data files containing purported evidence of secret communications between Russia's Alfa Bank and Donald Trump who was running for president of the United States at the time.
After Trump won that election, his Justice Department would appoint John Durham as a special prosecutor to find wrongdoing in Crossfire Hurricane, the code name for the FBI's two-year investigation of Trump-Russia collusion in the 2016 election.
The former president and his Republican allies have for years decried the Crossfire Hurricane investigation as a "witch hunt" and a political ploy to make him look bad. Durham said Sussmann went into the FBI meeting while representing Trump's Democratic political opponent, Hillary Clinton, as well as a technology expert now known to be Rodney Joffe, and that his statement in the meeting that he was not representing any clients was false.
While speaking with reporters outside the federal courthouse on Tuesday, Sussmann expressed relief about the jury's decision to acquit him.
"I told the truth to the FBI — and the jury clearly recognized that with their unanimous verdict today," said Sussmann, who was wearing glasses and dressed in a dark suit with a blue tie.
"Despite being falsely accused, I am relieved that justice ultimately prevailed in my case," he continued, adding that it "has been a difficult year for my family and me."
Sussmann had resigned from his position at Seattle law firm Perkins Coie after his indictment and faced up to five years in prison if convicted. His was the first case from Durham's probe to go to trial, and Tuesday's acquittal deals a heavy blow to it.
"While we are disappointed in the outcome, we respect the jury's decision and thank them for their service," Durham said in a statement on Tuesday.
Sussmann noted meanwhile that he is "looking forward to getting back to the work that I love." After speaking for less than a minute, reading a statement from a piece of paper while glancing up occasionally at reporters, he left without answering any questions.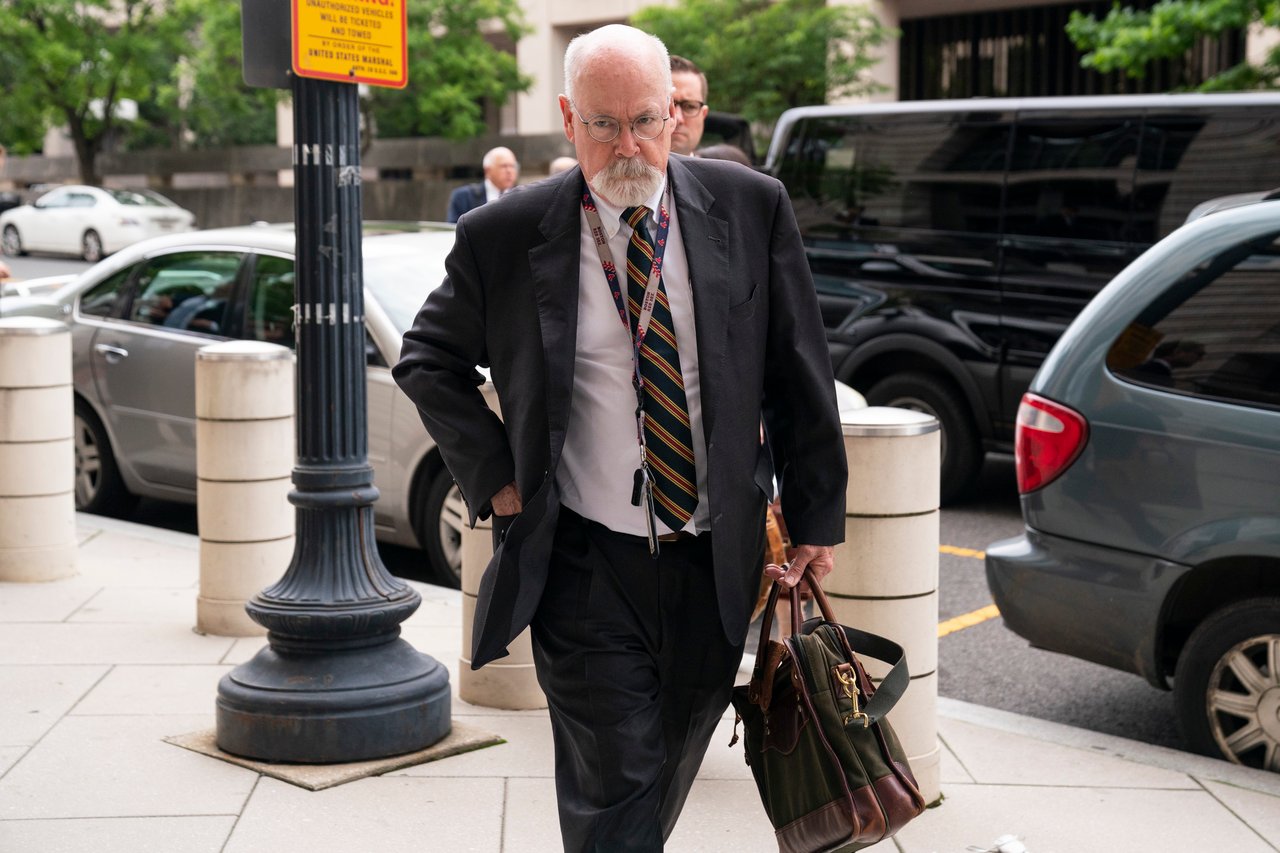 During closing arguments on Friday, Durham's prosecutorial team described Sussmann as a "powerful" Washington attorney who used his privilege to "bypass normal channels" and expedite a meeting with Baker, his former colleague who was the FBI's top lawyer at the time.
To prove that Sussmann and Joffe worked together to assemble the Trump-Alfa Bank information as part of opposition research for the Clinton campaign, the Justice Department tried to focus jurors' attention on billing records that dating back to March 2016.
Prosecutors also focused heavily on notes taken by FBI agents and other government officials in meetings about the bureau's probe into the Trump-Alfa Bank information. The government said that any references to the word "client" in those notes amounted to proof that Sussmann was meeting with Baker on behalf of a client.
It was Durham's position Sussmann and Joffe first gave the information to New York Times reporter Eric Lichtblau, hoping he would publish a story on it. They say Sussmann only went to the FBI after the Pulitzer Prize-winning national security reporter held off on publishing, hoping that the bureau would launch an investigation that would prompt an "October surprise" story against Trump in the nation's paper of record just weeks before the Nov. 8, 2016, election.
But Sussmann's defense team kept pointing jurors toward the witness stand, where a handful of he meeting attendees testified that, despite meeting notes, they recall being told that Sussmann was not representing a client when he provided the Trump-Alfa Bank information to Baker.
As Sussmann tells it, Joffe alerted him about the Trump-Alfa Bank information, and the campaign leaked it to Lichtblau. And since the information involved a potential national-security threat, Sussmann insists he wanted to let the FBI know that the Times had a pending story because it could affect the bureau's investigation if it chose to open one. He also claimed that everything he did, he did out of respect for the bureau, noting his close work with that office during his past career serving as a federal prosecutor.
The Trump-Alfa Bank allegations were never substantiated, a point that Sussmann's defense team did not shy away from, highlighting testimony from an FBI agent who told jurors the investigation was "incomplete."
During opening and closing arguments, the defense told jurors to judge the bureau by "what they did — not by what they're saying now."
Over the 11 days of trial, jurors heard from 23 witnesses: 17 witnesses of whom were called by Durham's team, including several current and former high-level government officials, as well as seven called by the defense. Sussmann opted not to testify.
After closing arguments on Friday, the jury deliberated for about three hours in the afternoon before being sent home for the holiday weekend. They came back on Tuesday and deliberated for about three more hours before returning with a unanimous not guilty verdict.
Defense attorneys asked U.S. District Judge Christopher Cooper to dismiss the case in March, but the Obama appointee instead let it it to proceed to trial. Sussmann's acquittal came just after noon Tuesday.
Durham's probe led to two other cases along with Sussmann's. The special prosecutor secured a guilty plea from former FBI lawyer Kevin Clinesmith in 2020, and he to court this fall for a trial in his case against Russian analyst Igor Danchenko.
Follow @EmilyZantowNews
Read the Top 8
Sign up for the Top 8, a roundup of the day's top stories delivered directly to your inbox Monday through Friday.