HONOLULU (CN) — It sounds unappetizing when you break it down: A slimy pink block of unidentifiable mystery meat, ground up, mashed together and stuffed into a can. It's the thing annoying unsolicited recurrent phone calls and emails are named after. It's not surprising that Spam is usually met with derision and disgust, but in Hawaii — where the canned meat has become a beloved staple of local cuisine — you'll meet some of Spam's staunchest defenders.
For a region usually well known for a variety of delicious and cultural foods like poi, kalua pork or poke, Spam seems like an incongruous element of the Hawaii food landscape. It gets a bad rap on the mainland and around the world, but Hawaii locals consider Spam almost a delicacy
And there's an entire festival dedicated to it.
Returning for the first time since 2019 this past weekend, the annual Waikiki Spam Jam block party celebrates Spam in all its forms. Several streets down the tourist hub's Kalakaua Avenue are lined with restaurant booths, including famous spots like Duke's Waikiki, all serving their own takes on the lunch meat, as well as stands advertising Spam merch. A Spam can mascot and Spam musubi mascot are besieged by photographers.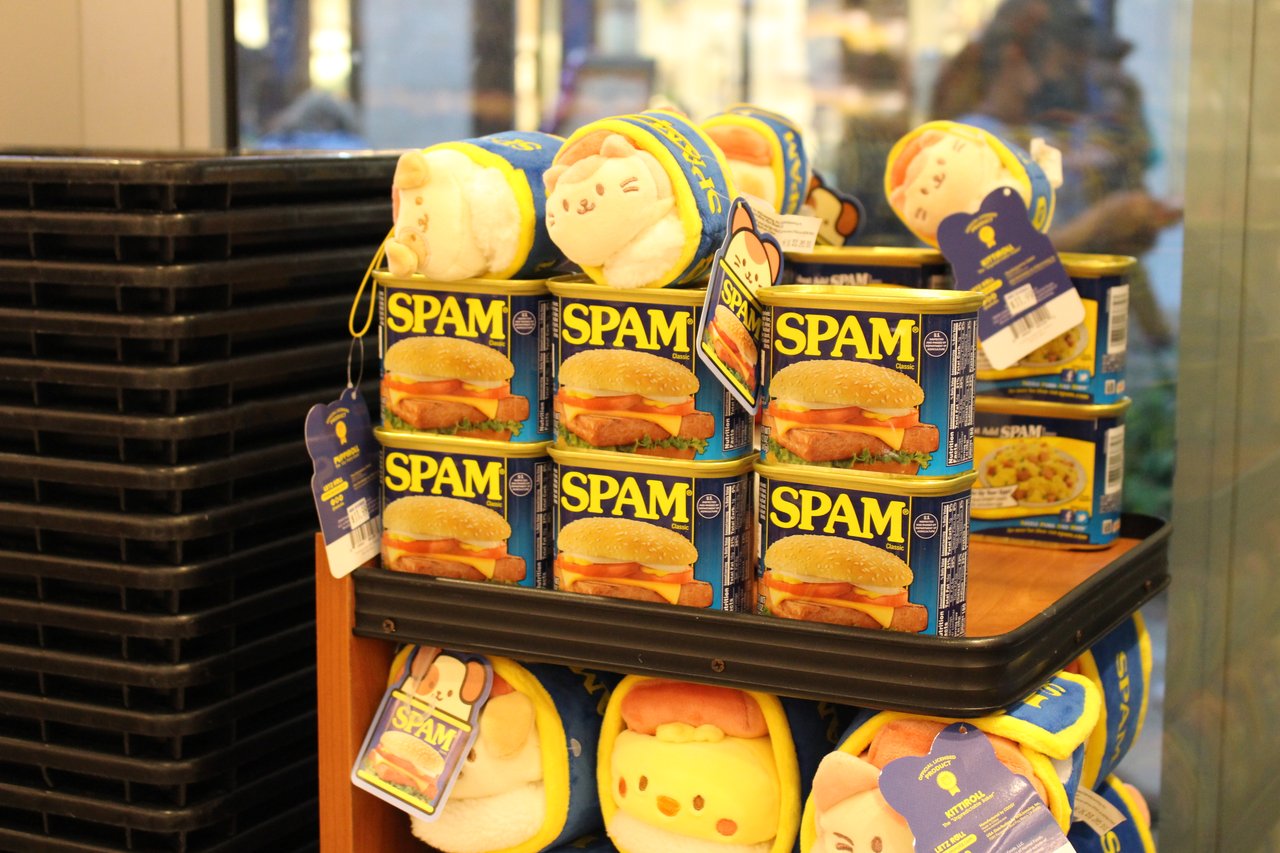 "We have some places that do Spam musubis and stuff in LA but it's definitely not like this. I always thought my Hawaii friends were exaggerating about Spam but you guys really do love it," California resident Stephanie said, brandishing a Spam tote bag filled with Spam themed T-shirts and other knickknacks. "I think it's so funny, it's such a funny thing to have a festival for, but everything is so good!"
Spam's popularity may seem bizarre for the uninitiated, but lunch meat has become a part of Hawaii's history although Spam itself doesn't have any particular ties to Hawaii. First introduced by Minnesota-based Hormel Foods in 1937, Spam is made of precooked pork shoulder, ham and a hefty dose of salt which detractors decry as unhealthy. But that isn't much of a concern to Spam lovers.
"No one said it's good for you, it's just good. And there's a light version, Get that," one of the festival volunteers said.
Healthy or not, the prevalence of Spam on the islands is now usually attributed to the state's extensive legacy as host to the U.S. military forces.
According to Spam producer Hormel Foods, the company provided Spam and other processed meat products to soldiers overseas, including in what was then the territory of Hawaii, during World War II. The islands, suffering under wartime sanctions and rationing, welcomed Spam as a readily available protein source.
Although the military may have introduced the islands to the canned meat, it was the local ingenuity in preparation that transformed Spam from imposed option to island favorite. Those who insist Spam is unappetizing need only to travel to Hawaii. Even Spam insists frying the product rather than eating it unprepared out of the can.
According to Hormel, an estimated 7 million cans of Spam are purchased in Hawaii each year, outselling every other state. As exemplified by the Spam Jam festival, locals believe Spam can go with everything but most often prepare it in its simplest form — just Spam with rice. This combination is perfected in the form of Spam musubi.
Spam musubi evolved from Japanese rice balls, popular for their ease to make and eat, especially on the go. Typically, a Japanese style rice ball, or onigiri, has a topping wrapped up by the rice, and molded into a triangular shape with seaweed encasing the whole thing. Now, the popular snack is made by stacking a slice of pan-fried Spam, usually coated in a sweet teriyaki sauce, on top of a block of rice, with seaweed wrapped around the middle.
Most households even have their own musubi press to more easily be able to prepare the snack at home. The convenience of Spam musubi makes it ideal for beach days and hiking trips. And even if you aren't inclined to cook for yourself, Spam musubi is always easily purchased, since every Hawaii 7-Eleven will have a special musubi warmer conveniently placed right by the registers. The snack is so popular that the Hawaii governor dedicated Aug. 8 as "Spam Musubi Day" in 2022.
And it isn't just in musubi form that island residents enjoy Spam. Spam, eggs and rice is a classic combination in Hawaii embraced by even non-local companies. McDonald's in Hawaii has an altered menu, serving up breakfast platters with Spam alongside their typical breakfast fare.
Local restaurants offer even more Spam options, from Spam fried rice to Spam chow mein and Spam burgers. To locals, Spam can be in anything — Spam Jam gave thousands of attendees choices between Spam on pizza, in spring rolls, sprinkled on nachos, even candied on pies and made into cocktails. One booth sold chocolate-covered Spam. One of event's must-tries came in the form of a Spam, eggs and rice ice cream.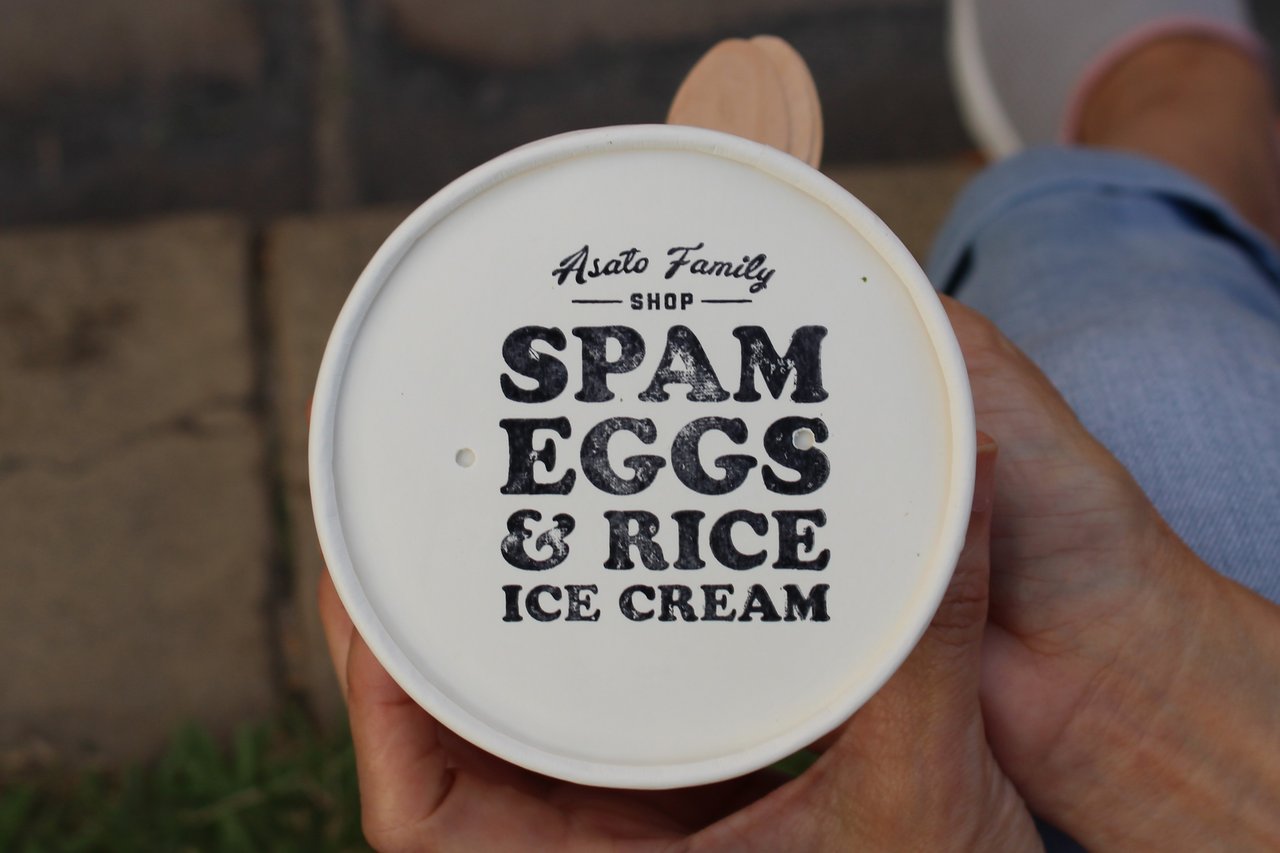 Although this Spam obsession may be rooted in Hawaii's now controversial military presence, the real appeal of the canned meat comes more from distinctly local traditions.
"It's even low-key satisfying to peel open the can, you know? The whole process is nostalgic, it's like childhood, like eating spam musubi at a school field trip," a local Spam enthusiast and festival goer said.
Like many of the state's other famed local culinary elements, Spam and its preparation is steeped in the traditions of Asian immigrants. Like in Hawaii, Spam came to Asian and Southeast Asian countries with the influx of U.S. soldiers during World War II. In countries like Japan, Korea and the Philippines, Spam remained prevalent even after active military presence left, allowing residents to develop a food tradition that would eventually be carried to Hawaii with them.
The Western world, however, did not embrace Spam's post-war omnipresence. The origin of the term "spam" for unwanted messaging came from a Monty Python sketch featuring a diner with an unending menu of only Spam-based meals, where restaurant-going Vikings began chanting "Spam" over and over again in response, with even the word being inserted into the actors' names in the end credits.
For a remote island chain thousands of miles away from the nearest landmass, having canned food like Spam makes sense, even decades from any wartime influence. And if Hawaii residents have to eat Spam, then why not make Spam as delicious as possible?
While the Spam Jam's block party event happened April 29, festivities continue with several Waikiki restaurants keeping their special Spam dishes on the menu for two weeks.
Read the Top 8
Sign up for the Top 8, a roundup of the day's top stories delivered directly to your inbox Monday through Friday.