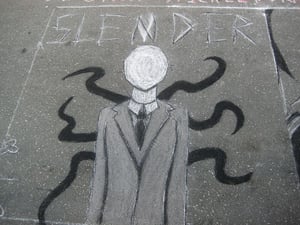 WAUKESHA, Wis. (CN) – One of two Wisconsin girls who tried to stab their friend to death to please a fictional boogeyman was sentenced Thursday to the maximum punishment of 25 years in a mental institution.
Prosecutors claimed Morgan Geyser, 15, and Anissa Weier, 16, tried to stab their friend Payton Leutner to death in May 2014 to appease Slenderman, a fictional horror character.
Leutner was found crawling out of woods with 19 stab wounds near Geyser's home in Waukesha, Wis., the morning after the three then-12-year-old girls had a sleepover. She survived after several surgeries.
The case made headlines around the world and the 2016 HBO documentary "Beware the Slenderman" brought renewed attention to the stabbing.
Weier took a plea deal in August on the lesser charge of attempted second-degree intentional homicide as a party to a crime, with use of a deadly weapon.
In September, a jury found that Weier was mentally ill at the time of the attack, meaning she would be sent to a mental hospital instead of doing time in prison.
On Thursday, Waukesha County Circuit Court Judge Michael Bohren ordered Weier to spend 25 years in a mental institution in Winnebago, Wis.
"What's best for the community may not be what's best for Anissa Weier," Judge Bohren said at the afternoon sentencing hearing. "I believe the maximum sentence is appropriate… to maintain safety, to maintain protection to the community, to maintain protection for Payton so she has the resources available to protect her in the future."
Wisconsin prosecutor Ted Szczupakiewicz had argued for the maximum confinement of 25 years.
"It's not a long time in terms of that fact that Payton is looking at a lifetime of scars and impairment," he said at the hearing. "We do know that [Anissa] was susceptible to a shared delusion and we have no way to say whether she'll be susceptible to a shared delusion in the future."
Maura McMahon, Weier's attorney, recommended a 13-year sentence and played a six-minute video of photos and clips with statements from her family during the hearing.
In the video, Weier's father William spoke about her progress in jail.
"She's almost taken on this role of 'pod mommy'… she knows how things function there," he said. "She advises other kids, or almost sometimes counsels other kids when they're having a bad day… Because of her experiences in West Bend she has talked about going to school and becoming an advocate for children who are in her situation."
McMahon also told the court about Weier's enthusiasm over her online schooling at the jail. Copies of a brochure created by Weier in 2010 were presented, in which she explained her future hopes to be a zoologist.
Weier attended the sentencing hearing with her hair down, wearing glasses and a black and white sweater. After arguments from her attorney and the prosecutor, Weier gave a statement to the court.
"I just want everyone involved in this to know that I do hold myself accountable for this and that I will do whatever I have to do to make sure that I don't get any sort of delusion or whatever again," she said. "And I want everybody involved to know that I deeply regret everything that happened that day and that I know that nothing I say  is going to make this right, your honor, and nothing that I say is going to fix what I broke. I'm just hoping that by holding myself somewhat accountable for what happened that day that I can somehow be responsible for what happened. I'll do whatever I have to do to make sure this doesn't happen… I know you've heard that before and you're probably going to hear it again, but it's the truth, and I'm sorry."
Geyser was portrayed as the ringleader in the stabbing by Weier's defense attorneys, who say she enforced the delusion which led to the crime. Both girls claimed the other made the deal with Slenderman to kill Leutner, whom they say he chose as the victim.
Judge Bohren read from a letter to the court written by Leutner's mother, who described the difficulty her daughter faces with things like shopping for prom dresses or swimsuits due to her scars, which serve as reminders of the attack. She also says Leutner is scared to leave her windows unlocked.
"The 19 stab wounds that Payton endured that day left 19 very visible scars…" Bohren read.
He expressed concern while reading from Weier's pre-dispositional report detailing an event in which Weier created an Ouija board in jail and was convinced that demonic spirits were pushing down on her while she was sleeping.
"[The sentence] gives the community assurance of safety and protection and gives Miss Weier the opportunity to proceed and become a functioning member of the community," Judge Bohren said of the punishment he handed down.
For the last year and half, Weier has been attending therapy and is not medicated. The judge said he will allow the 1,301 days Weier has already served to count toward her 25-year sentence.
In a statement after the sentence was delivered, Weier's attorney McMahon said, "Whatever help [Anissa] needs to get, she's going to take it and do whatever she can to make sure she is as fully functional a person as she can be."
Geyser agreed to plead guilty to attempted first-degree intentional homicide, avoiding a jury trial. The agreement stipulated that she would be found not guilty by reason of mental disease.
She is scheduled to be sentenced on Feb. 1. Prosecutors want her to spend at least 40 years in a mental institution.
Follow @EmilyZantowNews
Subscribe to Closing Arguments
Sign up for new weekly newsletter Closing Arguments to get the latest about ongoing trials, major litigation and hot cases and rulings in courthouses around the U.S. and the world.