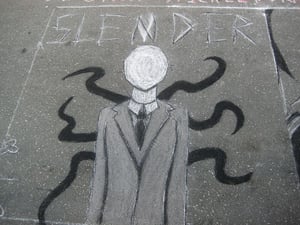 WAUKESHA, Wis. (CN) – The father of a Wisconsin girl accused of trying to murder a classmate to please a fictional boogeyman took the stand in a hearing Thursday, helping the defense paint the picture of a trusting, suggestible girl who was eager to satisfy police.
Morgan Geyser and Anissa Weier were arrested on May 31, 2014, hours after trying to kill Payton Leutner outside Geyser's house where the girls, all 12, just had a sleepover. They told police they had been planning the murder for months and were on the way to Slenderman's home, which they believed to be in the Nicolet National Forest. Slenderman is a fictional horror character.
Leutner recovered, and her assailants were deemed competent that December to stand trial as adults on charges of first-degree intentional attempted homicide in Waukesha County Circuit Court.
The process has stretched on since then, as the girls have grown behind bars into teens. This past July, an appeals court ruled they will receive adequate mental health treatment in the adult court system, and their trials were recently split during proceedings in Geyser's case.
Weier's videotaped confession to police, taken hours after the stabbing and likely the strongest evidence against her, was the subject of Thursday's hearing as her defense attorneys tried to get it thrown out.
Detective Michelle Trussoni testified that she did not immediately read Weier her Miranda rights, but did so from the same form the department uses for adults before taking her statement. Trussoni was not shown confirming that Weier understood the statement.
"It's in the sentence," she said when Weier's attorney Joseph Smith Jr. asked her whether she had asked if Weier understood her rights.
Trusson was referring to the final sentence of the Miranda statement, which reads: "Understanding the above rights, do you agree to speak to me?"
Trussoni was shown on video offering Weier water, a blanket and something to eat, which the defense tried to characterize as an attempt to build rapport so Weier would cooperate and give the officer what she wanted.
"She's 12 years old," Trussoni responded, stating her main goal was to make Weier comfortable. "I don't know what she's been through. She was upset."
Forensic psychologist Anthony Jurek, who interviewed Weier several times days after her arrest, would not definitively say Weier's statement was given voluntarily.
Weier scored below average on some aspects of a test Jurek performed to determine whether she understood her Miranda rights, earning only three of 10 points on comprehension of her right to remain silent.
Jurek said Thursday that Weier falsely believed her right to remain silent ceased when police asked a question, and that a refusal to talk could be held against her in trial.
Based on another test, Jurek concluded Weier's personality was "overly compliant," "interested in pleasing authority" and that she was likely to agree with people "just to get along with them," more so than the average 12-year-old.
In general, Jurek concluded "she didn't have an adequate understanding of the effect of waiving her Miranda rights at the time she spoke to police."
Trussoni testified that she never threatened Weier, nor told her she had to talk to her or that she would be in trouble if she did not speak to police.
When prosecutor Kevin Osborne asked Jurek whether there was evidence of coercion, Jurek answered in the negative.
"She, however, is so prone to be compliant that it wasn't necessary to coerce her," Jurek added.
The hearing then turned to Weier's family's experience on May 31, which began with a phone call informing them only that their daughter was missing and one of her group of friends was hurt.
William Weier, the girl's father, said they were not told until much later in the day that his daughter had been found and was a suspect in an attempted murder.
Upon learning this, the father and his ex-wife, Weier's mother, rushed to the police station, where they were kept waiting for 45 minutes before two plain-clothes officers told them she was being questioned, he said Thursday.
When they asked if they could see her, they were told they could not, according to his testimony.
In Wisconsin, police are not required to bring a parent into the room when questioning a minor, Weier's attorney Maura McMahon told reporters after the hearing.
"The parents were trying to get to their child, and they were prevented," she said.
McMahon and Smith have other challenges pending before the court that will be addressed in coming briefs, including a motion to bring in a jury from another county and a constitutional challenge to the methods of prosecuting minors in adult court.
"We don't punish people for being children," McMahon said. "It has to take into account that she is a child, even though she is in adult court."
[gallery type="slideshow" ids="158790,158789,158785,158784,158783"]
Subscribe to Closing Arguments
Sign up for new weekly newsletter Closing Arguments to get the latest about ongoing trials, major litigation and hot cases and rulings in courthouses around the U.S. and the world.