WAUKESHA, Wis. (CN) – A Wisconsin girl painted as the ringleader of an attempt to stab her friend to death to appease a fictional boogeyman was sentenced Thursday to 40 years in a mental institution.
Prosecutors claimed Morgan Geyser, 15, and Anissa Weier, 16, tried to stab their friend Payton Leutner to death in May 2014 to please Slenderman, a fictional horror character.
Leutner was found crawling out of woods with 19 stab wounds near Geyser's home in Waukesha, Wis., the morning after the three then-12-year-old girls had a sleepover. She survived after several surgeries.
Geyser and Weier were charged with attempted first-degree intentional homicide. The case made headlines around the world and the 2016 HBO documentary "Beware the Slenderman" brought renewed attention to the stabbing.
Geyser was portrayed as the ringleader in the stabbing by Weier's defense attorneys, who said she enforced the delusion which led to the crime. Both girls claimed the other made the deal with Slenderman to kill Leutner, whom they say he chose as the victim.
The teens struck deals last year with prosecutors to avoid trial. Geyser agreed to plead guilty to attempted first-degree intentional homicide, with the stipulation that she would be found not guilty by reason of mental disease. Weier took a plea deal on the lesser charge of attempted second-degree intentional homicide as a party to a crime, with use of a deadly weapon. A jury found her mentally ill at the time of the attack.
Waukesha County Circuit Court Judge Michael Bohren last month ordered Weier to spend 25 years in a mental institution in Winnebago, Wis.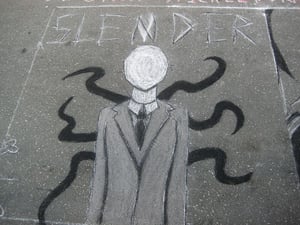 On Thursday morning, he imposed a stiffer penalty on Geyser and sentenced her to 40 years in a mental facility, the maximum punishment sought by prosecutors. Defense attorneys had pushed for a conditional release.
Geyser will serve her sentence at a mental institution in Winnebago, Wis., where she has been since 2016.
"What we can't forget is that this was an attempted murder. It would've been murder but just for simply time and the way the interference of what you might say serendipity occurred, the knife wound wasn't placed in the exact way to kill her…she didn't bleed to death and someone found her," Judge Bohren said before handing down the sentence.
Geyser attended the sentencing hearing wearing her hair in a pony tail with glasses and a blue shirt. Her attorney Anthony Cotton asked the judge if her shackles could be removed for the hearing, but he denied the request.
The 15-year-old broke down in tears while giving a statement to the court.
"I just want everyone to let Bella and her family know how sorry [ I am]. I never meant for this to happen and I hope that she's doing well," Geyser said through sobs, referring to Leutner.
Three psychologists and the director of forensic services at the Winnebago mental health institution took the stand and answered questions about their evaluations of Geyser. The first psychologist, Dr. Brooke Lundbohm, said she supported Geyser's "special plea."