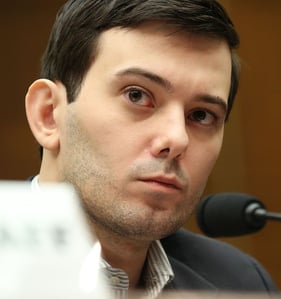 BROOKLYN (CN) - After five days of deliberation, a jury of seven women and five men found scorned pharmaceutical executive Martin "Pharma Bro" Shkreli guilty Friday on federal charges of securities fraud.
Shkreli – the 34-year-old founder and former CEO of Turing Pharmaceuticals who is best known for jacking the price of life-saving AIDS drug Daraprim by 5,000 percent in 2015 –was found guilty of two counts of securities fraud and one county of conspiracy to commit securities fraud. He was found not guilty of five other counts, including wire fraud.
Over the course of the month-long trial, federal government prosecutors laid out evidence that Shkreli looted his drug company Retrophin to pay back investors in two failing hedge funds he ran.
"I wish you well, Mr. Shkreli," U.S. District Judge Kiyo Matsumoto told him as he left the courtroom Friday afternoon.
Outside court, Shkreli called his prosecution "a witch hunt of epic proportions."
His attorney, Benjamin Brafman, said after the verdict was announced, "This was a difficult case primarily because of the anti-Shkreli sentiment, and to the extent that this jury acquitted Martin of five of eight counts, it is a real testament to trial by jury."
"Despite being Martin Shkreli, he won more than he lost," Brafman added.
Speaking to reporters outside the courthouse, Shkreli boasted about federal prosecutors coming down on him.
"I don't think there's anything that pales in comparison to feeling the pressure of the entire government sort of try to squeeze you and standing up to them and telling them, 'We don't think you have your facts right,'" he said.
"Notwithstanding the entire resources of the federal government, we fought back and we feel like we won," Shkreli added.
Bridget M. Rohde, acting U.S. attorney for the Eastern District of New York, said in a statement that law enforcement remains "steadfast in our commitment to protecting the investing public and our markets from such fraud and abuse and will continue to hold accountable those who defraud the market."
"As the jury found today, Martin Shkreli violated the law by deceiving investors into entrusting their money with his hedge funds and lying to them about the funds' performance, as well as by engaging in a multi-million dollar fraud scheme involving publicly traded Retrophin," Rohde said.
FBI Assistant Director-in-Charge William Sweeney Jr. added, "Shkreli misled investors in his self-indulgent scheme. Today's conviction shows that those who corrupt the market will ultimately be brought to justice."
During the government's closing arguments a week ago, Assistant U.S. Attorney Jacquelyn Kasulis urged jurors to "use your common sense, and don't be distracted."
Kasulis called the defense's good-faith narrative that portrayed Shkreli as an altruistic boy-genius drug developer "a myth."
"The last few weeks have shown Martin Shkreli for who he is really is: a con man who stole millions of dollars and it's up to you ... to tell the defendant, 'It's over, it's done. No more,'" she said.
The government's case relied on what Kasulis called "an avalanche of evidence … that buries the defendant."
Pushing back against the defense's argument that no fraud occurred because all the investors were repaid in full and reaped handsome profits, Kasulis told jurors, "It doesn't matter if you pay people back years later after you've stolen their money … . Those people are still victims of fraud."
The government's case against "Pharma Bro" Shkreli  focused on his MSMB Capital hedge fund, accusing him of lying to investors by boasting over-the-top returns at a time when he had lost more than $7 million on a 2011 trade and let the fund dwindle to about $2 million in assets.
Prosecutors hammered Shkreli as a liar who misled investors about the hedge funds' liquidity and value, misrepresented the company's performance and lied about having gone to college.
Shkreli himself scoffed at prosecutors online, calling them "junior varsity" and referring to his trial as "a silly witch hunt perpetrated by self-serving prosecutors."
His online comments garnered him a gag order from Judge Matsumoto during the first week of the trial.
Defense attorney Benjamin Brafman took strides to make sure that the jury wouldn't convict Shkreli for his actions and behaviors outside of the fraud and conspiracy charges.
"He's not charged with making an illegal OREX trade," Brafman said. "He's not charged with aggravation," referring to Shkreli's 2011 imploded short trade that cost him $7 million and his infamous reputation as a provocative online troll.
Shkreli's price hike of Daraprim two years ago triggered waves of online outrage and greatly raised his public profile.
"In terms of people skills? He's impossible!" Brafman said of his client.
"If Martin Shkreli says what he believes is true, I submit that's an act of good faith," said Brafman, "and you must acquit."
Throughout the trial, Brafman portrayed his client as a troubled genius, never hesitating to point out Shrkeli's socially awkward behavior – several times reiterating one witness' comparison to Dustin Hoffman's performance as an autistic savant in "Rain Man" – but maintained that Shkreli "was always truthful to the mission."
That mission was the start-up pharmaceutical company Retrophin, reportedly founded to find a cure for rare disease called myotubular myopathy.
Shkreli faces years in prison. A sentencing date has not yet been set.
He is currently free on bail.
Follow @jruss_jruss
Subscribe to Closing Arguments
Sign up for new weekly newsletter Closing Arguments to get the latest about ongoing trials, major litigation and hot cases and rulings in courthouses around the U.S. and the world.