PHILADELPHIA (CN) — Contesting personal liability in a case where the Pennsylvania Supreme Court found that Republicans had gerrymandered state congressional districts, Senator Joe Scarnati urged the Third Circuit on Wednesday to let him off the hook on legal fees.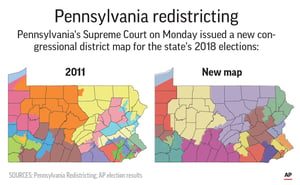 Adopted after the 2010 census, the map helped Republicans to win 13 of 18 seats in the 2016 election, despite being outnumbered by Democrats 5:4.
The Pennsylvania Supreme Court ultimately struck the map as an unconstitutional gerrymander, but not before Scarnati, the president pro tempore of the Pennsylvania Senate, maneuvered to have the challenge by the League of Women Voters of Pennsylvania fought in federal court instead.
This past April, U.S. District Judge Michael Baylson hit Scarnati with an order to pay $29,000 in legal fees, finding him personally responsible for the case's improper detour.
Representing the league, Arnold & Porter attorney Elisabeth Theodore told the Third Circuit at oral arguments this morning that Baylson made the right call.
"We're not seeking fees against Senator Scarnati," said Theodore. "We're seeking fees on the ground that he, and he alone, took this step to remove the case."
But Matthew Haverstick with the law firm Kleinbard law firm pushed back.
"He was sued in his official capacity," Haverstick told the three-judge panel. "Not as citizen Joe
While U.S. Circuit Judge Midge Rendell questioned how it would be fair to have the state foot the bill in his stead, Haverstick insisted that the federal removal was intended for efficiency.
U.S. Circuit Judges Anthony Scircia and Thomas Ambro probed this issue further, trying to nail down whether Scarnati had a reasonable reasonable basis for removal.
"Does the Constitutional nature of redistricting give rise to a basis for removing it," Rendell asked.
Appointed to the appellate bench by President Bill Clinton, Rendell voiced concern about what holding Scarnati personally liable here will mean for future cases
"What about the chilling effect this would have," Rendell asked. "Are we really going to say to people in their official capacity that if they make a misstep they'll be sued personally? That's a lot."
On rebuttal, Haverstick agreed with Judge Rendell that this could cause a chilling effect.
"If they're afraid they're going to be held personally liable," said Haverstick. "They're not going to make constitutional decisions."
Scarnati is currently serving his fifth term for the 25th District of Pennsylvania.
In the first test of the new congressional map crafted by the state Supreme Court to correct GOP gerrymandering, Democrats picked up key House seats Tuesday in the midterm election.
The night saw Conor Lamb defeat Republican Rep. Keith Rothfus in the 17th Congressional District; Democrat Mary Scanlon defeated Republican Pearl Kim in the 5th, Democrat Madeleine Dean beat out Republican Dan David in the 4th, Chrissy Houlahan flipped the state's 6th District, defeating Republican Greg McCauley; and Democrat Susan Wild won the race in the 7th district against Republican Marty Nothstein.
Red held, however, in western Pennsylvania's new 14th District where Guy Reschenthaler defeated Democrat Bibiana Boerio.
The 2011 map was found unconstitutional because it chopped up large counties like Montgomery across as many as five districts to shore up Republican candidates.
One district was so misshapen that the winner of a write-in contest organized by the Washington Post christened it "Goofy kicking Donald Duck."
Subscribe to Closing Arguments
Sign up for new weekly newsletter Closing Arguments to get the latest about ongoing trials, major litigation and hot cases and rulings in courthouses around the U.S. and the world.