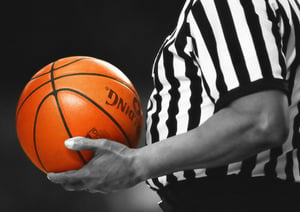 OMAHA (CN) – A college basketball referee received death threats, saw his family roofing business inundated with hundreds of fake one-star customer reviews and had his phone lines blocked for days after the hosts of a sports talk radio show urged Kentucky basketball fans to harass the referee and interfere with his business online, the official claims in a federal complaint.
John M. Higgins, who officiated the Elite Eight NCAA tournament game between Kentucky and North Carolina this year, seeks more than $75,000 in damages for emotional distress, invasion of privacy, tortious interference and civil conspiracy. He sued Kentucky Sports Radio, its manager Matthew H. Jones and managing editor Drew Franklin on Tuesday.
Higgins says he received more than 800 threatening emails and phone calls, including many death threats, in the two days after the game.
The lawsuit lays bare the perils of being a referee in national broadcasts to rabid fans. With high-definition television broadcasts and instant replays adding a level of scrutiny that was impossible in years past, referees are an increasingly visible part of the game. Along with that comes intense criticism.
"College sports is big business, and college basketball fans are notorious for their ferocious devotion to the home team," the complaint states.
"A critique or two, with lively language, is to be expected. Death threats and defamatory messages in the thousands that lead to a serious disruption in a referee's business are not to be expected, [and] are tortious".
The game was hailed as an instant classic, as North Carolina won on a last-second basket and won the national championship a little over a week later. Both teams are traditional powers in the sport, with dedicated fan bases, further amplifying the emotions involved.
Yet while the Wildcats' season ended on a buzzer-beater, the trouble was just beginning for Higgins.
Matthew Jones, the host of a Kentucky Sports Radio call-in show that's broadcast across the Bluegrass State and streamed online, repeated criticisms of the officiating crew from the post-game press conference of Kentucky coach John Calipari, who said that the refs "practically fouled out my team."
In his post-game coverage, Jones zeroed in on Higgins, then the next day promoted on the air an email suggesting leaving a bad review on Yelp for Higgins' roofing company.
Jones cautioned listeners against "trolling" Higgins, as it would constitute harassment, but continued to comment on Higgins, read more emails suggesting interfering with Higgins' business and spelled out the web address of his business, Rooferees.com.
During the next two days, Drew Franklin published several inflammatory articles on Kentuckysportsradio.com that were critical of Higgins, according to the complaint, including one in which he wrote that "John Higgins' business is getting CRUSHED on its Facebook page" and advertised that the radio show would "continue the hatred for John Higgins."
What Franklin called "a fun day to get over March Sadness" had very real consequences for Higgins and his family.
Higgins says his family business's three phone lines received more than 3,000 calls in the two days after the game, the vast majority coming from Kentucky area codes, which prevented actual customers from getting through.
He says his business went from having the best roofing company rating on Google in the Omaha area to the worst over the same span. Eighty-one one-star ratings were posted in that period, none of them originating in Omaha. Higgins' contact information was provided to more than 40 car dealers who thought he was interested in test-driving a new vehicle.
Many callers threatened Higgins and his family. Omaha police and the Sarpy County Sheriff added patrols around his home, and a county investigator found that a dozen of the calls constituted actual threat of death that warranted criminal investigation.
The Higgins family was unable to sleep during this time and was compelled to hire a bodyguard to protect them during a Final Four basketball game that Higgins officiated later that weekend.
Higgins has been a referee for men's basketball games since 1988 and has officiated eight Final Four games and two championship games. In recent years his profile as an official has risen considerably, according to the complaint, particularly after a Jan. 28, 2016 profile in Sports Illustrated labeled him "one of the nation's most visible, wanted — and loathed — basketball referees."
Higgins is represented by John Passarelli in Omaha and Kimberly Hare in Chicago.
Subscribe to Closing Arguments
Sign up for new weekly newsletter Closing Arguments to get the latest about ongoing trials, major litigation and hot cases and rulings in courthouses around the U.S. and the world.